Patreon is a platform that allows you to support causes you care about on a monthly basis. I am asking for your support for  CancerRoadTrip.
What is CancerRoad Trip?
The idea for CancerRoadTrip giveaways came to me as I was about to embark on my own CancerRoadTrip. If I could go traveling, why shouldn't others have a CancerRoadTrip too? So the idea of the giveaway was born.
Imagine: Great geography, twelve individual stories, cancer mentors and teachers to share their wisdom on creating health, even in the face of cancer.
And we capture the trip on film for everyone to share and to learn from.
It's about hope, inspiration and the human story.
Who can go?
Anyone who has had a cancer diagnosis is eligible. It could be a current diagnosis; it could have been ten years ago. Cancer forever changes your life. Everyone needs some help making sense of the experience. And in sharing we help each other.
We'll ask for a letter from your (current or former) oncologist, indicating that you're healthy enough to travel.
How is this funded?
Right now, CancerRoadTrip is being funded by the sale of my house. Yup. I'm officially #HomelessWithCancer. But on the adventure of a lifetime.
I'm not looking for travel money for myself. I am looking to fund the travel giveaways for others. Once we get the giveaways established, I will include a livable salary for myself in that budget, to cover basic living expenses.  And, if you've been reading my blog, you know that that's not much these days. In return, I am creating, managing and distributing the entire project. I'll be hiring a few key people to help with this.
Where Your Money Goes: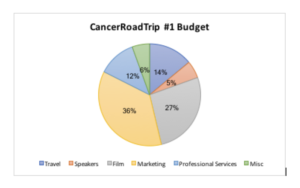 The budget for the first CancerRoadTrip giveaway is $250,000.
I am working on bringing in corporate sponsors, as well as support from people like you in order to fund this. Donations in kind–like airline tickets or ground transportation– will also go towards reaching this goal.
The key expenses are travel for the CancerRoadTrip winners, compensation and travel for our thought leaders, film (crew, travel and production), professional services (legal and accounting) and marketing (to create awareness of the giveaway and for the final film). This project will employ several people, hopefully from the cancer community.
Your support makes this possible, Whether its $5/month, $25/ month or more. Every bit helps us move towards achieving our goals.
What You Get:
The chance to impact people's lives and truly make a difference.
Recognition in the film and website credits.
Exclusive behind the scenes shots about the making of CancerRoadTrip.
Ongoing stories from the CancerRoadTrip.com blog
Maybe more….stay tuned!