"Mystery Blogger Award" is an award for amazing bloggers with ingenious posts. Their blog not only captivates; it inspires and motivates. They are one of the best out there, and they deserve every recognition they get. This award is also for bloggers who find fun and inspiration in blogging, and they do it with so much love and passion.
– Okoto Enigma
This award was created by Okoto Enigma.I was nominated by April Key Rode from Rodes On The Road (@keynate on Twitter). Thank you! And be sure to check out her blog!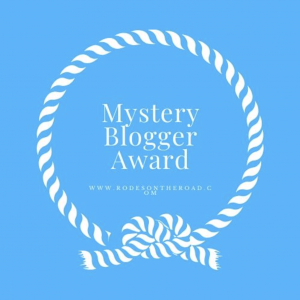 Here are the Rules for the Mystery Blogger Award:
Mystery Blogger Award Rules
1) Put the award logo/image on your blog
2) List the rules
3) Thank whoever nominated you and provide a link to their blog
4) Mention the creator of the award and provide a link as well
5) Tell your readers 3 things about yourself
6) Nominate 10 – 20 people
7) Notify your nominees
8) Ask your nominees any 5 questions of your choice; with one weird or funny question (specify)
9) Share a link to your best post(s)
Three Things About Me That You May or Many Not Know
1. Flying Sailplanes Is One Of The Greatest Passions of My Life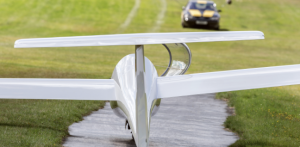 Sometimes powered planes too, but my love of flight is in an airplane without an engine.
I never intended to become a pilot. It was one of those serendipitous events that redirected the course of my life. I was in Calistoga, CA. There used to be an airstrip at the edge of town, right off the main road.
Glider Rides, the sign said.
I was ready to get back to San Francisco, but something held me there.
"Rides don't start 'til eleven," I was told. So I decided to wander a bit and return.
The flight itself was interesting, but not life changing (at that moment).
But motorless flight was intriguing.   
When I returned to Pennsylvania, where I was living at the time,  I heard about a group of lawyers that flew every weekend. I invited myself out, and that was it. I was hooked! For the next decade (and more) my life would center around waking up early to get to the airport, to prep the plane and go fly!
Here are some links about my flying adventures:
And one of my favorite soaring videos:
2. I Love Culinary Exploration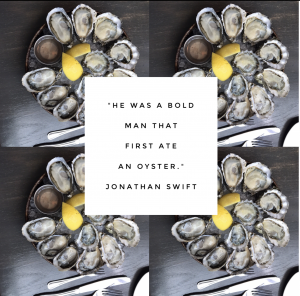 I have one rule: if it's still moving, count me out. Then someone noted that I do love oysters. So maybe I bend my rules a bit!
I grew up in a family that traveled extensively and part of those travels were always food oriented. It's a habit that has followed me throughout my life. Whenever I visit a place, I'm always looking to explore some good restaurants and to experience the local cuisine and traditions. These days, my diet tends towards the vegetarian end of the spectrum. With of course, oysters and fish!
Some of my oyster posts:
Travel Lessons: Oysters And Whatnot
Culinary Travel Karma: Dublin and Killarney
And I cook. It's been said I'm a good cook. Mostly, I just like to eat!
3. I Am Very Visual
It took me years to figure this out. I was good with math and concepts. Beauty wasn't necessarily part of my outlook.
But it was, even if I wasn't all that aware of it.
It was when I moved from New Orleans to Central Pennsylvania that I had my first insight into this trait. The staid, solid architecture of Lancaster County et al was a harsh contrast to the wild visual excesses of New Orleans and it was very hard for me to adapt. The heavy brick, the way-things-are-done-just-so and the sternest of the culture just didn't click with me.
Some years later, when I moved into a new house in southwest Reno, near Lake Tahoe, I threw myself into the project of decorating my home.  And the end result was beautiful.
As were the environs. Lake Tahoe is simply stunning. This was my playground, both on the ground and in the air. (This area is one of the premier soaring locations in the world.)

Beauty, I've learned, is an integral part of who I am and how I see my world. It's something I take care to notice and include in my daily life routine. It grounds, inspires and creates wonder. And isn't that what it's all about?
April's Questions for Her Mystery Blogger Nominees (and my answers!)
Do you encourage others to help minimize the use of plastic to protect our environment?  

 

I am very concerned about our stewardship of the Earth, ranging from plastic, to the impact of Fukushima on our oceans, to the use of pesticides such as RoundUp that have been linked to cancer. I think that each and every one of us needs to look at our own habits and make a conscious decision to make smart environmental choices on an individual level. Change starts with each of us. Together we can make a difference.

 

Have you traveled somewhere and been surprised at what it feels like to arrive in that place?      

I am always amazed that you can get in an airplane and emerge in a totally different climate, in a totally different part of the world. I think of a trip to St. Maarten's in the middle of winter. Bundled up in a heavy coat, leaving New York under a grey sky, only to emerge into an island of tropical blues and greens, greeted by a balmy sky.

 

Do you have a story to tell? In what way you will inspire children?                    

 

My story is one of hard work, serendipity and a bit of adventure.

I've come to see life as a grand adventure. Take it on! Relish every moment. Take thoughtful chances. When you find something that intrigues you, pursue it! Always be curious; always be learning. Things often come together in the most unexpected ways. Trust in the process.

 

 

Do you prefer one season over another when traveling?       

 

 I love the fall no matter what. I like the cool weather and the lack of crowds. I love putting on a sweater or vest and getting outdoors and fall is perfect for that.

 

Is there anything about yourself that you question and or is a mystery to you? What is it?                

 

How I ever got through Wharton Business School!  It was an opportunity that opened many doors and wonderful experiences. I am deeply grateful for an amazing education. But I really like to write and explore.  And now photography is part of that need to see, document and share my world. As a young person, I just couldn't see a career path at that time, that led in that direction. And a major in finance guaranteed a job. But writing has always been a part of who I am and now I get to indulge my passion.
My Mystery Blogger Award Nominees 
This is a list of people doing interesting things with something to say. I hope you'll check them all out!
Pat at Ridin' On With Rare Cancer
Karthika Gupta at CulturallyOurs
Jeff Neurman, It's In My Blood Blog
Irene from Travel With Irene
Kathy and Frank from RoarLoud .net
Hannah Henderson from HH Lifestyle
Zanne at Where Gals Wander
The Mystery Founder at New Mexico Nomad
Kelly at TheThirsty Tales
Questions For My Mystery Award Blogger Nominees:
What touches your soul?
What is one of your most valuable life lessons?
What is one of your best attributes?
What is one of your favorite causes?
If you could wish for one thing, what would it be? (This can be as fantastic and outrageous as you'd like. No rules; no limitations to your imagination!)
And all my thanks to April for nominating me for the MysteryBlogger Award Nomination!
If you're interested in learning more about photography (or cooking or film or any number of topics) check out MasterClass All-Access Pass for on-line excellence:

This post contains affiliate links and I will be compensated if you make a purchase after clicking on these links.
What is #CancerRoadTrip and how did it come to be? Read this post to get the backstory! 
Follow me on Twitter, Pinterest, Instagram, and at Anti-Cancer Club.  Connect with me!  I may need a place or two to stay along the way!