Huntsville Alabama (aka Rocket City!)
This weekend I visited the NASA facility in Huntsville, Alabama (aka Rocket City for a very good reason!) with #TBEX. #TBEX is a conferencing and networking event for travel bloggers, travel brands and industry professionals.
The Huntsville/Madison County Convention and Visitors Bureau simply did an amazing job on the entire event. But my favorite event was an evening at the  U.S. Space and Rocket Center . For those of us who grew up with the incredible adventure, inspiration and accomplishment of the NASA space program, this was simply unforgettable.
As we pulled up to the building, a series of rockets stood outside in a park like setting.  A Saturn I dominates the grounds, and sports an audio playback of a launch sequence as visitors approach the main building.
Inside is an amazing site. A Saturn V rocket is suspended from the ceiling, laterally, running nearly the entire length of the building. Fun fact: The rocket cost 90 times the cost of the center itself!
The history behind this is interesting. Werner Von Braun wanted to enthuse the American public about space science. But he understood his competition: football! How can science possibly compete?  He enlisted rival college football coaches Bear Bryan (Alabama) and Shug Jordan (Auburn) to support a $1.9 million statewide bond referendum to finance the museum's construction of a 22,000 square foot facility. The initiative passed, land was donated by the Ary's Redstone Arsenal and the project was up an running. It opened to the public in 1970.
In addition to the very impressive Saturn V rocket hovering overhead, the museum includes a variety of exhibits that chronicle the American space program. From early Mercury command models (or as Werner von Braun called them "capsules", a term which the astronauts soundly rejected!) to a replica of the lunar module and space station, this is heaven for an aviation junkie like me.
We arrived around seven pm. It had been raining most of the day, but the clouds parted and the sun streamed through the glass building, illuminating the top of the rocket at the far end of the hall.  Below, a swing band played music and a series of food buffets were set up. Bars on either side of the building offered wine and beer. And the dance floor rocked with a pair of amazing swing dancers.
We were surrounded by the rich history of our childhoods. (Or mine at least!) Memories of the first moon landing, of Apollo 13 and of all the launches in between and afterward flooded into memory. The precursor of the American Space program was also present in a  drawing of the V-2 rocket from Freidrich Duerr, an engineer and member of von Braun's team. Von Braun's work on rocketry during World War II would play a very prominent role in the U.S. program.
Huntsville, Alabama: The City
My visit to Huntsville, Alabama with #TBEX was impressive in many ways. Huntsville is a beautiful city. I think that the best quality of life in this country is to be found in the smaller regional cities like Huntsville. In this particular town, a mix of art and science has created a dynamic community. Yes, half the population are actually rocket scientists!
This produces a quirky and engaging population. Destin Sandlin, an engineer and creator of the YouTube series Smarter Every Day, is a Huntsville resident and speaker at the TBEX conference. His science oriented series is educational, hysterical and engaging:
Huntsville, Alabama is really worth a visit. It's about an easy drive from Nashville (about 2 hours) or Atlanta (about 3 hours). From an educational (and fun!) perspective, the U.S. Space and Rocket Center keeps the excitement of space
alive. Space Camp offers children the opportunity to gain insight into the life of an astronaut. And Huntsville offers hospitality, great food and first class entertainment.
Our first night we were entertained at a party held at A.M. Booth's Lumberyard with great food and music. I particularly enjoyed the shrimp and grits! Our last evening was at Campus No. 805, a former school turned into a food and brewery entertainment center. If your #RoadTrip takes you any where in this vicinity, make it a point to enjoy some genuinely welcoming southern hospitality at both these venues.
The best part of the #TBEX conference was the people. I met a wide range of people, from all over the world. While we each have a unique story, we all share the common experience of being fellow travelers. The camaraderie was simply terrific. All my thanks to the various people who made this possible.
Coming home, I realized I am ready to move on. Just as the Bell X-1 "Glamorous Glennis" broke the sound barrier and set the stage for the development of the space program; and the space program set the stage for the shuttle; all the events of recent times have set the stage for #CancerRoadTrip.
Let me end this post with some inspiration from one of my favorite movies, The Right Stuff
. If haven't watched this, or haven't watched it in a while, do!
What's your favorite line from this iconic film?
"Sounds dangerous. Count me in!"
***
"Our Germans are better than their Germans."
***
Let's light this candle!"
***
Alan Shepard: Dear Lord, please don't let me f#*k up.
Gordon Cooper:  I didn't quite copy that. Say again, please.
Alan Shepard: I said everything's A-OK.
***
Drop me a note with your thoughts and favorite quotes
       #RocketCity
#CancerRoadTrip
Like This Post? Share It!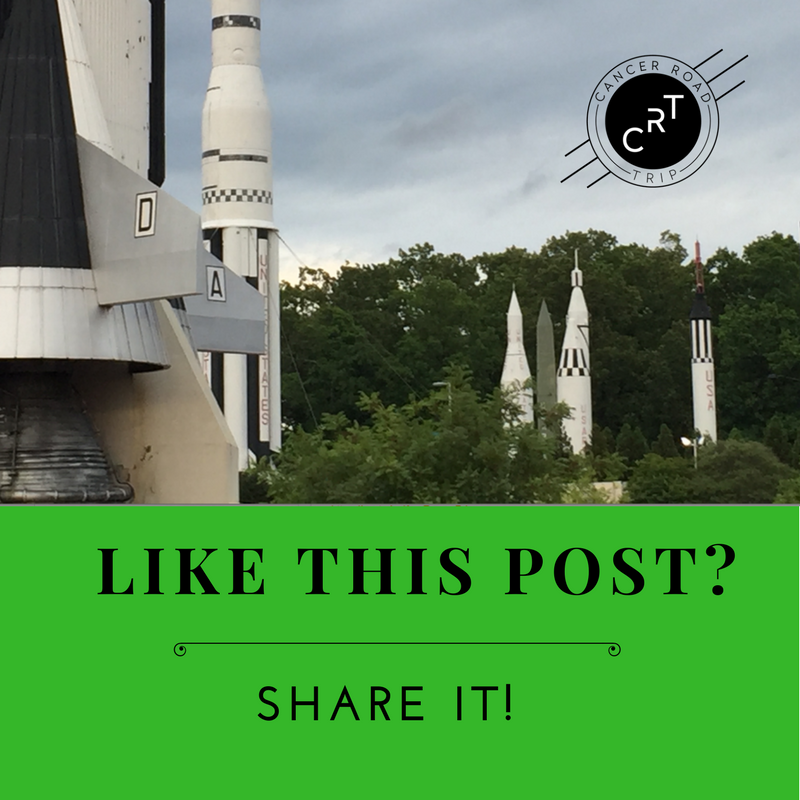 If you're interested in learning more about photography (or cooking or film or any number of topics) check out Masterclass for on-line excellence:
What is #CancerRoadTrip and how did it come to be? Read this post to get the backstory! 
Follow me on Twitter, Pinterest, Instagram, and at Anti-Cancer Club.  Connect with me!  I may need a place or two to stay along the way!