What is #CancerRoadTrip and how did it come to be? Read this post to get the backstory! 
I live my life in 6 month increments.
This is much better than the every three month blood tests and check ups that I started with. I am grateful to be stable enough to go six months, for now. But  I am always on the alert. Am I unusually fatigued? Is that lymph node a bit elevated? Is the itching a sign that it's back?
Living with lymphoma, like all cancer, changes your life. Nothing is constant; nothing is guaranteed. The illusion of predictability or any control over life is long gone.
For me, cancer brought my life to a dead stop. How could I have cancer? I was fit and active.  Granted my diet included luscious blackened rib eyes and margaritas.  But cancer?
In my case I would hazard a guess that the cancer was a combination of bad luck, genetics and a bit of personal trauma.  Divorcing, moving across the country alone and starting over again (not to mention the flying!) did not create an emotional atmosphere of support. Quite the contrary. And moving into a town (Reno/Tahoe) with small town roots wasn't easy. I assimilated by trying to fit in (which I didn't); not making too many waves; and just putting one foot in front of the other.
I worked with several start up companies; at one point got a real estate license until that crashed; and generally lived well within my means.  Which financially saved me (at least for a while) when the cancer diagnosis rolled around.
My first round of treatment was simply Rituximab (Rituxan) , a mono-clonal antibody that should have been simple.  But it turned out to be my personal drug from hell.  My chest tightened; I couldn't breathe; I had head to toe hives; fatigue; and joint pain so intolerable that I would scream in the shower trying to move my hand.  I couldn't hold a cup of coffee.  I spent two straight months mostly in bed.
Rituxan did not stay the cancer.  So onto the next potion: RCVP (Rituxan, Cyclophosphamide, Vincristine, Prednisone) Each infusion took 2 days due to my problems tolerating the Rituxan.  The prednisone for the 5 days following chemo was simply horrific.
I did six rounds, one every three weeks. My hair fell out. The exhaustion was indescribable.  I vividly remember at the finish of the third round, feeling simultaneously terrified and optimistic.
"Yay!  I'm halfway through!" That was my optimistic self.
My next thought was "Oh no, it's half over!" Is 6 rounds enough?  Will it work?
It was working.  I could feel the tumors melting away. Publicly, I kept up a good front. I continued playing tennis (poorly). What no one saw was that two hours on the court put me in bed for two days.
The chemo brain that ensued was beyond comprehension.  And, at that time in 2010/2011, doctors still doubted it was real. I remember breaking down sobbing in Costco one day because I couldn't enter my 4 digit pin. This is from a girl who used to do log calculations in her head!
My cancer came raging back not long afterwards following a period of huge stress. The stress came from my neighbors who put a 9,000 square foot house on the property line next to my house.  I had to re-landscape my yard simply to salvage any value in my property.
So, just after the end of  chemo,  exhausted and weak, I found myself dealing with a construction project in my backyard.  Evenings I found myself straddling trenches for gas pipes and irrigation lines, to maneuver sprinklers and hoses in an effort to save the lawn and landscaping in the rest of the yard. I was weak from cancer and chemo; exhausted; and stressed.
If that weren't bad enough, the incessant music from next door was so loud I couldn't sit in my own house, with the windows closed, without feeling the boom, boom, boom of their outdoor stereo.
One night I simply stood in the construction site that had become my back yard, amidst the rubble that had become part of my life and I screamed. I screamed at the stars; I screamed at the neighbors; I screamed at the top of my lungs.
"If a tree falls in a forest and no one is around to hear it, does it make a sound?"
I was not feeling well and I went to Stanford for another consult. I was told to be prepared to go on the transplant list.  The doctor believed my indolent cancer had not just come back, but had transformed to an aggressive lymphoma that, if untreated,  would be fatal in a short period of time.  The biopsies that were taken, would confirm this.
Except they didn't. My cancer was back, but it was still not super aggressive.  I could "watch and wait" for a bit. Over the next two years, the tumors grew.  I began to resemble a chipmunk but it was hardly cute. When I felt a large tumor growing at the base of my skull, I knew it was time to consider another round of treatment.  The thought of cancer in my brain was more than I could deal with. The lymphoma had also returned to my neck, face and groin, and internally was growing throughout my body.
By 2013, a new treatment had been approved: Bendamustine + Rituxan.  I was optimistic.  It was supposed to be much easier than RCVP and they were getting good remissions.  I was ready.
Except that nothing went as planned. My hair wasn't supposed to fall out this time, but about half of it did and hasn't fully returned. I wasn't supposed to be tired; but I was. It was supposed to be relatively easy; instead my hip failed.  I was no longer able to do the things I loved.  The tennis friends that hadn't fallen away during the first round of chemo fell away this time, as they went on with their lives and mine was sidelined by cancer.
By this time I had Anti-Cancer Club up and running.  I vividly remember lying in my bed, exhausted and discouraged, wondering if I was reaching and resonating with an audience? Where was I going with this? Should I continue?  Could I continue?
The answer of course was yes, I had to continue, even if I wasn't sure why.
This year, 2017, we are reaching about 2 million people per month, and growing.
And thankfully, I can run it from anywhere.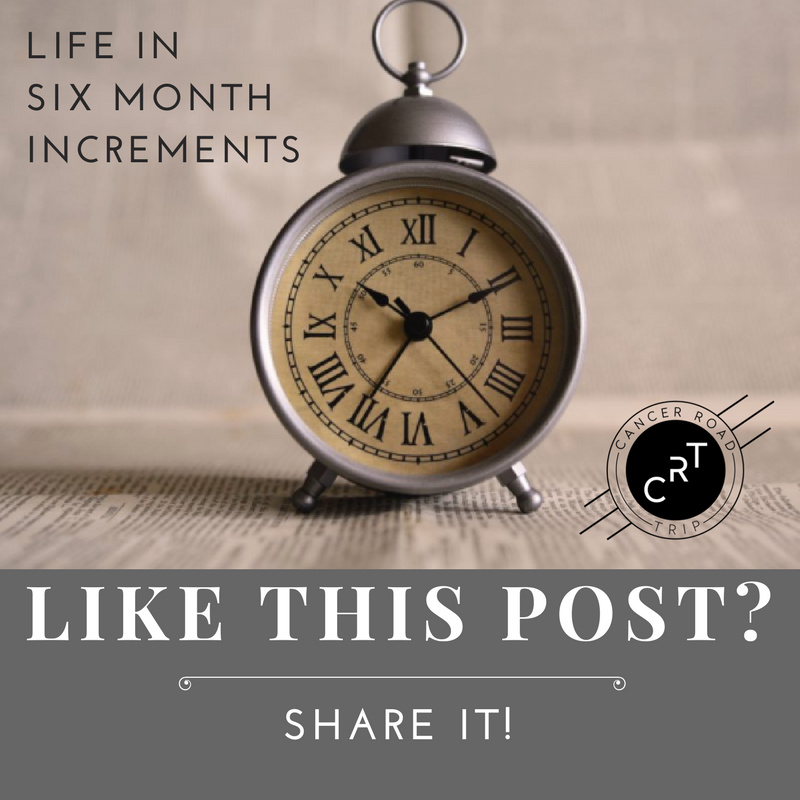 Follow me on Twitter, Pinterest, Instagram, and at Anti-Cancer Club.  Connect with me!  I may need a place or two to stay along the way!