Powwow.
The word originated in the Narragansett Eastern Algonquian language, from powwaw, meaning "spiritual leader". It is a cultural event featuring singing and dance. Here, traditions are passed along; hand made goods are sold; and trades are made.
Powows may be private or public. In New Mexico, pueblo traditions celebrate the seasons through song, dance and prayer. But these are private gatherings that prohibit filming. So the chance to visit this year's powwow was also a chance to share a glimpse of some of the amazing Native American culture from throughout North America.
The Gathering of Nations Powwow
The Gathering of Nations in Albuquerque, New Mexico is a powwow that this year attracted over 3,500 dancers. It's a spectacular show.
The melange of color, beads and feathers in a powwow is simply too much to comprehend as the various Indian Nations file into the arena, and take their place in the swirling procession. Later there will be dance competitions and more, but for the moment, the melange of visual colors and textures is simply overwhelming:
The Grand Entry at the Gathering of Nations Powwow is the "bringing together of tribes". Thousands of dancers in full traditional regalia enter the arena accompanied by the beat of drums representing a heart beat. Image the pounding percussion, louder, faster. Dancers dance; men, women and children all swirl around in fantastically decorated garb. It's a fantastic site full of tradition, heart and intense energy.
Each dance at the Gathering of Nations Powwow is a combination of tribal heritage and personal style, reflecting one's ancestry. And keeping the Native American ancestry and traditions alive is one important part of a powwow. For the young male dancers, each had to introduce himself in his native language. The purpose behind this is to keep the study and use of these Native American languages alive. Because if the language was to die, there would be no way to resurrect it.
The Tingley Coliseum / Expo New Mexico in Albuquerque, New Mexico,was the location of this year's powwow. Here is some film compliments of Santa Fe filmmaker Mountain Mover Media:
I regret I wasn't able to get more (and better) pictures, but for this newbie photographer, the combination of movement, distance and lighting conditions was challenging. But I am incredibly grateful simply to have gone to this event. We all have unique histories and lineages through our families and keeping our traditions alive is, I believe, important. And for Native Americans,  powwows are one way to bring past and present together in a celebration of customs, traditions and life.
More Reading on Native American Culture in New Mexico:
Santa Clara Pueblo: Cliffs, Pottery and Art
Puye Cliff Dwellings: Earth, Spirit, Fire and Art
Photo Mission: Winter at Taos Pueblo
Ojo Caliente, Wind Chimes,and Water
Ojo Caliente Encore!
Like This Post? Pin It!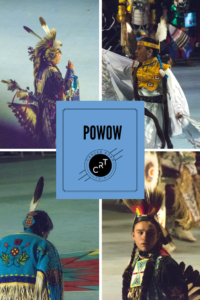 If you're interested in learning more about photography (or cooking or film or any number of topics) check out Masterclass for on-line excellence:
What is #CancerRoadTrip and how did it come to be? Read this post to get the backstory! 
Follow me on Twitter, Pinterest, Instagram, and at Anti-Cancer Club.  Connect with me!  I may need a place or two to stay along the way!