When the going gets tough, the tough go traveling!
An excerpt from Adventures By Sailplane
B.S. (By Sailplane) B.C. (Before Cancer)
New Haven, CT 1981-1987
If I could put my finger on a time when things were good, it would have been the days in Connecticut, at Yale, when we were young and all powerful, out untested futures unlimited in our limited egocentric minds. The path was straight and clear. The arrogance of youth is such great, self absorbing fun.
Fun may not be quite the word one associates with a surgical residency, but coastal Connecticut was probably about as good as it gets. Yale-New Haven Hospital is an inner city hospital, with its share of gunshot wounds and drugs, but it' s not quite as brutal as say Bellevue in New York or Charity in New Orleans. Enough gore to learn surgical technique, without your patients being a constant threat to your life. Except for AIDS. That threat was a continual apparition never far from mind.
We lived in a rented condominium near the water. (Michael told people we owned it; we didn't) Our deck faced a marsh which swayed with the seasons, harboring wildlife and served as a passage for their migrations. The view off land's edge was simply spectacular.
Just down the coast the Yale Yacht Club ( a misnomer if ever there was one–it was a somewhat run down seaside structure where sailboats are available on a first come, first served basis) sends its regattas off into the water. It was inexpensive sailing, and if you didn't mind the wait, it was a great way to play on the water.
Our friends in New Haven formed an interesting circle. Authors, academics, students, Chinese exchange students and my favorite neighbor, Eva. Eva was a big girl-over two hundred pounds-and a bit on the garish side. But lovable and fun beyond reason. We were exact opposites and we soon became fast friends. I have one picture of the two of us in Newport. It was a beautiful clear Saturday morning and we'd driven up to see the mansions. I was rather blasé about the whole trip, but Eva, who had grown up in Czechoslovakia, left in 1967 and emigrated to Canada was life's perpetual tourist and I had to honor her enthusiasms. There is a picture of us- it is a study in contrasts and I love it dearly. I am standing oh-so-preppy-proper in my boots, herringbone skirt, turtle neck and tweed blazer. Eva is towering over me in stretch lycra, leather and hair. We both smiled for the camera under blue skies. I will always remember that picture when I think of sunny Connecticut days.
Overall, New Haven life seemed to agree with us both. Connecticut was a wonderful combination of people, places and events. I think of those days as eclectic, but proper, preppy protected days. Evenings at Griswold Inn in Essex, munching popcorn and ordering carpetbaggers (filet mignons, grilled, split then stuffed with deep fried oysters). For New Year's there was champagne along the Connecticut River with Chip and his girlfriend du jour; island parties for the fourth of July; boating and squash; football games and tailgate parties; and a wonderfully isolated world of privileged young adulthood. If only those days could have continued. But all things end, and with the completion of Michael's residency, people dashed off in different directions to start fellowships. Having selected the locale exotique of the class, everyone promised to visit in New Orleans.
Like This Post? Pin It!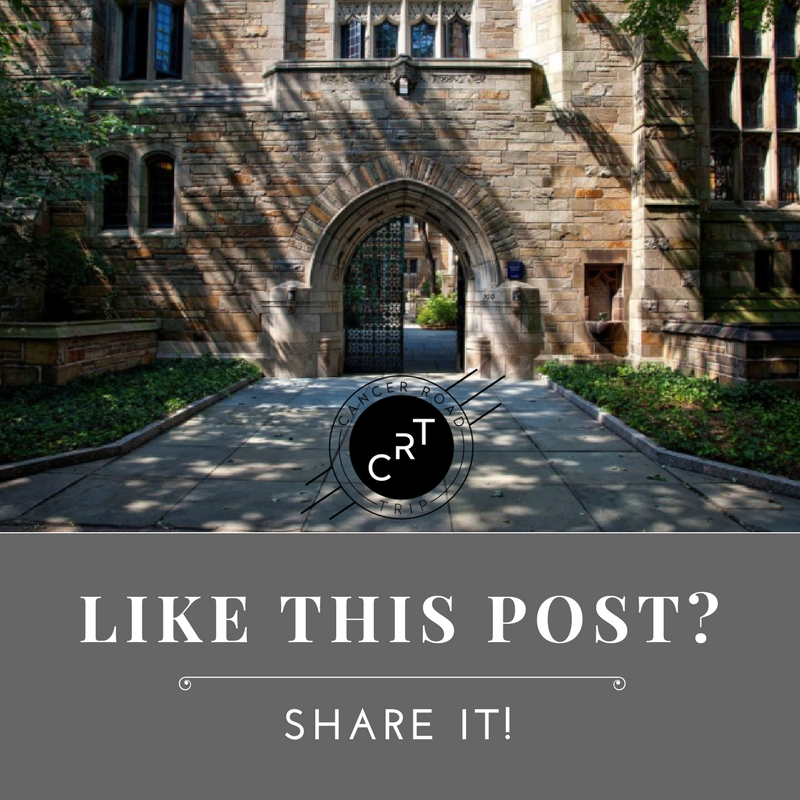 Next Post: Maps
If you're interested in learning more about photography (or cooking or film or any number of topics) check out Masterclass for on-line excellence:
What is #CancerRoadTrip and how did it come to be? Read this post to get the backstory!
Follow me on Twitter, Pinterest, Instagram, and at Anti-Cancer Club. Connect with me! I may need a place or two to stay along the way!