Travel involves luggage and finding the best luggage for travel is important. My own travels take me in numerous directions: hiking, driving, flying and a bit of luxury along the way. 
I have chosen an unconventional path, reflected in everything from my travel packing list to my reading, to the variety of expeditions I am undertaking.  A woman in a store said to me that I was brave. I don't see CancerRoadTrip as brave. I see it as necessary, for reasons that I'm not sure I can fully explain.
I recently came across a quote from Elizabeth Gilbert, author of Eat, Pray, Love.:
Virginia Woolf wrote, "Across the broad continent of a woman's life falls the shadow of a sword." On one side of that sword, she said, there lies convention and tradition and order, where "all is correct." But on the other side of that sword, if you're crazy enough to cross it and choose a life that does not follow convention, "all is confusion. Nothing follows a regular course." Her argument was that the crossing of the shadow of that sword may bring a far more interesting existence to a woman, but you can bet it will also be more perilous."
Life is definitely more interesting these days! I carry little in terms of physical possessions, particularly compared to my former life. Cancer and CancerRoadTrip has caused much of my prior, well-defined existence to fall away.  I defy the usual social conventions, traveling without a home, without an address, without a "normal" job. With less, I have found more.
With a few months of road time under my belt, I've edited and re-edited my travel packing list. I've discarded numerous things that weren't working or were too cumbersome. I'm on a quest for the best luggage for travel–all types of travel.
Keeping in mind that I need to carry clothes for all four seasons (I am, after all, "homeless"), my car carries some additional items. But I'm getting ever more ruthless about carrying anything superfluous, and I am leaning out my possessions even further. I've re-organized some things; thrown other items out; and am leaving others behind.
My goal, in terms of a travel packing list, is to have the interior of my car as clean and uncluttered as possible. That means that whatever I carry needs to fit in the "trunk" of my station wagon, in the roof carrier, or it needs to go. 
At the beginning of CancerRoadTrip, my travel packing list was long. If it fit in my car, I could bring it along.
That has changed.
Starting out, I had tucked a rolling insulated beverage carrier that I had used for travel and tennis matches behind the passenger seat. But it's just too big and too much hassle. It's gone.
In its stead, is a very small thermal carrier that I got at one of the wineries in Napa. It easily holds a lunch. It also came with me through all my chemo treatments, so it has some emotional attachment. It's small, collapsable and just fine. If I need more, I can do without.
I've also lightened my load of nearly all kitchen items.  I did keep a pepper grinder (I'm a pepper person) and a few small items, like my favorite chopsticks.
I've discarded shirts that don't work and pants that don't fit.
I've kept my Urban Poles (which I love) and my yoga blocks, mat, balls and strap. They are stowed in the Thule.
In additional to keeping my travel packing list as lean as possible, I've also learned several other travel lessons along the way. Perhaps one of the most important lessons is the need for good travel gear. And consolidating items of a genre is essential. I have gotten my air travel gear down to just three main items that I consider the best luggage for travel, for the moment at least.
The Best Luggage for Travel
With several upcoming adventures involving overseas travel, I've turned my attention to getting as lean as possible. I travel with cameras, computers, connectors and other electronic paraphernalia . So, first and foremost for me, is something to carry it all. Finding the best luggage for travel is a personal preference, but my thought process and methodology should work for everyone.
Three Bags for Air Travel
The Best Luggage for Travel: Camera Bag
I started off with a standard Nikon camera bag, which is a very nice bag. But it was one more thing to carry, in addition to the computer equipment, OSMO, drone, occasional tripod and all the other gear. So it's gone.
Instead, I decided to consolidate everything electronic and digital into one well padded bag that I could easily carry from the car or onto a plane.
After an enormous amount of research, I purchased a Tenba Cooper 15. (It also comes in an 8 inch and 13 inch size.) It's a handsome bag, well organized and well thought out which is typical of Tenba products.
The material is a water repellent peach-wax cotton canvas. It has a leather base and both a shoulder strap and regular handle for carrying. It also slides onto my suitcase handle for easy rolling through airports.
Ann Cavitt Fisher (one of my travel partners in crime!) and I are going to Ireland in a few weeks and we'll be taking the train from Dublin to Killarney. That means being able to physically manage whatever I bring. This Tenba needs to carry all my electronic gear, as well as some other travel essentials.
There is a padded slot for my computer (on the left in the picture above) and interior compartments for camera gear. This camera and lens padding is removable so that it can be used in a backpack or in a suitcase as well.
This Tenba Cooper 15 houses the following:
My Nikon 5500 and two lenses, miscellaneous camera gear, batteries and chargers, with plenty of room for more. I am contemplating adding wide angle lens for better landscape photography, and there is plenty of room to carry it. The biggest issue is weight; every ounce counts.
My iPad and MacBookPro

I recently upgraded my Mac from an Air to a Pro. 
Given the storage needs and system demands of  video and photography editing, I ran into performance issues with my four year old MacBookAir.  The problem with the MacBook Air is that I can't upgrade the RAM or storage like I could with a MacBook Pro. Think about this when you make a Mac decision.  A Seagate 2TB external hard drive has been a stop gap measure, but I finally succumbed and bought a top of the line MacBookPro.
The DJI MavicPro Drone and accessories also fit into this bag. The MavicPro is so small and light I can easily take it in my purse as well. I'll have a separate article on the considerations of using a drone for aerial video photography, on a personal and business basis.
MeFoto Carbon Fiber Road Trip Tripod
I did a lot of research before deciding on a tripod. Size and weight were incredibly important to me, particularly for an item that is only used intermittently. But when it's needed, I have to be able to carry it with me. Plus I wanted something easy to assemble and that would carry the extra weight of larger lenses.
I also wanted something that could potentially minimize my bending over too much (semi-bad back). Plus I'm a bit of a photographer newbie, so the Amazon reviews factored heavily into my decision making process.
I opted for a MeFoto Carbon Fiber Road Trip  tripod weighs 3.1 pounds, and can support up to 17.6 pounds. It can also be used as a monopod/selfie stick. I also opted to pay for the Carbon Fiber upgrade, which was over half a pound lighter than the aluminum model. It extends up to 61.6″ and collapses down to  15.4″. The legs can also be  locked at two different angles and independently sized for uneven terrain.
The combination of consistently good reviews and the points I had on my credit card which brought the purchase price down to well under $100, finally sealed the deal. Here is a short summary of some of the tripods I considered:
| | | | |
| --- | --- | --- | --- |
|   | MeFoto Carbon Roadtrip | Manfrotto Be Free Carbon Fiver | Vanguard VEO 265CB. |
| | | | |
| Collapsed Height | 15 inches | 15.75 inches | 17 inches |
| Extended Height | 61.6 inches | 55.91 inches | 59 inches |
| Weight | 3.1 lbs | 2.43 lbs. | 2.9 lbs |
| Max Load | 17.6 lbs | 8.82 lbs | 17.6 lbs |
| Leg Locking Mechanism | Twist Locks | Flip Locks | Twist Locks |
Discussions on the stability of each tripod also came into my decision making. The bottom line: none is perfect, but all are good and chances are you can be happy with any of these. If the extra cost of the carbon fiber is a factor (and weight is not) save some money and go for the aluminum version of these tripods. I opted for the carbon fiber, but I thought long and hard before I decided to take on the extra half a pound with the MeFoto over the Manfrotto. The ability to support more weight and the reviews on stability were what finally tipped my decision (no pun intended).
Check current prices for the MeFoto, Manfrotto and Vanguard tripods.
DJI Phone Camera Gimbal OSMO MOBILE, Black ("OSMO")
"OSMO", as this gadget has come to be affectionately called,  also fits neatly into the Tenba Cooper 15. Combined with my iPhone 7, this rounds up the key items for my camera bag.
Finally, I still have room for all the cords, chargers and things needed to keep this electronic arsenal running. Plus a power strip, a 2 terabyte backup disc, and the collapsible Roost computer stand which has revolutionized my on the road work ergonomics.
I highly recommend Tenba bags, and this Cooper 15 in particular. Fully loaded it's a bit heavier than I'd like, but it does allow me to safely transport an array of electronics that I simply don't want out of my possession. It slides over the carry handle of my suitcase, and is easily rolled along with me. It's a perfect size.  According to Delta, which I'll be flying to Ireland, the under the seat space is limited to 22 x 14 x 9.  The Cooper 15 is 16 x 11.5 x 8. It should just fit.
The Best Luggage for Travel: Suitcases for Travel
When I cleaned out my former house, I found suitcases that I hadn't used in years. Duffle bags, ski bags and much more. I used an old rolling duffle to store some winter clothes. It's in the Thule Carrier.
The rest of the various luggage items were donated. I finally got rid of my old carry on roll aboard bag which had a partially broken zipper.  I've been traveling with a larger roll aboard that houses all  my additional "stuff". But with an overseas trip coming up, it' s time to revisit this issue. I need a small rollaboard again.
In choosing a bag, there are three key decisions that need to be made:
Backpack vs. Suitcase
I'm not a backpacker, but having access to a backpack is nice under some situations. Do you want to be able to have your bag double as a backpack? Think about that. If you're planning an outdoorsy vacation, or if your hands are going to be full with other things, this is something to consider.
My Patagonia doubles as a backpack, and it also has a padded sleeve if I want to carry my computer here, rather than in my Tenba.  Using my Tenba 15 as my "personal item" and this as a carry on, means that I can carry on a great deal if I choose to. It's also collapsable and very easy to store. The internal organization of the bag is excellent.
Hard Shell vs. Fabric
Hard shell suitcases offer better protection against wet weather and high security. But they aren't flexible or expandable, and when you get home, you'll need a place to store them.
Materials like polycarbonate are light and strong and scratch resistant.
Softer, fabric suitcases are more flexible and easier to store. (For me, storage is obviously a key consideration). They expand, offering a bit more flexibility in packing, particularly if you want to bring that extra pair of shoes or bring home a new acquisition. They usually have pockets for easy accessibility. Hard shells do not.
While neither style of bag is completely water proof, the fabric models are less water resistant. Take your measurements carefully if you're looking at a carry on to be sure the outside measurements (including the exterior wheels) comply with your carrier's rules.
Rollaboard vs. Spinner
There are basically two types of locomotion for your traveling case: Rollaboard and Spinner
Rollaboards have one set of fixed wheels on the bottom of the suitcase. Spinners sport four multidirectional wheels.
The bag below, the TravelPro Magna 22 –a rollaboard–is the one I ultimately chose. Here are pictures of the same basic bag in a roll aboard and a spinner models:
Note the wheels at the base of each case. Four 360 degree wheels mean maximum maneuverability, although if you're on an incline, you'll have to lay the bag down to keep it from rolling off. The interiors are identical except for one thing: the Spinner version has one inch less interior room (in order to accommodate the size of the wheels in the overall specifications which are outside measurements for the purposes of airline travel).
Interior Design
I'm not too fussy about luggage. My package cubes organize my clothes; heavy plastic cosmetic bags contain any liquid products, and a belt or two will always fit around the perimeter. Voila! I'm packed. But this purchase exercise forced me to consider the value of a well crafted and organized suitcase. And on this feature, the TravelPro gets an A+.
The interior has two compartments.
The main compartment (below) has a plastic pouch for liquids (near side) and a mesh pouch across the back. The restraining straps also have two zippered mesh pouches for incidentals. With packing cubes, this means you can use every inch of space efficiently.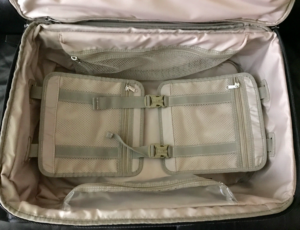 The top compartment can be used for clothes and/or packing cubes, or it can be extended (see below) for hanging clothes: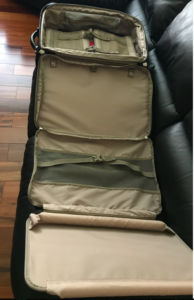 For me, this space is perfect for pants on a hangar. This means that I can pack several pairs of pants here, and use the main suitcase area for tops and other items. It's well defined, organized and efficient. Extra items like shoes can to into my Patagonia carry on. And I am keeping my clothing color palette of grey, beige and black which gives me a great deal of wardrobe flexibility across numerous seasons. As I travel I continue to discard clothes that don't work and occasionally (rarely!) add something that does.
Travel Packing List Summary: The Best Luggage for Travel (For Me) Boils Down to Three Items
My travel ensemble (for air travel) comes down to just three items that I can carry, lift and transport. For the moment, this is my best luggage for travel. I expect it to change over time, but for the moment:
which can be either carried on and stowed overhead or checked.
which houses all my electronics and can be slipped over the handle of the TravelPro for easy transport.
which is an optional carry on and can also be carried as a backpack.
With three bags for air travel, I'd like to close with three quotes for life's travels:
"Less is more". –Mies Van Der Rohe
"Simplicity is about subtracting the obvious and adding the meaningful". –John Maeda
"Edit your life frequently and ruthlessly. It's your masterpiece after all." -Nathan W. Morris
Like This Post? Share It!
If you're interested in learning more about photography (or cooking or film or any number of topics) check out Masterclass for on-line excellence:
What is #CancerRoadTrip and how did it come to be? Read this post to get the backstory! 
Follow me on Twitter, Pinterest, Instagram, and at Anti-Cancer Club.  Connect with me!  I may need a place or two to stay along the way!