Good travel books cover new terrain. It may mean mean touring the world. Or perhaps it means looking within.
In either direction, travel always offers adventure. Here is a bit of literary adventure in both directions.
Books for Traveling Within
The journey within oneself is at least as interesting as any world wide voyages. Her are some of the travel books that have been along on my journey:
I first saw Bernie Siegel many years ago at Yale. He was speaking to an audience of surgeons who, to say the least, didn't believe in anything that didn't include a scalpel.
But Bernie has had the last laugh. Science is finally coming around to his prescient thinking about the power of love and the power of our minds to influence our health and healing.  
This book is a classic for a reason. Anyone would be delighted to receive this as a gift, any time of the year.
The Power of Now has been one of the most influential books of my life. With a great deal of practice on my part, it has shown me that the present moment is what counts. Not your worries; not your words. Just NOW. 
For your life's travels, this book is a companion you won't tire of.
This is a book I bought long ago, and it's accompanied me on many travels. Zukav looks at our interactions from a perspective of energy. And when you start thinking in these terms, it provides a trail map for all your travels. This is truly a good travel book for every soulful adventure.
Joe Dispenza's story is amazing. He was told he'd never walk again after a horrific biking accident. But using intense visualization he healed a broken back. 
With a scientific bent, he looks at the power of our minds in our daily life and the power we have to heal. He also goes into some fascination meditation technques (that are just mind blowing!). 
Love this book. Check it out!
Jim Gordon is someone I've admired for many years. He is a Harvard trained psychiatrist who travels the world helping people heal from trauma. He is also the founder of the Center for Mind Body Medicine.
The Transformation is a book that has resulted from Jim's years of study and teaching, and from his  travels across the globe, into war zones and other disaster areas. In this book, he encourages each of us to look within to heal, and he provides the tools to pursue the journey.
I was fortunate enough to interview Jim a few years ago. You can watch the interview here. And if you're interested in becoming involved in his project, check out cmbm.org
I am currently reading this book and it is a must read. Dean Shrock has oodles of sources, some of which I've read (Like Molecules of Emotion by Candace Perth) and others that I haven't. 
This is an excellent book drawing from Dean's decades of cancer care and his careful research. I heartedly recommend this and all the books on this page.
Good Books For Travel
And then there is the wonderful adventure of travel. The world is a big place; where to go? 
1,000 Places is a classic and one that should live on your wanderlust bookshelf, or on your phone. So many ideas! Want to visit World Heritage Sites? European capitals? Asian temples? 
All this and so much more. This is a great place to start your travels. A good travel book for all times.
Travel, for me, is also about history. And in that vein, both fiction and non-fiction offer a chance for travel.  A few of my favorites:
Long before I visited Africa, the stories of British East Africa called to me. There was Isak Dinesen's Out of Africa, but for me, the book of that era was always West With The Night.
Beryl Markham was an extraordinary woman, pilot, and adventurer. Many years ago, I came across this book and read it again and again. I still go back for the vivid prose. Here's an example:
"Africa is mystic; it is wild; it is a sweltering inferno; it is a photographer's paradise, a hunter's Valhalla, an escapist's Utopia. It is what you will, and it withstands all interpretations. It is the last vestige of a dead world or the cradle of a shiny new one. To a lot of people, as to myself, it is just 'home."
An African adventure in time and space. A must read.
This is a classic for a reason. And an international best seller. It took me many years before I read this, and it's now one of my favorite travel books. 
Santiago, an Andalusian shepherd boy, yearns to travel. So he does. And along the way, he finds himself. A good travel book indeed!
One of the most heart warming reads of all time, chronicling Peter Gethers global travels with his Scottish Fold cat, Norton. Part travel, part adventure and all heart. 
No travel book list is complete without the wisdom of Dr. Seuss. I  just love this book. It starts: 
"Congratulations! Today is your day. You're off to great places. You're off and away!
You have brains in your head. You have feet in your shoes. You can steer yourself any direction you choose."
And so starts any great adventure.
We are giving healing journeys to people to discover their world anew after cancer treatment. And we'll be capturing it all on film so that you can share in the adventure.
Seven Travelers, Seven Stories, One Bucket List Location
Be a part of the project. Click here to learn more.
And be sure to sign up on our mailing list to stay in the know about the film project, our travels and so much more!
Like This Post? Pin It!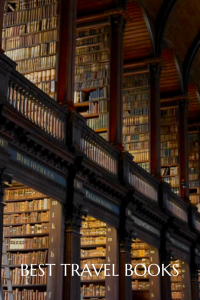 If you're interested in learning more about photography (or cooking or film or any number of topics) check out MasterClass All-Access Pass for on-line excellence:

What is #CancerRoadTrip and how did it come to be? Read this post to get the backstory! 
Follow me on Twitter, Pinterest, Instagram, and at Anti-Cancer Club.  Connect with me!  I may need a place or two to stay along the way!