Hoodoo rocks and towers.
Cracked Eggs.
Buttes.
This is Bisti/De-Na-Zen and it is wild. It's inhospitable, with no water and little to no vegetation. Its combination of mesas, buttes and badlands are intimidating to the uninitiated. It's untamed except by the winds of time.
In its own way it is both soulful and graceful, even in the harshness of mid-day light.
Hoodoo Rocks Around the World
Hoodoos are found throughout the American West (and elsewhere). Bryce Canyon in Utah is perhaps one of the best known destinations for hoodoos:
Hoodoos are also found on the Colorado Plateau and in the Badlands of the Great Plains; in the southern Tyrol in Italy; in New Zealand, Taiwan, Canada and France. As well as many other places.
Hoodoos–also called tent rocks, fairy chimneys and earth pyramids– are mainly found in the desert. They are formed through erosion and frost wedging. Frost wedging is a process where melting snow seeps into crevices, and freezes. This action is powerful and bit by bit, weakens and erodes the layers of sedimentary rock. This  relentless process of erosion means that hoodoos have a relatively short geological lifespan.
I had visited the South Dakota Badlands back in 1995 with Whiskey Oscar. I left her on the ground while I helicoptered over the terrain. (It was after all an aviation themed adventure!)
Interestingly, on that trip (pre ubiquitous internet access) I didn't even know that this National Park existed. Driving along Route 90, the prairie suddenly gave way to this curious set of rock formations. I stopped; met two guys with a helicopter (seriously) and we were off! I like to think of that being just another story of travel serendipity.
Serendipity or not, put Bisti/Da-Na-Zin on your more esoteric list of must visits. It's a most unusual place, and the photo buffs in the audience will just love it. I look forward to returning when the weather gets cooler. Preferably, not on a camping expedition.
More Reading on Hoodoos and Whatnot
The Black Place
This book by Abiquiu artist Walter Nelson continues Walter's tradition of venturing into land seldom visited. He once took a thousand mile trek into the Arizona and New Mexican desert following the trail of Coronado. You can read more about my meeting with Walter here.
From Amazon:
"Few people have ventured into the remote, uninhabited badlands of the Navajo Reservation in northwest New Mexico known, by the artist who made it famous, as the Black Place. During the 1930s and 1940s Georgia O'Keeffe and her friend Maria Chabot braved the harsh conditions of baking heat in summer, bitter cold in winter, and ferocious winds to make many camping trips to the area that inspired one of the great outpourings of creativity in O'Keeffe's artistic life. Photographer Walter W. Nelson, who shares with O'Keeffe what writer Douglas Preston calls "a great affinity for geology" went in search of the Black Place twenty years ago and has returned over thirty times to photograph it, first in black-and-white with a large format 8 x1 0 camera and over the last five years, in color with a digital camera. The two seasons of his title refer to the fact that in this region virtually devoid of vegetation, only the presence of snow visually distinguishes the landscape from the non-winter months. Inexhaustible in scope, with geological complexity dating back some 66 million years, the Black Place must be patiently experienced for its mystery and infinitude and deep secrets of time."
A Journey through Utah's Bryce Canyon

Lonely Planet's Guide to  Zion and Bryce Canyons
More Reading on Chaco and Bisti
Camping in Chaco Canyon
Photographing Chaco Canyon
The Mesas, Buttes and Badlands of Bisti Wilderness
Like This Post? Pin It!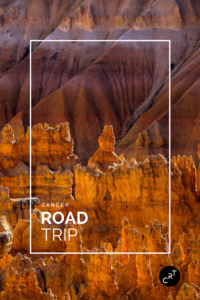 If you're interested in learning more about photography (or cooking or film or any number of topics) check out MasterClass All-Access Pass for on-line excellence:

What is #CancerRoadTrip and how did it come to be? Read this post to get the backstory! 
Follow me on Twitter, Pinterest, Instagram, and at Anti-Cancer Club.  Connect with me!  I may need a place or two to stay along the way!