Ka Ta See.  (Kah-tah-see)
The very name has a rhythm and melody of the ages.
In my travels, I had the honor of meeting Barbara Culbertson. Barbara has studied Ka Ta See traditions, teaching, healing and counseling for over two decades and has earned the designation of Shaman in that tradition. While studying this tradition she maintained a private practice providing massage, balancing and repairing of the energetic foundations of our bodies and somatic approaches to emotional healing.
For ten years she taught at the Duke University Diet and Fitness Center teaching Mindfulness Meditation, Life Style Change classes, and providing individual energy balancing sessions.  She has a a BA in Psychology and Religion and a MA in Economics.
Ka Ta See is about realizing one's human potential, based on ancient traditions that extend back tens of thousands of years. It's ceremonies, spiritual practices and ways of living int the world are taught both in groups and one on one among the Ka Ta See healers; it has historically been an oral tradition passed on from generation to generation as story, ceremony and experiential learning. Until Kay Cordell Whitaker was asked to chronicle the teachings in her books.
The story of Ka Ta See coming to the U.S. is not serendipity. In the 1970s the Elders sent pairs of Shaman out into the broader world. The elders and the shaman did spirit journeys questing for information about who they would teach and how they would find the people that would carry this tradition forward in the western world. Kay Cordell Whittaker was one of these people. She is now the leading authority in the Western World of her teacher's tribal ways.
Kay Cordell Whittaker was a house wife with two children and a husband. Until her life changed dramatically when she met two two elder shamans from South America, Domano and Chea Hetaka.
Her studies with Domano and Chea are chronicled in her book The Reluctant Shaman, and her subsequent writings. With her shaman guides, she is introduced to the rich history of the Ka Ta See.
From Kay Cordell Whittaker:
"Among the things Domano and Chea have taught me during my more than 13 years of apprenticeship with them is about the enormous almost unlimited potential each of us carries as a human and what little we know about it, let alone how to tap into it.
The most important thing my teachers told me I need to do to learn to know and live my potential is to free myself from the habits of my mind. As they put it:
"The people of this planet are forgetting how to experience outside the tyrannical habits of their minds."
"It is our tradition we give to you that will lead you to break out of the habits of mind."
Kay's story continues in a second book, Sacred Link.
The reviews of the book are stunning, as are the comments from some very prominent thought leaders:
"One of the great teachings in modern literature." – Nancy London, co-author of Our Bodies, Ourselves
"Sacred Link sent chills up my spine —what a compelling, empowering story!" — Christine Northrup, M.D., author of Women's Bodies, Women's Wisdom
"Sacred Link redefines the meaning of 'spiritual sensuality'." — John Perkins, author of Shapeshifting and Spirit of Shuar
My connection to Ka Ta See is through Barb Culbertson.  I met Barb in Santa Fe and attended one of her workshops where we started to explore one's "Song", a Ka Ta See poetic reference to oneself. Ka Ta See–and the idea of "Song"– is about a deep knowing of one's truth. You can't know your song from reading about it; you can't learn it from a video.
Learning one's truth is experiential. Knowing your "Song"– your wholeness– comes from experiencing experiencing the intimacy and the constant flow of communication between your physical and spiritual aspects. It's about a deep personal kindness toward's oneself and all else, about access to knowledge, meaning and purpose, set against the ancient, mystical practices of the Ka Ta See.
Our elders always said that Humanity is now moving into the Era of the Heart. 
For you to know the purpose of being alive,
To know the life you came here to live, 
And what part you came here to play,
To help with that move, 
You need to know your heart. 
In Ka Ta See, this is part of what is called "Knowing your Song."
-Kay Cordell Whitaker, author The Reluctant Shaman
The Ka Ta See people from are from South America. They have lived in this area for at least 30,000 years in a culture that is radically different from the western world.
There is no wifi; there is no suburbia. But there are ancient traditions of life and healing that have withstood the passage of time.
Their culture starts with an understanding of self, or Song. The word Song, as Kay Cordell Whittaker says, evokes harmonious pleasing sounds and pictures, heart felt music and harmonies, living colors, and a taste of the aliveness that permeates all existence. It is the basis of Ka Ta See thinking, feeling, health, relationships, ceremonies and spiritual practices. It is the physical and spiritual truth of their culture, on an individual and collective level.
They live the language of perception and energetic/spiritual communication
They live the language of "one" as the elders of ancient Alaskan traditions say—the language of perception and energetic/spiritual communication with all beings. Through these perceptions, they know and understand the world. The Ka Ta See people and other ancient cultures understand this way of communication as necessary for the healing of human consciousness and Earth.
"If you want to learn about this new world, if you want to quest for balance, then start by learning your Song. When we hunt our Song, we are turning our perception toward our own beingness. And the nature of our beingness is perception. It is a feeling of great affection and completeness. Of apprecitation and acceptance. And its melodies and nuances are yours alone".    
–Chea Hetaka (from The Reluctant Shaman)
From their experience of self, the Ka Ta See perceive everything to be alive – the trees, the birds, the rocks, the waters, the animals, atoms and molecules. And everything has a Song, a consciousness, its own way of perceiving and its own unique action to fulfill in the cycle of life.
In this manner, according to Ka Ta See tradition, every element of our bodies (our cells, organs, nerves, muscles, blood, etc.) has an intelligent consciousness that naturally seeks balance.
Western society, however, has by and large lost its connection to the earth and its elements, and certainly many of us have lost the connection to our true selves. Conditioned by society's must do's, expectations and norms, we have learned to deeply discount our "Songs" from our souls.
What's in your soul? What is your Song?
This disconnection is seen by the Ka Ta See as a spiritual imbalance that is at the root of many emotional, mental and physical health problems. In their world, their perception of what's real is based on Song, it's multidimensional and it explores a knowing that is ancient and beyond the experience of western culture.
The Ka Ta See Healing Tradition
Healing in the Ka Ta See tradition is about balance. A disorder may be seen as a wake up call, a call to action. According to the Ka Ta See teachings, disorders resist leaving the body if the help they have to offer is ignored – they know what they have to give is an essential part of complete recovery of the body.
The healing process consists of interactions between the healer, the client, the spirit guides, and the wisdom of the body. Through this alliance, healing can occur. The healings can be done in person or at a distance.
In the West, these tribal traditions are passed on from teacher to student, individually or in groups. Ka Ta See teachings have provided a thriving environment for people, for the beings of the earth, and for the earth itself for eons. There is so much freshness in these ancient teachings, from which we can learn so much.
One of the things that resonated with me was the intense connection to the now, through one's Song and senses. I believe that we have much to learn from other cultures, about healing and about life.
Practitioners such as Barbara Culbertson bring these healing traditions to all of us. You  can contact her here if you're interested in learning more about seeking your own inner wisdom and potential, in the Ka Ta See tradition.
More Reading:
Three Wellness Destinations
Ojo Caliente, Wind Chimes and Waters
Winter Zen in Santa Fe: Upaya and Ojo Caliente
More on Peru:
Peru has intrigued me for years. The Ka Ta See live in the eastern Andes. The Inca civilization, the shaman healing traditions, and the landscape of the country all beckon me. It is definitely on the CancerRoadTrip agenda.
Like This Post? Pin It!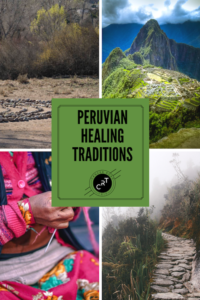 If you're interested in learning more about photography (or cooking or film or any number of topics) check out Masterclass for on-line excellence:
What is #CancerRoadTrip and how did it come to be? Read this post to get the backstory! 
Follow me on Twitter, Pinterest, Instagram, and at Anti-Cancer Club.  Connect with me!  I may need a place or two to stay along the way!