Chichen Itza and Chaccoben
The Mayan civilization has left us with sophisticated mathematics, a working calendar and mystery. The sense of mystery pervades the architecture, locale and history of both Chichen Itza and Chaccoben.
The detail at Chichen Itza is mind boggling. Walls of stone are carved with figures, celebrating life and death and telling many stories. The surviving buildings are of such a grand scale, it's almost incomprehensible without physically being there. And the entire complex leaves one wondering…who were these people and what happened to them?
Mayan culture is complex and well beyond my meanderings. But one of the attributes of Mayan culture that has caught my eye is the approach to life and wellness. Mayan healing traditions mirrored that of many other indigenous peoples focusing on balance, connection and harmony, and seeing disease as an unusual manifestation of problems, not the norm. One look at Mayan lifestyle noted:
The holistic healing tradition of the Maya was a medico-religious one, meaning that they treated both ailments of the body and of the spirit, and recognized their interconnection. The Maya healers sought primarily to balance the flow of ch'ulel, or life-force, in the body, making Maya medicine very similar to traditional Chinese medicine which also seeks to direct the body's life-force (qi). For the Maya, this ch'ulel (which forms the first principle of Maya medicine) is a sign of the interconnection of body and soul, which forms the second of the six principles. –Huffington Post
Mayan medicine men ah-men, or shamans, were a link between the physical and spiritual world.  The select ah-men were well educated and usually inherited their positions. A combination of sweat baths, hallucinogenic substances and plant and herbs were at the shaman's disposal. In addition, minor surgeries seemed to be part of the Mayan medical repertoire. Medicine was a complex blend of mind/body modalities, religion and ritual and Mayan science.
In some respects the regard for spiritual and physical health would seem to be the antithesis of the human sacrifice that was also part of the culture. But these apparent contradictions are not mine to resolve. I'm but a tourist passing through, curious about the ghosts of past civilizations and what they might teach me today.
The pictures in the gallery are from both sites. If you watch the videos in the post In the Path of the Mayans: Chichen Itza and Chacchoben it's fairly obvious which picture goes to which site.
In the photo gallery above, Chaccoben starts after the colorful market scene. The Chaccoben pictures are very primitive and located in dense forest, while the Chichen Itza photos are largely of the structures and their significant detail.
If you go…
Be prepared for warm temperatures and rain. (1 degree Fahrenheit  = 1.8 C + 32)
Getting there…
Cruise ships offer ready to go tours of these areas. But if you'd like a more personal experience, I would suggest doing some advance homework and looking for a private tour, or simply go to the site. Tours are always available and negotiable.
Of the two sites, Chichen Itza is located further north, and is near numerous sites worth exploring:
Chaoccoben is further south:
I've been a ruin junkie since I was a child, and these Mexican sites are fascinating. If you have a chance to glimpse the world of the Mayans, make it so!
More Adventures Cruising Central America:
In the Path of the Mayans: Chichen Itza and Chacchoben
Cartagena and A Cup of Coffee
Photo Gallery: Cartagena
Cats, Roosters and Hemingway in Key West
Photo Gallery: Key West
Traveling The Timeline of Now
 
Like This Post? Pin It!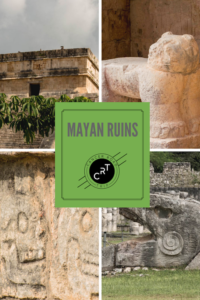 If you're interested in learning more about photography (or cooking or film or any number of topics) check out Masterclass for on-line excellence:
What is #CancerRoadTrip and how did it come to be? Read this post to get the backstory! 
Follow me on Twitter, Pinterest, Instagram, and at Anti-Cancer Club.  Connect with me!  I may need a place or two to stay along the way!