Alas, Gerry did not get his coffee (see the post on Cartagena!). But that aside, our foray into Old Town was wonderful.
Cartagena has a deep and rich history, starting long before the Spanish arrived on the scene. But as a Spanish port, the city was part of the Central American network for moving gold and riches from the new world to the old.
In my travels this past year, it seems as if I have traced many of the the trails of the Spanish presence in the New World. Certain commonalities emerge: a desire by the Spanish to gain control of indigenous populations; to control land and sea passages; repression (think Spanish inquisition); slavery, greed and gold. Overall it's not the most humane picture. But what has stayed behind, the beautiful architecture and often spectacular locations gives the history and travel buffs in the audience reason to visit.
Most tourists (myself included) head for Old Town Cartagena. Founded in 1533, it was a key port for the export of Peruvian silver and for the import of African slaves. It's a walled city –surrounded by 11 kilometers of walls!–catering to the tourist trade. But even with this intense focus on the economic benefits of tourism, the town retains a great deal of charm, and a procession of architecture that traces the evolution of the city.
Beautiful flowers spilling from balconies greet one at every turn. There is spectacular shopping if you are so inclined, as well as some very good restaurants.
Should you decide to go, know that it's just plain hot and humid all year round. Showers will periodically drench you. Be prepared.
And to guide you on your forays (actual or vicarious), here's some great reading:
As a pilot, I am always drawn to aerial photography and the perspective it provides. This beautiful book offers a birds eye view of Cartagena. If Cartagena is on your wish list, this book needs to be too.

This e-guide offers everything you need to make a visit to Colombia rich with meaning. Lonely Planet does such a great job with their guides. This one is terrific. It has information on everything from organized adventures and hikes to do-it-yourself tours. Enjoy!
Gabriel Garcia Marquez is Colombia's most renown authors. His books such as Love in the Time of Cholera and One Hundred Years of Solitude are well known.  This book offers a look at the man, as author, friend and later as a famed Nobel Prize winner.
His ability to blend magic and story telling–"magic realism"– is enchanting. As are his human insights. Here are a few quotes from this remarkable Columbian author: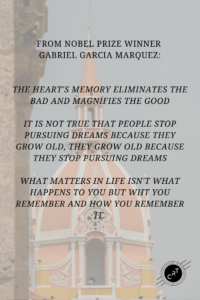 How true! Enjoy the pictures of Cartagena!
Like This Post? Pin It!
If you're interested in learning more about photography (or writing or cooking or any number of topics) check out Masterclass for on-line excellence:
What is #CancerRoadTrip and how did it come to be? Read this post to get the backstory! 
Follow me on Twitter, Pinterest, Instagram, and at Anti-Cancer Club.  Connect with me!  I may need a place or two to stay along the way!