When the going gets tough, the tough go traveling!
An excerpt from Adventures By Sailplane
B.S. (By Sailplane) B.C. (Before Cancer)
Pennsylvania to Indiana, 1995
Signs for a rest stop appear along the road and I pull off. Between the BMW and the thirty foot trailer shaped like an inverted speedboat, I am rather conspicuous.
I walk around the trailer to be sure everything is in good order, as I top the car off with gas. We take up an entire island, the car, Whiskey Oscar and I, but fortunately the station is not busy. A woman, a bit older than me, smiles and asks me what's in the trailer.
"I am taking my glider cross country," I reply as if it were self evident. And sensing a camaraderie in this stranger, I add, testing the impact of my evolving tale:
"I was married to a surgeon who ran off with his nurse who was pregnant with the child of another physician on staff. So I started flying airplanes without engines."
I am psychotic. Why did I say that?
The woman paused, her mouth slightly opened. I have to stop doing this, I thought. Someone is going to shoot me or something. But to my delight and surprise, the woman starts to laugh! She howls with laughter. Tiny tears, tears of life, run out of the sides of her eyes. She takes her hand and wipes away the moisture.
"I was married too," she tells me, sobbing with laughter. It is no longer clear just what she is laughing at. Me, my story, her marriage, mine. It does not matter. We have connected on some fundamental level. We share the laughter and the tears of two women who have traveled similar emotional territory, in different places on different days. But the stories are so familiar. The feelings are the same.
"There is life afterwards and isn't it great!" she sobs through her laughter. She smiles lost in her own tales. She wishes me well and fortified by the encounter I continue on my way.
The rolling green hills continue forever. Pennsylvania fades into Indiana, and Indiana into Illinois, the state of trains and no hotel rooms. I have been driving since early this morning, with thirty feet of trailer sashaying behind me along the road, thirty feet which holds my precious Whiskey Oscar, and I am tired. But summer travelers have apparently booked every hotel room for miles. I go from one to another, only to be turned away. It is night and finally with the help of a kind desk clerk who gets on the phone to an out of the way University Club with rooms to let, I find a place to stay. It is 10pm my first day on the road to Oshkosh and I am just outside of Chicago.
Like This Post? Pin It!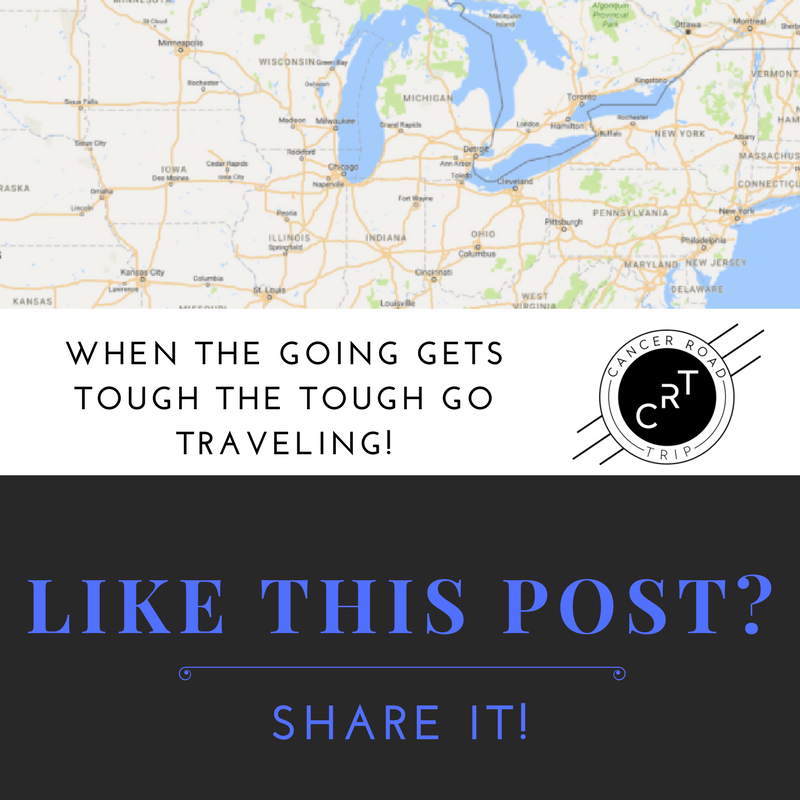 If you're interested in learning more about photography (or cooking or film or any number of topics) check out Masterclass for on-line excellence:
What is #CancerRoadTrip and how did it come to be? Read this post to get the backstory!
Follow me on Twitter, Pinterest, Instagram, and at Anti-Cancer Club. Connect with me! I may need a place or two to stay along the way!