Traveling to heal is a metaphor and an experience. The long days on the road, the twists and turns, the ups and downs all symbolize our path through life and especially life with cancer.
CancerRoadTrip is about more than my journey. It's about all of us who have had to deal with the impact that cancer has had on our lives. For some of us, it is our own health. But for each of us, there are friends and family and others whose lives are also changed. 
This month I am delighted to feature a post by Kristyn Lohoff, author of the blog OurClassCeeLife. Her story is that of a caregiver to her husband.
John died suddenly and unexpectedly, leaving Kristyn in deep grief. But with his death, came an idea. 
It was time to travel to heal.
This is her story.
***
A Cancer Diagnosis
In May 2017, my husband John was diagnosed with stage 4 angiosarcoma, an incurable but treatable aggressive cancer. He had already had cancer 8 years earlier. Testicular cancer. And after three months of chemotherapy he was considered cured. He had already done his "stint" with cancer.
There had to be a mistake. Except there wasn't.
At first, the chemotherapy treatment went as we expected. But after about a month into treatment, things changed. He developed complications. And then more complications, and still more.
He was hospitalized six different times in four different hospitals, in three different cities in two different states. Most of the time he was hours from our home. I have amazing friends that took my younger girls into their homes and became their short term "mom" so that I could be with John.
One day, as he was nearing discharge, the oncologist came to give us some unexpected news. The chemo had done its job and the lung met had disappeared from the last scan!
She said that John would be discharged in a few days and would take a chemo break for several months. After that, they would repeat the scans and we would determine what the next steps needed to be.
We were so excited! A break! We could make plans to travel!
They ordered a routine ultrasound of John's liver because his bloodwork had been a bit "off" that morning. We smiled, and John seemed to sigh and relax a bit. At one o'clock they took John for his ultrasound, and as always I said, "I love you," as he was wheeled out of the room. He responded with, "I love you, too," just as he had always done.
When he arrived at the ultrasound, he was unresponsive. Resuscitation efforts were not successful and he died after 83 days of hospitalization.
I was a widow at the age of 48.
***
It's Time for a Road Trip
A month after his funeral, I thought about the RV trips we had planned to take. I especially remembered how badly John wanted me to take him to California so that he could see where our oldest daughter lived. He also wanted to see the Pacific Ocean. As teachers, we were able to take extended trips during summer vacations so I began to think. Why not? I should go! I could drive my motorhome to California and bring John's urn with me… I could take him to those places that he wanted to see!
And then I thought some more. If I was going to travel halfway across the country from my home in Wisconsin, I might as well drive up the coast to Oregon, and see Seattle. We had planned to take a train trip to Seattle the summer he was diagnosed. Of course those plans, like so many others, had been cancelled.
I could take them back!
I could go to the Grand Canyon and take that trip back. We had planned to go there a few years earlier, but as a caregiver for my mother who had Alzheimer's Disease, I was needed at home so we didn't go.
Before I knew it, I had created a list of places that I wanted to see, for him, for us, for me. Then I mapped out the trip and did some planning and discovered that I could do the trip, almost completely around the country, in 83 days.
I would take back each of the 83 days that was stolen from him in a hospital bed by doing what we loved most.
83 Days To Heal
My trip was based upon ten places that I deemed were "Must see" stops. Many of them had a connection to food, as both John and I liked to consider ourselves foodies. The trip would become a 13,800 mile adventure which looked like this:
Kansas City to eat the famous burnt ends at Joe's Bar-B-Que. https://www.joeskc.com
Taylorsville, CA to visit my daughter
Seattle, WA to eat pho like we had planned.
Zion National Park. I had just learned about this park and thought it would be a healing spot.
The Grand Canyon, where we had planned to go but couldn't because of my mother's health.
Albuquerque, NM to see the Old Town and eat the local food he had tried while at a conference in that city.
Philmont Boy Scout Ranch in NM to see where I had been with my father as a young girl (My father died when I was 7).
Galveston, TX where we had planned to go for Spring Break before he was diagnosed, but his pain wouldn't allow him to travel.
Exeter, NH because I had learned that I had relatives that were some of the first families to come from England, and there were historical homes in the town.
Acadia National Park in Maine because we had planned to visit that part as well.
John and I loved nature. We loved camping. We loved to travel, and we loved good food.
This trip was planned to take all of that into account and hopefully to also find some healing.
We had lost seven family members in 26 months.
My mother, my father-in-law, a close cousin from cancer, and my husband were four of them. We lived in a forever state of trauma, ready to react to the next event that could come at any moment.
I felt like I had no control over anything in my life anymore, but I COULD control this.
Many people thought I was nuts.
While it's true that I've always been an odd soul, this trip made sense to me.
It would mean that every two to three days I would have to drive several hours and learn to live a completely different lifestyle where my entire life was in a 32 foot motorhome. "What will you do if……..?" People asked me. "Do you have a gun? Bear spray at least? What if you breakdown? What if you get in an accident? What if you get lost?" and on and on.
They worried about me.
The truth was this: the worst possible thing in my life had already happened. I had lost the person I loved the most. The person who was supposed to grow old with me. I lived through the trauma of his diagnosis, his treatment, and his death. I lived through the deaths of six other family members,
I had already lived through the worst possible things. A flat tire didn't scare me. Besides… I had travel assistance!
Bumps in the Road
The most challenging part of my trip happened very early on. On the first and second day I nearly turned home and gave up any idea of doing the trip. My motorhome wasn't charging properly, the bikes I had bought weren't fitting on the bike rake and I had to drive with them inside of the kitchen. Everything seemed too difficult and I thought to myself, who will even know or care if I don't do this?
And then I thought of John and everything I watched him endure in those 83 days plus in the days at home which were often scary, too. I thought about how he didn't really have a choice.
I started our blog when John was diagnosed. It was supposed to be a way to communicate with family and friends about how he was doing, while also showing how we intended to continue travelling and being in nature whenever possible throughout his treatment.
After he died, I decided to keep the blog and it would become a record of my journey through grief.
I originally planned to write about my 83 day trip as weekly letters to John, telling both the story of that week of his hospitalizations and record what we were doing to take those days back for him. My trip was 12 weeks long, but by the sixth week I found that writing those letters was becoming too emotional for me. I decided to continue posting daily pictures on social media, but stopped writing the letters.
Shared Stories Of Angiosarcoma
One of the most amazing parts of my trip was the people I met.
Many of them were connected to the Angiosarcoma Cancer Group I belong to on Facebook.
I made plans to stop and connect with the Physical Therapist John had in the hospital. She had lost her first husband to cancer and we immediately connected when John was receiving treatment.
I met Crystal who lost her infant daughter and has created a program to help others through their grief. 
I met with Julie and Jill, both who have angiosarcoma and endure the endless and relentless treatments of the disease.
I met Lori and Dave, both who lost spouses from angiosarcoma and who now are married to each other.
I met Amy, who's father lost his first and second wife to angiosarcoma, and I met Corrie, a scientist working towards better diagnosis, treatment and outcomes for angiosarcoma, which she is also diagnosed with.
I met dozens of other along the way, who had their own stories of cancer. I told them of my trip and they told me about a sister, or spouse, or parent, or friend who had been lost to cancer or who is going through treatment.
Meeting these people, hearing their stories and sharing my own became surprisingly healing.
When children have cancer, they often have a string of beads that they earn for every procedure they endure. A bead for a blood draw, a different bead for a CT scan, and still a different one for physical therapy or chemo treatment.
The string of beads becomes their visual cancer story, a reminder of everything that they have endured. When John was diagnosed, I started drawing out a string of beads for everything that he endured. The string grew rapidly.
I decided that I would earn beads for getting through difficult times on my trip.
Drive through a mountain pass, earn a bead.
Find a place to fix the camper and replace the batteries, earn a bead.
Drive through Dallas, earn a bead.
The Healing of Time and Travel
Earning my "beads" helped me to heal. I made it through my 83 day trip without any major difficulties. In fact, the opposite happened. Things "opened up" for me along the way.
Campgrounds that had been full suddenly had an opening when I arrived, restaurants that I wanted to go to were suddenly not crowded at times when they typically would have lines out the door. Tours would only have room for three more – and we were a group of three. And my motorhome "CeeCee" got us around the country without any problems after that second day. I am convinced that John helped make many of these things happen, and the people around me believed it, too!
I began to heal by touching the bones of dinosaurs, visiting my daughter, running on the beaches of the Pacific Ocean, the Gulf of Mexico, and the Atlantic Ocean. I saw and touched trees that were thousands of years old.
I sat by myself with a cup of coffee and my knitting along the North Rim of the Grand Canyon.
I ate the pho, the chilis, the burnt ends, the Maryland crabs, and the lobster rolls that John and I had talked about having together.
I hiked trails to see waterfalls, hiked through rivers, and hiked to see breathtaking vistas.
There's something about nature that helps to fill the holes left in our souls, helps to fill the holes made of trauma. One quote that spoke to me while on my trip was this one by John Muir who is considered the father of the National Parks,
"And into the forest I go, to lose my mind and find my soul."
It was exactly what I was doing….losing myself in nature in order to find myself. My new self. My widowed self.
I think that it's important to know that cancer affects families, not just individuals.
Often, we think that when family members continue doing things that they typically do, things like going to a movie, working, participating in girl/boy scouts, when we see them doing normal routine things we think that everything is ok.
In reality, every day is filled with fear.
Things change so quickly and a moment of contentment now could become a trip to the hospital in only a few hours. Families with cancer live on edge, always prepared to react to a crisis at a moment's notice. People want to help, and they offer meals, they may bring coffee, they may offer to take children for an afternoon to give adults some time alone. All of these things are helpful and much appreciated.
Finding time to get away, to find a quiet spot and to just sit and feel the sun on your face, whether it be 10 minutes from your home or 10,000 miles away, offers a moment of healing. What people also need, I feel, is someone to just let them talk and listen. Not to offer suggestions or answers to problems. Just to sit and listen… and to share their sorrow.
More Reading on Traveling to Heal
Healing Travel For A Better Matrix
Thoughts On The Metaphor Of A Road Trip
Like This Post? Pin It!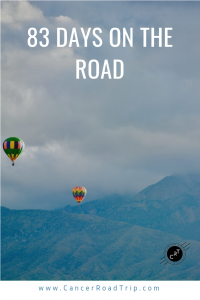 If you're interested in learning more about photography (or cooking or film or any number of topics) check out MasterClass All-Access Pass for on-line excellence:

What is #CancerRoadTrip and how did it come to be? Read this post to get the backstory! 
Follow me on Twitter, Pinterest, Instagram, and at Anti-Cancer Club.  Connect with me!  I may need a place or two to stay along the way!