What is #CancerRoadTrip and how did it come to be? Read this post to get the backstory! 
Conquering the world has nothing on conquering cancer!
For some, adventure suggests uncertainty. Insecurity.The unknown!  Compared to cancer? Hah! Cancer is the ultimate unknown! Let's compare:
Fun vs. Suck
Adventure is fun. It breathes life!
Cancer is not fun. Not at all. Not in any way. Not any day. It sucks life.
Exploring vs. Exhaustion
Travel means new things. New experiences. Energy!
Cancer means curled up in bed. Barfing. Beat.
Vista vs. Wall
Travel means new sights. Amazing vistas of new terrain.
Cancer is four walls and a bed.
Fresh Air vs. Med Air
Travel is being outdoors. Breathing life. Alive.
Cancer is hospital air. Filtered. Restricted.
Don't wait until you have cancer to do what you want to do. Carpe diem–Seize The Day– is my official cancer battlecry.
Light  vs. Dark
Travel is restorative. Light. Easy. Fun.
Cancer is heavy. Dull. Sad.
Love vs. Fear
Travel is loving life. Tasting, thinking, trying.
Cancer is about fear and loss.
Participation vs. Isolation
Travel is about new people, new cultures, new places.
Cancer is about being very, very alone.
Presence and Awareness
In spite of the ups and downs, cancer is an experience that has brought much greater compassion for others into my life; it has sent me on a quest for greater meaning; and it has caused me to cultivate the skills of presence and awareness, through meditation and yoga. I am actually grateful for these perspectives and grateful for the opportunity of  #CancerRoadTrip. I may not conquer the world but I do hope to explore it.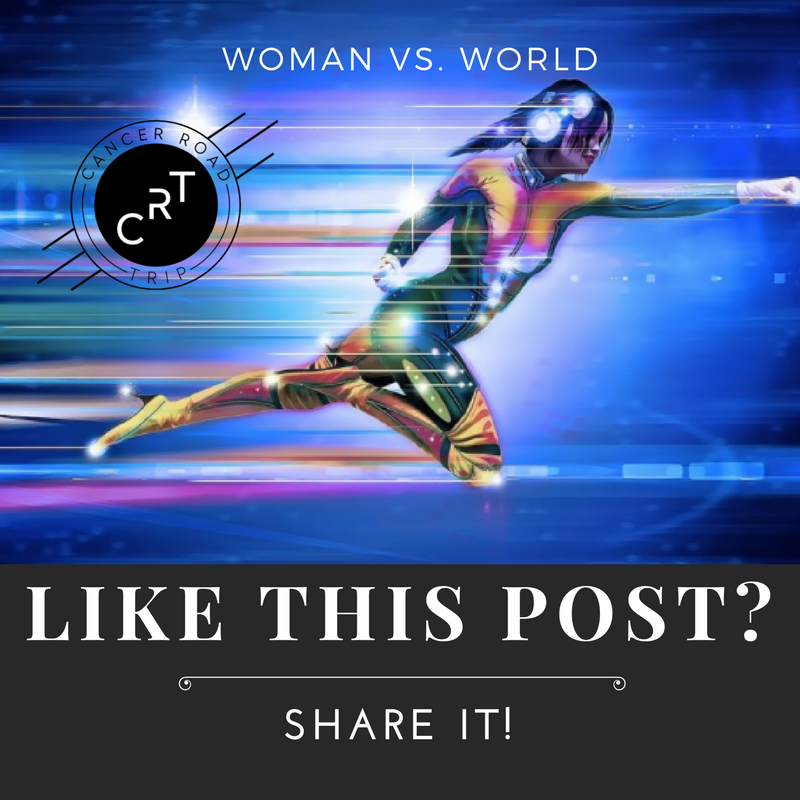 Follow me on Twitter, Pinterest, Instagram, and at Anti-Cancer Club.  Connect with me!  I may need a place or two to stay along the way!