Georgia O'Keeffe put Abiquiu on the map with some of her paintings. And today, that legacy continues:
This cluster of talent is one of those "Paris in the Forties" moments, where intense artists doing intense work have coalesced together.  –Doug Coffin, Artist
Just as Georgia O'Keeffe was inspired by this remarkable countryside, so are today's artists.
The legacy of art in this New Mexican corridor is a rich one. Georgia O'Keeffe made this area famous as she divided her time between her homes in Abiquiu overlooking the Chama River Valley and Ghost Ranch, interpreting the landscape in her unique view. Since then many more have followed, each with their own perspective of the area.
Georgia O'Keeffe's Ghost Ranch is fairly remote, even by today's standards. One can only imagine what it had to be like back in the day. No paved roads; access perhaps by motorcar, but certainly by horse. And then there are the rumors of the haunting of the property itself. One might pause before locating in such a stunning but inaccessible location.
But not much intimidated Georgia O'Keefe. She was no shrinking violet and she didn't tolerate fools easily. She actually didn't tolerate many people at all. Santa Fe is full of stories of her rather eccentric, self involved behavior. But those are generally eclipsed by the legacy of her paintings.
Should you visit Santa Fe, her museum offers a look at her art. But if you have time, try to make the trek north to Abiquiu and to Ghost Ranch where she spent part of the year and painted some of her most iconic works.
Georgia O'Keefe's influence on art in northern New Mexico is almost tangible. The landscapes she made famous continue to inspire a new generation of artists, while her art remains as relevant today as ever. And once one visits this incredible landscape, it's easy to understand why she settled here.
Northern New Mexico is like no other place. It is beyond beautiful, with stunning vistas, mesas and rock formations. It tests one's soul as surely as it fills it. And it challenges the psyche and the spirit with daunting expanses and narrow, crevassed canyons.
Today's artists are just as impressive as Georgia O'Keeffe. Contact Teresa Poole (www.abiquiuartproject.com  505.685.0504) at the Abiquiu Art Project to include some gallery visits on your trip to O'Keefe Country.
If You Go…
Abiquiu is 48 miles north of Santa Fe. Ghost Ranch is 14 miles northwest of Abiquiu on Route 84 North.
The Georgia O'Keefe house at Abiquiu requires advance ticket purchases and access is limited, so plan ahead. Tours can be purchased through the Georgia O'Keeffe Museum in Santa Fe.
In Abiquiu, if you decide to go to Plaza Blanca (and do!), be prepared for some dirt roads!
The main highway, Highway 84 North is a paved two lane road. Pay attention to reductions in the speed limit as you go through small towns. And drive carefully. At times the road is narrow and New Mexican drivers…well they make Roman drivers look sane some days.
The road into Plaza Blanca parallels the Chama River. Be careful here too. There is no shoulder next to the river and the road is narrow. The road back to Plaza Blanca is a rutted dirt road with rocks and lots of dust. It's very passable; you just may need to take your time. The actual rock formation is on private property, but don't worry. The owners–the Dar Al Islam education center and mosque– welcome visitors. The entrance to Plaza Blanca looks like this:
Wear some sturdy shoes and enjoy!
And for lunch afterwards, Bodes and The Abiquiu Inn are both on the main highway.
More On Georgia O'Keeffe:
Georgia O'Keeffe and Her Houses: Ghost Ranch and Abiquiu
From Amazon:
Georgia O'Keeffe's two houses in New Mexico—at Abiquiu and Ghost Ranch—are essential elements in her paintings, but their history has never before been detailed. Quoting liberally from the artist's letters, Barbara Buhler Lynes and Agapita Judy Lopez create a vibrant picture of O'Keeffe (1887–1986) and her homes, which have long intrigued the public. An essay by architect Beverly Spears describes the distinctive characteristics of adobe construction.
Georgia O'Keeffe

Georgia O'Keeffe (1887–1986) was one of the foundational figures of American modernism and a pioneering woman in the arts. Widely celebrated and recognized for her flower paintings and Southwest landscapes, O'Keeffe is revealed in full in this new book. With superb plates of more than 200 works, it ranges from well-known masterpieces to the abstractions, nature studies, and New York City scenes that have captivated new generations of art lovers.

From Amazon:
The turbulent, 20-year love affair between artist Georgia O'Keeffe and photographer Alfred Steiglitz fuels some of the most important art of the 20th century.
More Reading on O'Keeffe Country:
Art in Abiquiu: Visiting the Abiquiu Art Project
Winter in a Santa Fe Casita
Santa Fe via Las Vegas, N.M.
Photo Mission: Cold
Photo Mission: Winter at Taos Pueblo
The Art, Culture and Beauty of Santa Fe, N.M.
Ojo Caliente, Wind Chimes and Waters
The Zen of Upaya
Winter Zen in Santa Fe: Upaya and Ojo Caliente
Like This Post? Pin It!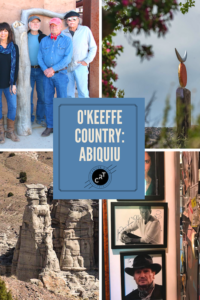 If you're interested in learning more about photography (or cooking or film or any number of topics) check out Masterclass for on-line excellence:
What is #CancerRoadTrip and how did it come to be? Read this post to get the backstory! 
Follow me on Twitter, Pinterest, Instagram, and at Anti-Cancer Club.  Connect with me!  I may need a place or two to stay along the way!