"Sometimes the most scenic roads in life are the detours you didn't mean to take."  ― Angela N. Blount 
It is June 9, 2017 and #CancerRoadTrip officially begins.
I awake in the morning to the sound of birds outside, at Vanessa's house. There are many types of beauty, she reminds me, and indeed there is. And beauty, which is in the eye of the beholder, can be found anywhere, or dare I say, just about everywhere.
It is early, but I am ready to get started.  I say my goodbyes and I depart the area that has been home for 20 years. I can always come back, but I'm not sure that that is in the cards. Time will tell.
It's uncharacteristically cloudy, which brings out the deep green and mauve tones in the mountains, topped with a cap of white snow. And a wave cloud bids me adieu, just as one welcomed me on my very first visit to fly here, over two decades ago. That trip, I had stopped en route from SSA (Soaring Society of America) convention in Seattle, to fly in Minden, one of the world's top soaring locations. That trip was unworldly.  I flew my first high performance plane, and got my first taste of western flying. I vividly remember this amazing wave cloud, that mirrored the western flank of the Sierras from Reno all the way down to Minden.  I'd flown some wave before, but I'd never witnessed anything like this meteorological phenomenon. And Tahoe. Well, Tahoe takes everyone's breath away.
Even after that trip, I never planned to live here. In 1995, after flying in Heber, UT, I was driving west on Route 80 when a sign for Truckee came up. I heard about some long flights from the airport, so I decided to simply stop and stretch my legs. I pulled into the airport, and a stop sign said "WHOA!". So I stopped. And Les Seabold, a World War II vet who ran the glider operation, asked me if I'd stay for dinner. "And by the way", he added, "the bunkhouse is $4/night. It's an extra dollar for a hot shower in the morning."
So it was I stumbled into Truckee, into the Sierras, and later on, into living in Incline while my plane Whiskey Oscar was based in Minden. I'd later move to Southwest Reno and buy my house of nearly two decades.
All this, and much more, goes through my mind as I head westward. This drive is so familiar-and so beautiful.  I have to believe that I'll drive it again at some point.
The drive between here and Vashon is partly reminiscent, and partly new. I've driven this stretch before, but every trip has its own set of priorities. For years, there were tennis tournaments and flying forays; then wine clubs and parties throughout Northern California; runs to the Pacific; and cultural, food and business runs to the Bay Area.
This trip is more definitive. It is both an end and a beginning.
***
One of my first stops is Sonoma. I have loved the entire Sonoma Valley since my first trip around 1990. And among my first introductions to the area was Sonoma Mission Inn. Before the property was acquired by Fairmont Hotels, it had a bit of a spare Scandinavian feel, coupled with the amazing spa facilities. It was originally founded by Native Americans who found the underground mineral springs. Since then, it's been through numerous iterations and upgrades, including recovering from a fire in 1923 and then serving as a convalescent area for soldiers after the World War II. The spectacular spa facilities were added in 1980. The resort has always been a popular destination for well to do San Franciscans (and others). Today it's absolutely beautiful.
With my back hurting, I seriously considered seeing if I might get in for a massage. Instead, I opted to get out and walk, and see if that (together with the ice pad I had against my back) gave me some relief. So I headed to Cornerstone Sonoma where I could both walk and take some photographs.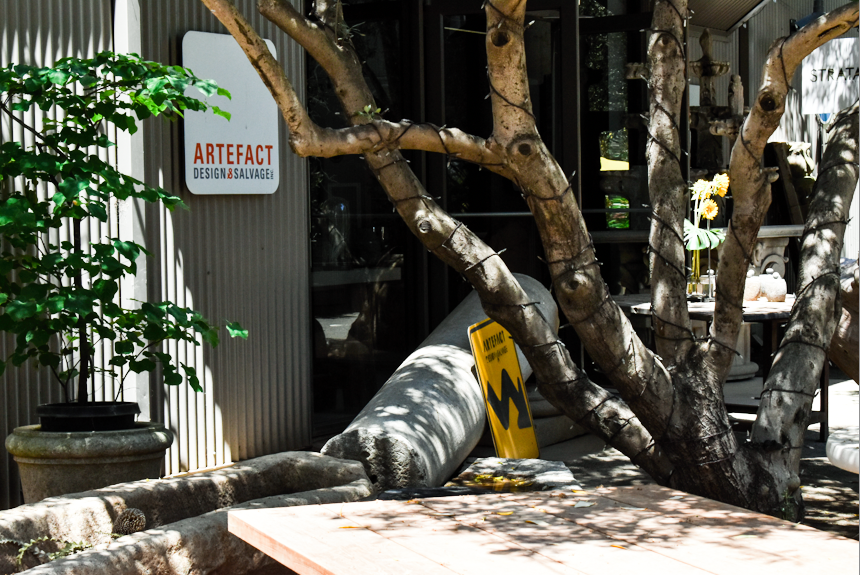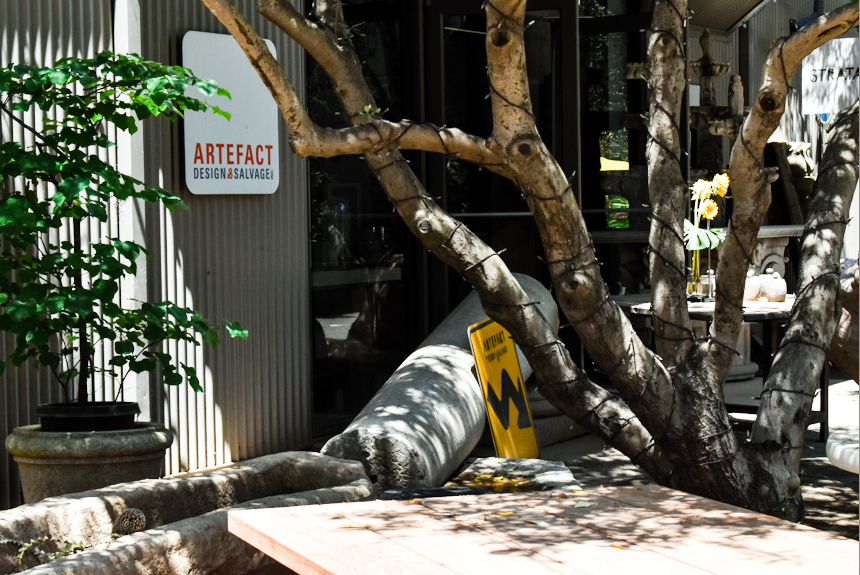 I discovered Cornerstone Sonoma when I was re-doing the backyard. It was here that I found "Root"-a magnificent, if funky teak root, with a six foot wing span, standing about four and a half feet high. I'd been looking for something arty for the courtyard. I considered buying something; having something designed; but the cost of either was rather high. So I went on a quest, and part of that quest brought me to Artifact, and to Root.
The idea of Root might seem a bit odd. But he was (is) a magnificent piece of wood. His backside has a butt where the wood feathers in a way that cast magnificent shadows in the evening lighting. Nearly everyone oohed and ahhed once I had him situated on his half ton rock, and lit for the evening.
Artifact, where I found Root, is something of an architectural salvage company. Many of the finds are imported from Asian, and there is a stunning array of unique and arty items. Other stores in the complex offer quirky and attractive wares as well.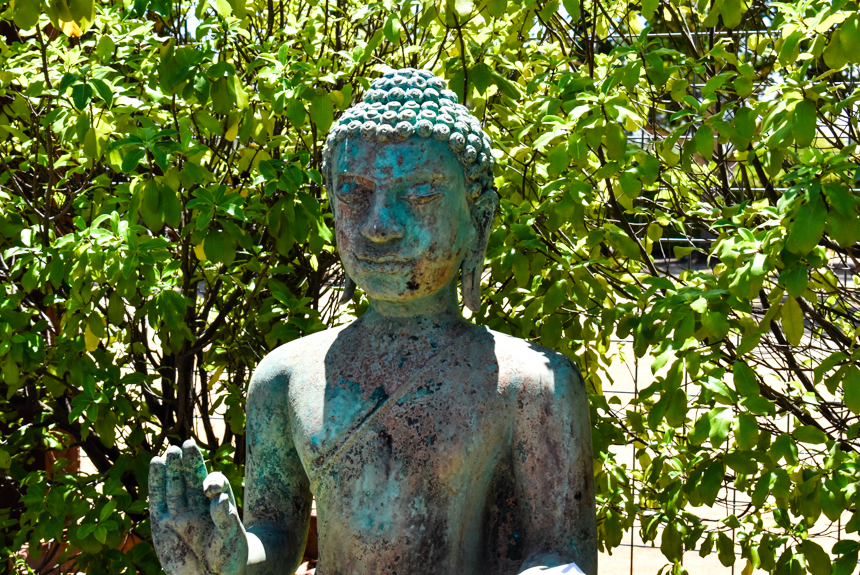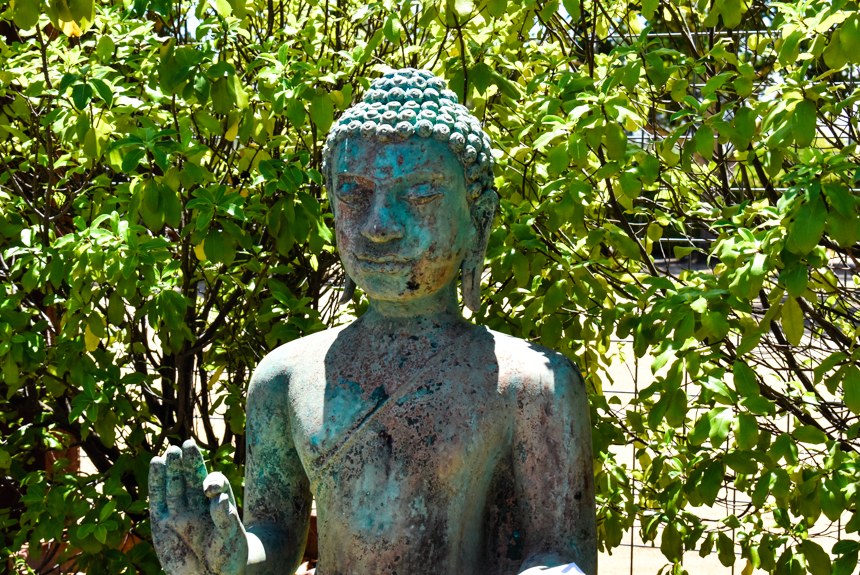 The other draw of this little enclave are the amazing gardens. This is what initially drew me here, as I was faced with re-landscaping my yard. The gardens are designed by highly regarded landscape architects/firms/designers and range from the herby to the hallucinogenic. And outside sculpture and art installations wind their way through the various garden vignettes.
One of my favorite is the eucalyptus garden which was partly under construction/maintenance today. But next door is a beautiful walkway to the lily ponds. and beyond that, the ephemeral cactus/veil creation. And next to that, the serene minimalist garden of birch trees and their shadows.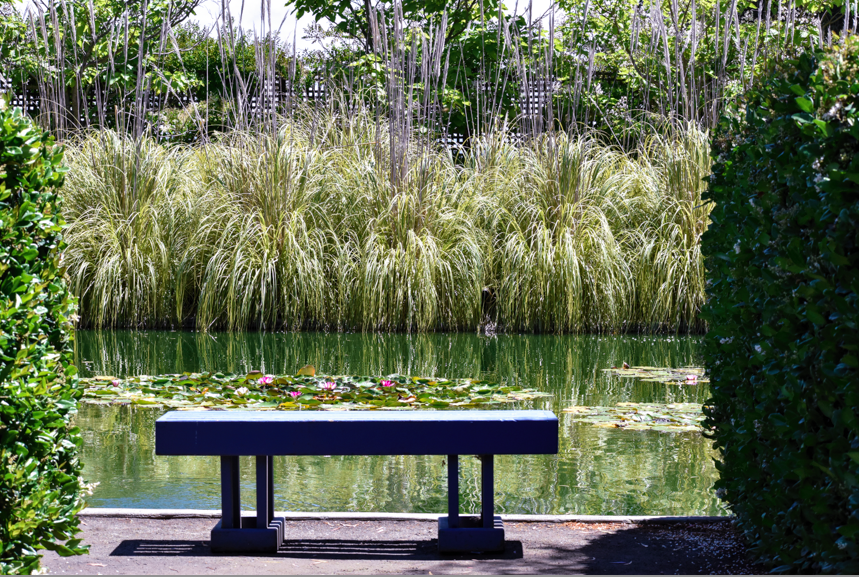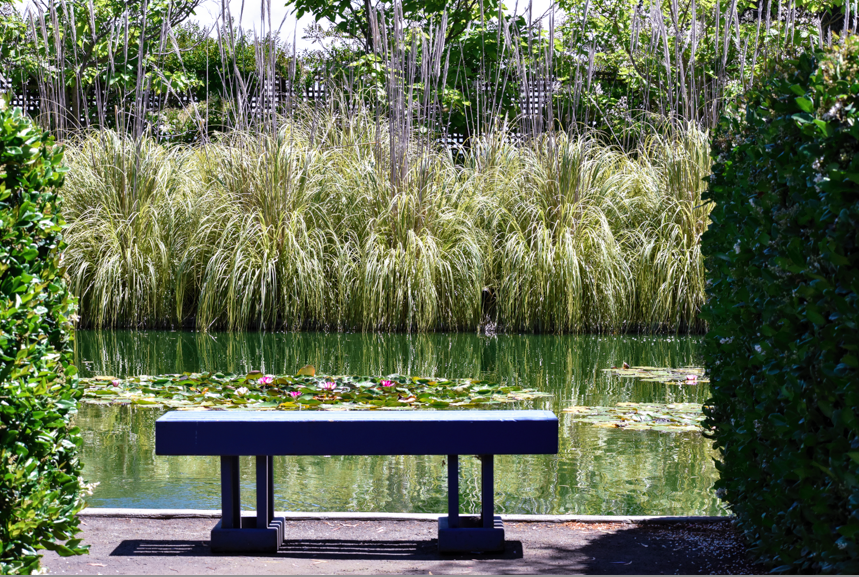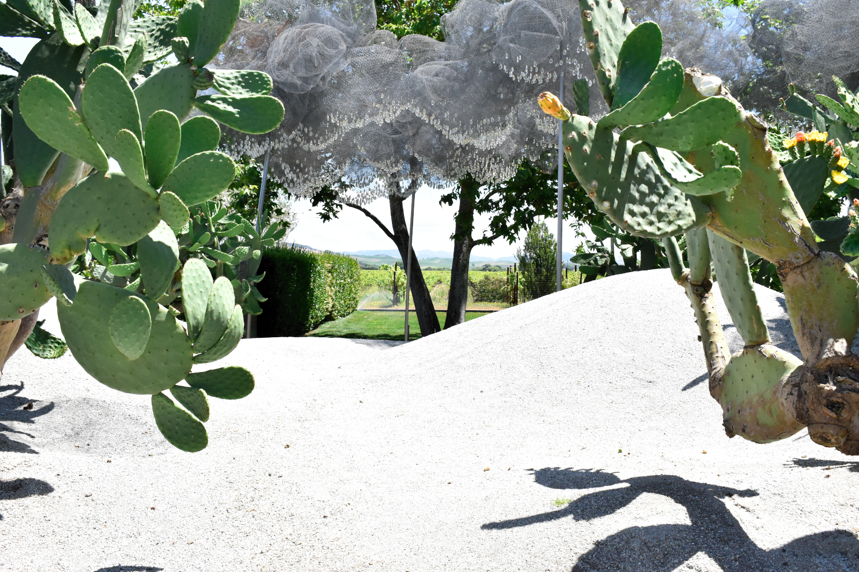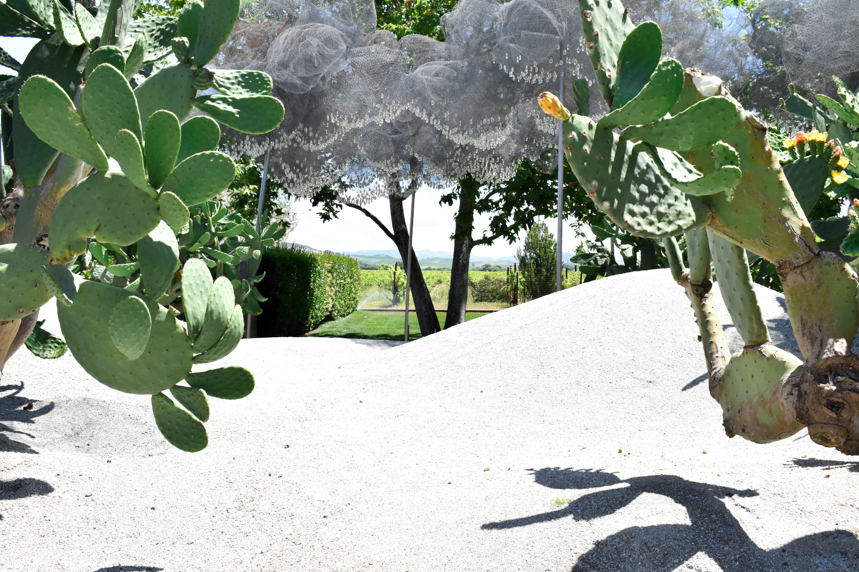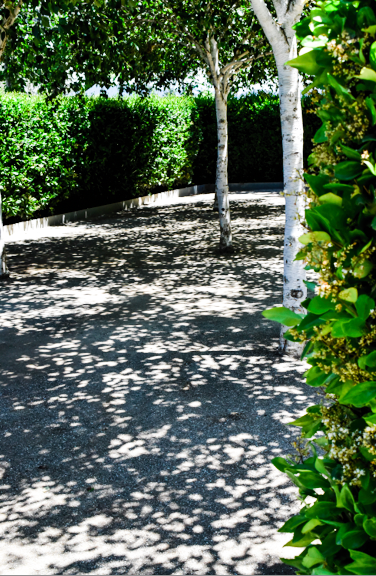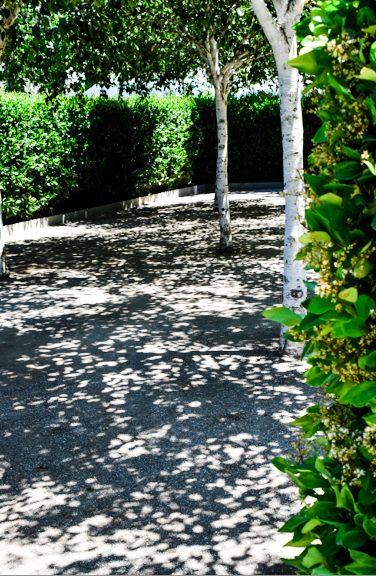 Cornerstone is an interesting collection of creativity, old and new. If you enjoy an eclectic, artistic stop, this is for you. There's also a restaurant in the "village", but I opted for the short ride back to Sonoma square for lunch.
***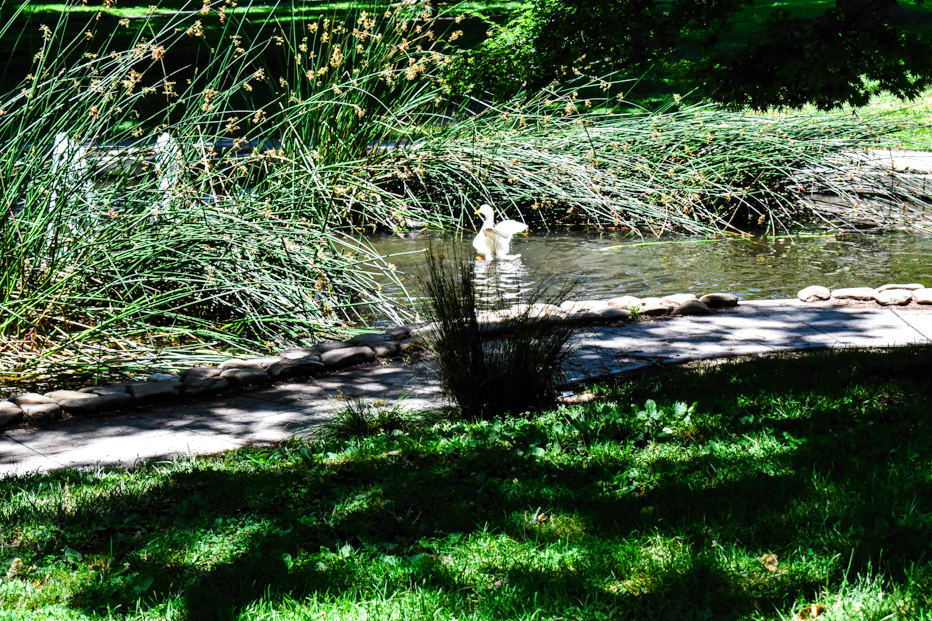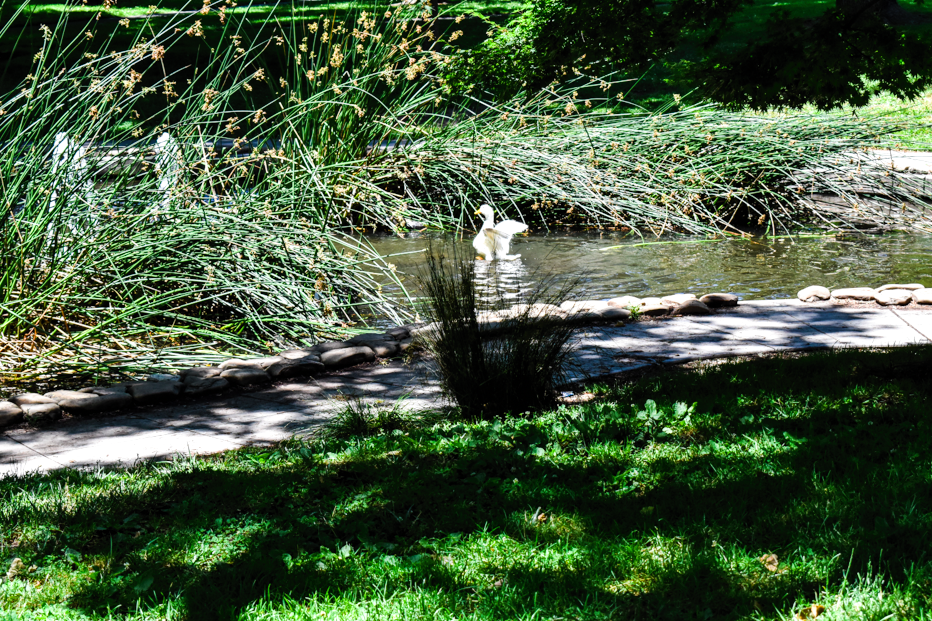 On the square, people linger, and ducks play in the small series of ponds. On a Friday afternoon the throngs of tourists are mostly absent, and the sleepy sense of a once-off-the-beaten-path place lingers. On one side of the square, the original Spanish Mission sits, looking across the central park. Restaurants and shops line the sides of the small park, and a few people rest and eat in the shade.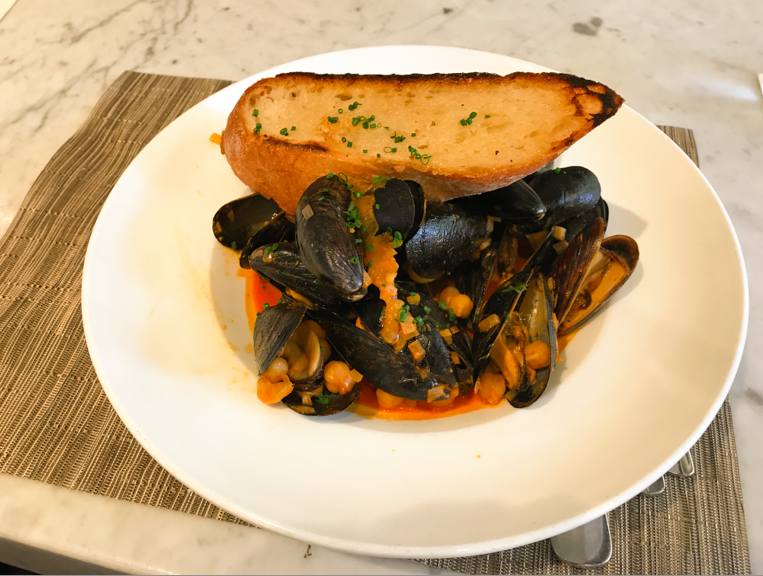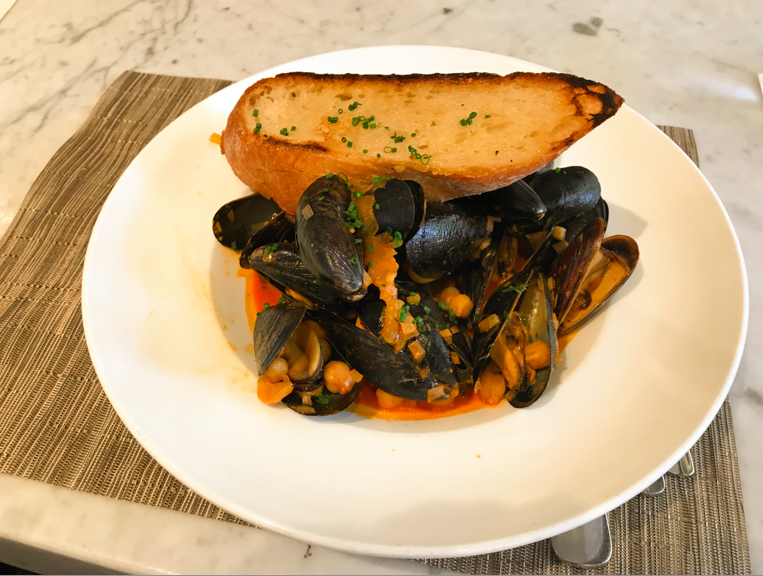 Lots of restaurant choices; I opt for a familiar place and order mussels. A relatively quick meal at the bar, and I'm heading north on 121.
Vineyards line the road. Not stopping to explore the winery offerings seems vaguely sacrilegious, but this trip has other priorities. Like a walk on the beach.
Walking helps my back and hip and I am on a mission of sorts to get to the Pacific, and certainly to get healthy again. Dillon Beach is nearby, and I head in that direction. The beach is named after George Dillon, an Irishman who emigrated in 1826. It's located at the end of Tomales Bay, an area rich in oysters and clams.
Dillon Beach is a great walk. Here is a short video, captured with my iPhone. At the end of the video, around the point, is where Tomales Bay resides.
Tamales Bay is home to numerous fishing operations. Hog Island Oyster, one of my favorite local seafood places, is located down the road a bit. It has an outdoor
eating area that's very casual, with absolutely fresh oysters. Friday nights are shuck your own; Saturday is service. You can reserve a picnic bench/table ahead of time and there are small barbecues if you want to bring additional food. Call ahead for details.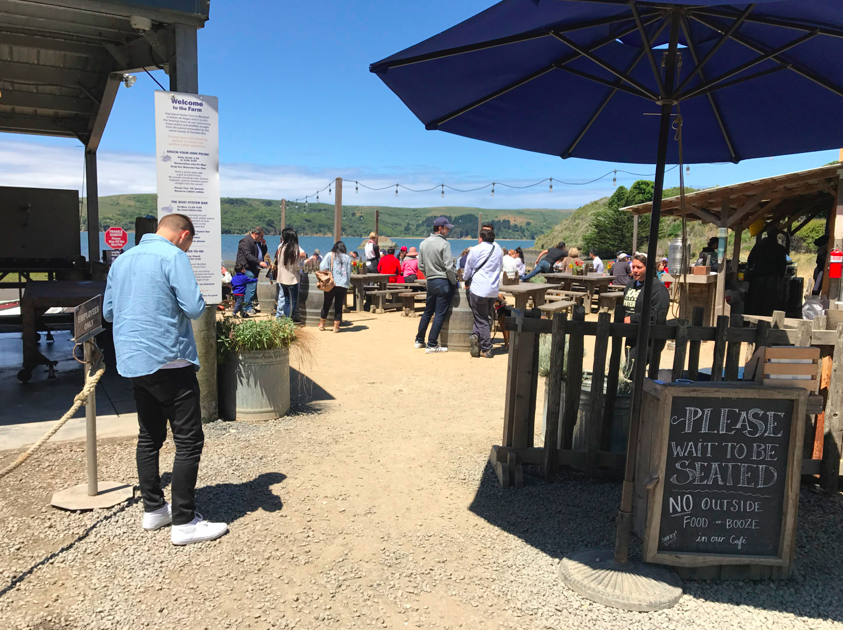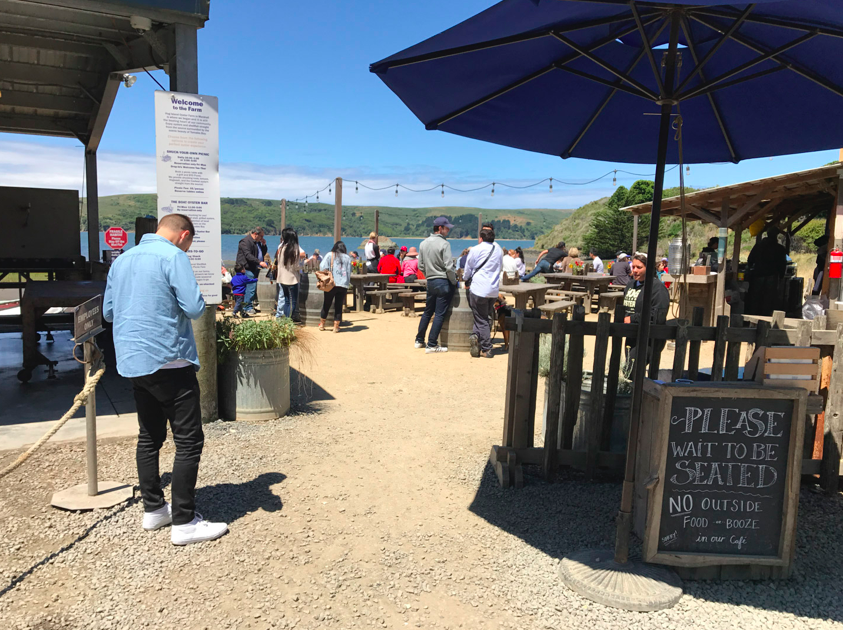 I arrived without a reservation and had quick access to the stand up bar, where I ordered Bourbon BBQ oysters and half a dozen on the half shell. If you like oysters, this is worth a trip. Or if you're in San Francisco, Hog Island has a restaurant in the Embarcadero that has a more extensive menu including some fantastic sashimi.
I had intended to take a perfect picture of a plate of perfect oysters, but I was hungry, and I dove in without considering you, dear audience. My apologies! Please take my word for the perfection of the briny oysters with the shallot vinegar dressing, against the sounds of the coast.
From Dillon Beach, through spectacular Tomales Bay, I head back towards Healdsburg. I'm actually staying in Windsor which is just a few miles down the road and much more reasonable. If you want to visit this area and think $400+ a night is a bit much, check out Windsor. And in Windsor, check out Tomi Thai for superb Thai (think healthy!) food. I had Salmon with vegetables and some brown rice that was outstanding. This Thai restaurant is now on my permanent list for the area. Along, of course, with Willi's Seafood & Raw Bar, just off the square in Healdsburg.
This part of California has many wonderful memories for me. Among them are some great wine and food parties and experiences, from Hog Island to Thomas Keller's French Laundry. It occurs to me that I would consider spending a few months here, off season.
***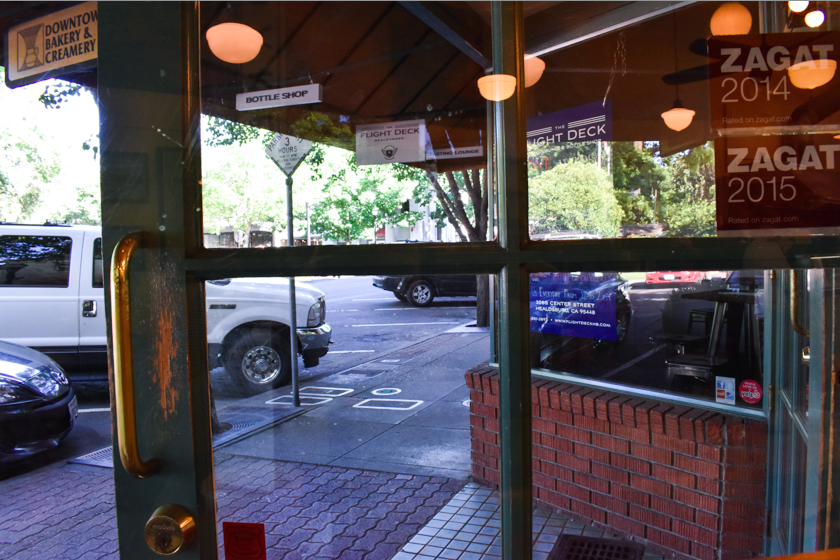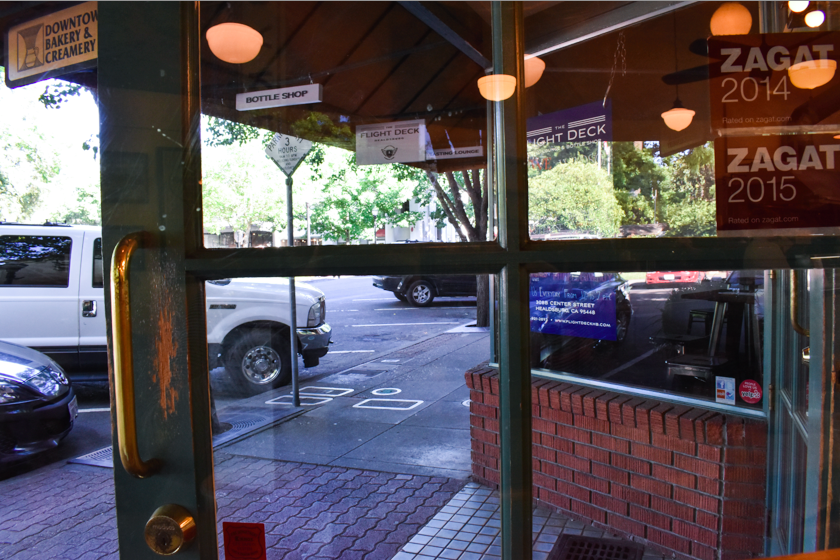 Morning and it's time to head north. The hotel offers a good buffet breakfast, but I prefer something healthier. So I head for Healdsburg and the Downtown Bakery and Creamery where I find a mushroom, spinach, herb and goat cheese quiche ($4.95) ; a whole wheat orange scone; and a soy latte. A seat at the breakfast bar lets me look through the window and watch the goings on of the square. After breakfast, a final walk around the square, and it's time to head north, first to Ashland, then Portland, and finally Vashon.
Click here for some outtakes from this leg of #CancerRoadTrip.
What is #CancerRoadTrip and how did it come to be? Read this post to get the backstory! 
Follow me on Twitter, Pinterest, Instagram, and at Anti-Cancer Club.  Connect with me!  I may need a place or two to stay along the way!