TBEX in Killarney, Ireland
The purpose behind the trip to Ireland was to attend a TBEX event in Killarney. So after a few days in Dublin, it was off to Killarney to attend the meeting. Killarney is located in the south western quadrant of the island and is a perfect jumping off point for further exploration.
TBEX is a travel bloggers exchange. They hold periodic meetings in various locales across the world. This year, in Ireland, Failte Ireland who was one of the hosts of the meeting, realized over  3 billion impressions from the convergence of over 600 bloggers into the Killarney area. Wow! Social media truly rocks!
Dublin to Killarney: Train Travel
To get to from Dublin to Killarney, we took the train. There are two train stations in Dublin. Make note of this and be sure you're heading to the right one! We left from the Heuston station, and changed in Mallow for the final hour into Killarney. The ticket times were tight on the transfer–just minutes. But not to worry. It's just a few steps across the platform and the train is waiting for the on boarding passengers. Once you're out of Dublin, the train stations are small, so don't be afraid to navigate this system, even with tight connection times, from point to point.
The Irish rail system offers reserved seats that can be purchased on line or at the train station kiosk before boarding. Be sure to opt for the reservations. You'll be greeted by an electronic sign with your name, over your seat. Failing to do this means that you may be wondering from car to car looking for a seat.
You can also book your tickets on-line directly through IrishRail or by using RailEurope. RailEurope is an American oriented interface that standardizes the various rail systems for easy booking. It's a few dollars more, but more than worth it in terms of the time and effort saved in deciphering various railway systems and options.
I love train travel. You can kick back; watch the scenery go by; read; chat with fellow passengers–whatever suits you. Here are some pictures from the train:
Killarney
Killarney is something of a tourist destination. It's a beautiful small town, populated by pubs and shops full of Irish sweaters and, of course, Irish whiskey. Our short Irish whiskey foray in Dublin, turned into an introduction to the owner of The Celtic Irish Whiskey Bar and Larder in Killarney. And into an evening of sampling a greatly under appreciated resource of this island.
I think the thing that stunned me the most was the range of whiskeys.  The care in crafting a wide range of flavors ranging from light and even fruity (Writer's Tears, my personal favorite) to a peaty blend, such as Connemara was evident. Whiskies can be aged in a variety of different types of barrels, including barrels from port and sherry. Each imparts a unique flavor profile to the amber liquid.
As an aside, the Celtic Irish Whiskey Bar also had excellent food. We ordered a cheese plate, crab cakes and some sublime sautéed mushrooms on buttered, toasted Irish bread. Definitely something to toast! (Oh no, is that another bad pun/play on words?)
The days in Killarney focused on TBEX: Networking, learning, establishing new relationships. Part of my TBEX experience was a foodie foray to the Beara Peninsula, south of Killarney, which I'll cover in a separate post.
Killarney offers a great central base for exploring the area and driving the Wild Atlantic Way.  There are six regions to explore. From the northern end of the island westward to the southern tip, they are:
-Northern Headlands
-The Surf Coast
-The Bay Coast
-The Cliff Coast
-The Southern Peninsulas, and
-The Haven Coast.
For the southern portion, consider Killarney as a wonderfully civilized base camp.
In Killarney we stayed at the Brehon Hotel. It was excellent. The staff was helpful; the breakfasts, once again, were great. Eggs were cooked to order if you requested it and the breakfast buffet had everything one could wish for, and then some. The Brehon is located slightly out of town which was convenient for the TBEX meeting, but did involve a short cab ride to get into Killarney proper.
All the food at the Brehon bar was excellent. I had a flatbread with tomato and cheese, topped with herbs and a balsamic drizzle; wonderful tomato-lentil soup; and a crab plate that was simultaneously sweet, lively and succulent. Here is a look at the Brehon:
Evening, the town takes on a welcoming glow:
TBEX Ireland 2017
Our hosts, including Failte Ireland (Gaelic for "Welcome Ireland"),  made sure our visit was perfect. For a welcoming event, we congregated at the raceway, where local food vendors were positioned in the stalls to provide a sampling of Irish tastes. The racetrack itself was beautiful, with cloud shrouded mountains forming the backdrop. We were treated to a parade of up and coming race horses and a bit of equine education. Another evening we met at a series of local pubs. The entire TBEX experience in Ireland was so terrific that a group of us are planning an extended trip in the Fall of 2018. Here are a few of the scenes from this year's foray to Killarney.
Irish music greeted us as we arrived in Killarney for our closing night on the town.
Let me close this post with my incredible enthusiasm for this island nation. I am looking forward to returning for a month in the Fall of 2018. Stay tuned for…
Ireland 2018!
For now, slan agat!
(Gaelic for goodbye)
More on Ireland:
Photo Gallery: Dublin, Ireland
The Irish Food Movement in the Beara Peninsula
Culinary Travel Karma: Dublin and Killarney
Irish Adventures: Burberry in the Land of Guinness
CancerRoadTrip Photo Gallery Update
Like This Post? Pin It!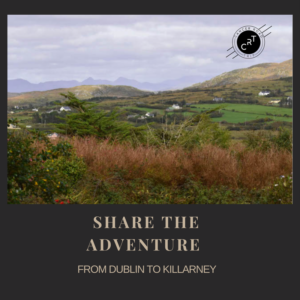 Up next: The food experience and revolution in Ireland, including a remarkable meeting with the people that are leading the Irish food movement in the Beara Peninsula.
If you're interested in learning more about photography (or cooking or film or any number of topics) check out Masterclass for on-line excellence:
What is #CancerRoadTrip and how did it come to be? Read this post to get the backstory! 
Follow me on Twitter, Pinterest, Instagram, and at Anti-Cancer Club.  Connect with me!  I may need a place or two to stay along the way!