May your joys be as deep as the oceans
Your troubles as light as its foam
And may you find sweet peace of mind
Wherever you may roam.
                            -Irish Poem
The poetic image of oceans, paired with Ireland, conjures up smells of salt and brine. A cool, damp breeze and perhaps an intermittent bracing rain. But for me, the mere mention of the seas suggests the possibility of oysters.
Oysters seem to follow me in my travels. This is not intentional on my part. I consider it to be culinary travel karma. And Ireland did not disappoint.
The singing oyster at the Guinness Storehouse I could have done without. (Seriously, a singing oyster. I have it on film, but I'm not sure I can bear to watch it again.) But the Glenbeigh Shellfish oysters I couldn't pass up. More on that later in the post.
The majority of the food during my short trip to Dublin and Killarney was simply good pub food. But the next post–the culinary piece de resistance!–will take us deep into the Beara Peninsula where we meet some of the movers and shakers transforming the Irish culinary scene. Stay tuned.
Dublin Fare
Pubs
On the pub side, on a purely tourist level, one eats well.  Pub forays were by chance; we stopped when we were hungry. I missed dining at some of the more famous pubs, but I think of it as just saving them for the next trip.
Temple Bar is a fairly famous pub that stands out in the neighborhood founded by it's namesake, Sir William Temple (1555-1627). In the 1600's, Barr (shortened over time to 'Bar') usually meant a raised sandbank. Thus the Liffey embankment alongside the Temple property became known as Temple Bar. This name was passed along to become the name of the entire section of town, from Westmoreland Street to Fishamble Street.
In spite of the tempting oyster sign in the window, I did not dine here.  The sign taunted me, but for whatever reason, this was not in my culinary karma. Rest assured it's on my return list for the fall of 2018.
While in Ireland, my personal dining strategy was to stay as healthy as possible. I believe that what we eat matters. I'm essentially a fish eating vegetarian by preference and I like to know where my food comes from. Normally I opt for low glycemic food choices, but frankly, for a few days, I was seduced by Irish bread, beer and scones. And I enjoyed every bit of it.
A pub on the corner, not far from the elusive Dublin Castle (see previous post), was our first jet lagged lunch. Fish and chips. And Guinness. The fish and chips were very well prepared, if a tiny bit overcooked and under seasoned. Perhaps I am probably being a bit picayune on these details, but the wee-est bit of salt sprinkled as the fish came out of the fryer would have made a massive difference in the taste.
Another day we wandered into Bad Bob's, in Temple Bar. The pub lays at least partial claim to the invention of Irish coffee. The tale weaves into the history of aviation and provides a most satisfying story. From their website:
"The traditional storyline goes that Foynes, which in the 1930s and 40s existed as the 'Flying Boat' hub between Europe and the United States, engaged in a prestigious world of hospitality to entertain the wealthy American and Canadian passengers who travelled across the Atlantic. During the winter of 1943 an American Airlines flight bound for New York via Botwood, Newfoundland, returned to the base at Foynes owing to inclement weather and hazardous flying conditions. The passengers disembarked frightened, fatigued and frozen, requesting warm food and restorative drink. It was at this point that Joe Sheridan secured his moment of fame and earned his place in the history of world liqueurs by serving Irish Coffees to the stricken passengers. When one passenger queried: "Is this Brazilian Coffee?" Joe Sheridan is reputed to have replied: "No, this is Irish Coffee."       -Bad Bob's, How It All Began       
The food at Bad Bob's was what I call "Dublin good".  That means tasty and well prepared. Ann had a braised lamb shank she loved. I ordered salmon which came perched upon a massive amount of potatoes. And the spuds were perfectly seasoned, with simply salt, pepper and parsley (and, of course, Irish butter), and a drizzle of sauce undoubted laced with more butter and cream.
The Guinness, of course, was perfect. Guinness as Usual, as the Irish say, and they are right.
The Conrad Hotel in Dublin
On the culinary front, our Dublin Hotel, The Conrad, was a real standout. It easily surpassed the typical notion of a hotel restaurant and exceeded any and all expectations one might bring to the table.
Morning breakfast (which was included in the cost of the room) was truly outstanding.
While I've become a green tea drinker (green tea is rich in  EGCG  which has been shown to inhibit tumor cell growth and invasiveness)  I succumbed to the incredible aroma and smooth taste of the dark roasted coffee, served in individual French presses for each table.
The smell of perfectly roasted darkish coffee alone would bring many people to their knees in the wee hours of the morning, but the buffet table has almost the same effect. Eggs cooked to order along with a buffet of Irish specialties including smoked fish, cheese, sausages (hot and cold), cereals, fresh fruit, pastries, potatoes, baked tomatoes and were laid out with great care. And each and every item was excellent. Personally I became enamored of perfectly cooked poached eggs with a bit of Irish smoked salmon and broiled tomato.
Plus of course, a bit of toasted grainy Irish bread. The bread (not part of my normal diet!) was necessary because poised at the end of one long table in the breakfast room was an entire honeycomb, served with a spoon for scooping the honeycombed goo onto your plate. Soft, sweet and succulent.  In tea, on bread or scones. Or just sneaked on a spoon for sheer delight.
One night, too tired to walk another step, we opted to dine at the Conrad restaurant which was once again excellent. Fresh, gorgeous mussels, seasoned wth dill and perfectly cooked, with a welcomed glass of wine. The food at the Conrad was very, very good.
In Dublin, the standout dinner was at The Winding Stair. It's comfort food, Irish style, all locally sourced. This emphasis on local food is a serious movement in Ireland, one which we'll have a chance to explore in some depth in my next post.
Here are the comforting, fabulous, locally sourced dishes of The Winding Stair located at  40 Lower Ormond Quay, Dublin :
The only disappointment was the restaurant for which I had the most hope, Dylan McGraths's Taste At Rustic . Dylan is an award winning chef, highly regarded in Ireland. He was the owner of Mint, a Michelin one star restaurant which was forced to close as a result of the economic downturn in 2008. His response in 2010 was to open Rustic Stone, a restaurant that features seasonal, local produce. He has several other restaurants including Raw, Brasserie Sixty6, Fade Street Social and Taste at Rustic where we ate.
I mentioned this experience in a previous post. No need to beat a dead horse with this less than stellar review.
Dining in Killarney
Taking the train from Dublin to Killarney, I opted to pick up a bottle of water and a vegetarian sandwich at one of the station's vendors. The sandwich was very good, and it was a good move. The food options on the train were very limited. While some train travel offers a dining car and good meal options, the train to Killarney did not.
Once we arrived in Killarney, time was tight. The TBEX Conference started early each morning, with speakers and workshops, followed by networking sessions. Mornings we dined at the Brehon Hotel where we enjoyed a stellar breakfast. I fell into the habit of ordering perfectly poached eggs with a bit of sautéed spinach, and indulging in some fruit and a scone from the buffet. All this was included in the price of the room.
Lunches in Killarney were generally catered as part of the conference. They always offered a fish option, for which I was very thankful.
Evenings were a confluence of social events and networking. The only free night outside the conference schedule was the first night where we visited the Celtic Irish Whiskey Bar and Larder, for excellent food and an Irish Whiskey tasting (see previous post).
Failte Ireland  and TBEX hosted an excellent conference. The opening event was held at the Killarney racetrack, where we were treated to an array of local food vendors including local whiskey distillers, bread makers, dairies, and more importantly, oysters!
We wandered through the stables, where the purveyors were stationed in the horse stalls, sampling, drinking and eating. Glenbeigh Shellfish, a County Kerry based seafood vendor, naturally caught my eye.
Glenbeigh Shellfish is a family run business raising Cromane Mussels, Pacific (Gigas) & Native Flat Oysters, Local Wild Cockles & Periwinkles. They are located in Glenbeigh between Cromand and Rossbeigh on the scenic Ring of Kerry and Wild Atlantic Way, on the southwest coast of Ireland. Their shellfish comes from from Cromane in Castlemaine Harbour and from west Cork.
The company was founded 1994 by Noel and Patricia Riordan, a husband and wife team. Noel and Patricia stock native Irish Flat Oysters sourced from Fenit Harbor in Tralee Bay. It's a rare species only available from October to February (to protect the oyster stock). The oysters are particularly precious in that they are natural oysters, farmed. Were these oysters to disappear, there is nothing to replace them. They are truly a culinary resource. Should you get to Ireland, track down these oysters. They are worth the hunt.
To guide you in your culinary quests, TasteKerry promotes native foods in County Kerry  and offers a downloadable app that guides the visitor through a variety of local food specialties.
But back to the oyster story.
Noel and Patricia brought their marvelous oysters. Most of the oysters are exported to France and Spain. I was told that in Ireland they are largely an unknown resource.
Beautiful, fresh, briny, cool oysters from Tralee Bay. Platter after platter of freshly harvested oysters. Let's just say I had dinner in that stall that night, compliments of Glenbeigh Shellfish!
***
One of our  last evenings we met up with a blogging group at a Hobbit Middle Earth themed pub called The Shire. The chance to share an evening with some of the special and fascinating people at this conference was truly priceless.
Meeting people while traveling is special. You are bonded by an exotic locale and the traditional means of connecting often aren't relevant. Instead, one tells stories, travel stories, and through these adventures we find our commonalities and share our dreams.
May the road rise to meet you,
May the wind be always at your back,
May the sun shine warm upon your face,
The rains fall soft upon your fields and,
Until we meet again,
May God hold you in the palm of His hand.
Until we meet again, Ireland.
Previous Oyster Posts
Oyster Quest
Travel Lessons: Oysters and Whatnot
Whidbey Island
More on Ireland:
Photo Gallery: Dublin, Ireland
The Irish Food Movement in the Beara Peninsula
TBEX in Ireland: From The Liffey To The Atlantic
Irish Adventures: Burberry in the Land of Guinness
CancerRoadTrip Photo Gallery Update
Like This Post? Pin It!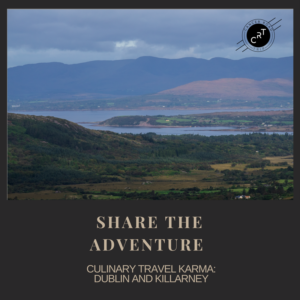 If you're interested in learning more about photography (or cooking or film or any number of topics) check out Masterclass for on-line excellence:
What is #CancerRoadTrip and how did it come to be? Read this post to get the backstory! 
Follow me on Twitter, Pinterest, Instagram, and at Anti-Cancer Club.  Connect with me!  I may need a place or two to stay along the way!