I have been waiting to write about Ghost Ranch and Georgia O'Keeffe. What can one say?
It's stunning; it's beautiful; it's inspiring?
That the landscapes O'Keeffe painted are equally awesome in person?
Art lovers plot their pilgrimages to view the landscapes of Georgia O'Keeffe. But they are limited to (a very good) tour of the ranch where the guide matches up O'Keeffe's paintings with the landscape.
Because, alas, her seven acre house in Ghost Ranch is off limits to the touring public.
Or at least it usually is.
But as serendipity would have it, I was able to visit the interior of both of O'Keeffe's houses, at Ghost Ranch and at Abiquiu.
***
Ghost Ranch captivated me from the first time I drove down the long, unpaved drive. A steel gate with the name of the ranch opens discretely at the roadway. From there the road climbs, as the motion of the tires kicks off a dust cloud that moves along with the car.
Washboard, dust and rock wind through the desert in a semblance of a road, up the hill. And then, the landscape that inspired O'Keeffe emerges.
The beauty is astonishing. My first visit was in winter, and winter may remain my favorite time. The cottonwoods have no leaves; the stream, the Rito del Yeso, is meager and partly frozen; but the landscape stands out, immutable through seasons and time.
I find myself drawn to the area; I can totally understand what O'Keeffe saw in this landscape. But the sheer guts it took to relocate here and live twelve months a year at Ghost Ranch is quite astounding.
In the 1930's Ghost Ranch was only accessible by a dirt road that wound its way from Abiquiu. There were no signs or markers except for a skull mounted on a fence, which would later become the ranch logo. Yet this remote locale attracted the celebrities of the day, such as Charles Lindbergh, Ansel Adams and John Wayne. Later it would host scientists from Los Alamos. And included in the mix was Georgia O'Keeffe.
Here is some short video on Ghost Ranch (complete with bugs on the windshield!). You'll notice not only her house, but the red hills–the Chinle formation –that appear again and again in her art; the towering cliffs; and of course the iconic collections of rock and bone.
Visiting both the O'Keeffe houses is an opportunity to see behind the scenes, into the artist's daily life and perhaps catch a glimpse of her vision. What surprised me most was how different the houses were.
Had I only visited Ghost Ranch, I would have had a very different sense of O'Keefe. I would not have seen the serenity and extraordinary sense of place she created at Abiquiu.
Had I only visited Abiquiu, I would not have understood the true grit her life at Ghost Ranch exemplified, nor her camping and painting forays into areas such as Bisti Wilderness.
Together, both residences offer a glimpse of the incredible range, curiosity and talent of Georgia O'Keeffe.
***
Georgia O'Keeffe's introduction to New Mexico was through a visit to Taos in 1929, and later through her stays at Ghost Ranch. It was love at first site, and she would return and eventually resettle in New Mexico until her death at age 98 in 1986.
Ghost Ranch comprises 21,000 spectacular acres in northern New Mexico, about half an hour north of Abiquiu.
And as history has it, it's haunted.
It was originally named Rancho de los Bruos (Ranch of the Witches) by the Archuleta brothers, a pair of cattle rustles from the 1800's. The brothers would steal cattle, lead them up through the stream to hide any tracks, and tuck them away in Box Canyon which was the perfect corral. The sound of the wind whistling through the rocks were rumored to the the wails of men who had sought to reclaim their stolen cattle.
Needless to say, while the property was avoided, it was not haunted.
Nor was it to shunned for long.  In 1928, Roy Pfaffle won the deed to the ranch in a poker game.  Carol Stanley, his wife, recorded the deed in her name and named it Ghost Ranch. When they divorced, she moved to the property and created an exclusive dude ranch that attracted a celebrity clientele.
After O'Keeffe's first visit in 1929, she returned again and again, renting a house from Arthur Pack, writer and editor of Nature Magazine, each time.  Pack eventually purchased the ranch from Carol Stanley in 1935, and in 1940 O'Keeffe purchased Pack's house and made Ghost Ranch her home. In 1945, she purchased a house in Abiquiu, about 20 miles south, where she could enjoy a garden and establish her studio. Ghost Ranch then became the "summer house".
The Abiquiu house is open for tours; the Ghost Ranch house is not.
Not usually, that is.
However as luck would have it, I was able to tour the property that is otherwise closed to the public. I wasn't able to take any any interior pictures. But to have the experience of walking in her home, seeing her environment as she saw it and to have stories and art come together was truly a special experience. All my thanks to the Georgia O'Keeffe Museum who made this possible.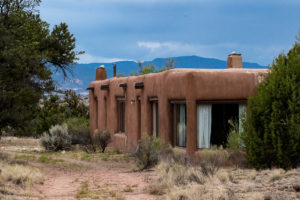 The power of Georgia O'Keeffe's paintings draw from the deep soul of the landscape as well as from her imagination. To walk in her steps, to see the views from her house much as she saw them, was an experience that touched me deeply.
I found I could say things with color and shapes that I couldn't say any other way – things I had no words for.– Georgia O'Keeffe
O'Keeffe expressed her love of Ghost Ranch in a 1942 letter to the painter Arthur Dove:
"I wish you could see what I see out the window—the earth pink and yellow cliffs to the north—the full pale moon about to go down in an early morning lavender sky . . . pink and purple hills in front and the scrubby fine dull green cedars—and a feeling of much space—It is a very beautiful world."
In addition to the artistic legacy of Georgia O'Keeffe,  Ghost Ranch also includes the Florence Hawley Ellis Museum of Anthropology and Ruth Hall Museum of Paleontology.  It is the site of numerous retreats and workshops. Plus horse trails, hiking trails and a wonderful labyrinth.
Plus of course the house where City Slickers was filmed:
Unbeknownst to many, New Mexico is one of the leading sites for film projects, attracting major stars for major productions. Most people are amazed at the breath and sheer numbers of film credits associated with this state. From traditional western to sci-fi, New Mexico is the location behind many well known films. Talk to the locals, and nearly everyone has a film story to tell, as an extra, as a worker on the set, or as an observer. Here is a small selection of films set in Ghost Ranch, New Mexico (click the image to learn more about the movie):
Ghost Ranch is not just for film buffs. It's for everyone with an appreciation of history and beauty, whether you come at it from the perspective of geography, outdoor adventure, art, film or travel. It's a special, timeless place, immortalized in rock and stone, paint and film, with something of interest for everyone.
It's a "must do" in northern New Mexico.
Visiting Ghost Ranch
From Santa Fe, the road winds north through Espanola, to Abiquiu and then to Ghost Ranch. Ideally, if you have time, stay at either Ghost Ranch or the Abiquiu Inn and explore a bit. There are also several AirBnB's in the area.
If time is tight, here are a few thoughts:
Are you into the outdoors or horseback riding? If so, plan to spend the bulk of your time at Ghost Ranch. Stop at The White Place (Plaza Blanca) outside of Abiquiu on your way to or fro.
Into art? Spend a bit more time in Abiquiu, visiting O'Keeffe's house and connect with The Abiquiu Art Project. Plan ahead for both. House tours for the Abiquiu house are very limited and the Abiquiu Art Project requires reservations and for the artists to be available.
As one starts to explore New Mexico, one discovers the extraordinary depth of culture, history and outdoors. Ghost Ranch is part of that exploration–have fun!
More Reading on Ghost Ranch and the Legacy of  Georgia O'Keeffe
Inside The Georgia O'Keeffe House: Ghost Ranch
Inside The Georgia O'Keeffe House In Abiquiu
Georgia O'Keeffe Country: Abiquiu
Art in Abiquiu: Visiting The Abiquiu Art Project
Like This Post? Pin It!
If you're interested in learning more about photography (or cooking or film or any number of topics) check out MasterClass All-Access Pass for on-line excellence.

What is #CancerRoadTrip and how did it come to be? Read this post to get the backstory! 
Follow me on Twitter, Pinterest, Instagram, and at Anti-Cancer Club.  Connect with me!  I may need a place or two to stay along the way!