Ninety miles of winding two lane coastal highway extends from Carmel to San Simeon, passing through the tiny town of Big Sur. It's wild; it's spectacular; and it has its challenges. Narrow lanes, falling rock and soil, and plunging cliffs make for an interesting ride. It's a drive for second and third gear and your total attention.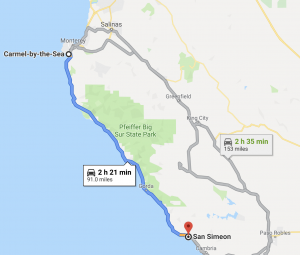 CA Route 1 twists and turns through sometimes treacherous passages, amidst relentless seaside beauty.
The northern start of the drive, in Carmel, is highly civilized, with art galleries, restaurants and the famed 17 Mile Drive. But as one heads south, the terrain becomes more rugged and wild.
Rocky, crashing coasts.
Fingers of fog.
Brilliant sun on blue water.
Should you decide to drive this, check on the road conditions. There is work being done and just last year mud slides closed the highway. Also be sure to fill up your car ahead of time. Gas along the route is $7+ per gallon.
San Simeon
The southern point of the trip is San Simeon, home to Hearst Castle. Built by William Randolph Hurst over a 30 year period, with architect Julia Morgan turned his 250,000 acre ranch into a massive country home with indoor and outdoor pools; tennis courts; and lavish art and furnishings.
While this is a well traveled tourist route, there is a reason to visit. The coast line is beyond spectacular and the touch of history a la William Randolph Hearst makes for a fascinating day's outing. And then, just south, is the less traveled path through Edna Valley, home to the Pinots and Chardonnays that thrive in this cool coastal climate.
But absolutely no wine on CA Route 1! This route requires your total attention.
Happy driving.
More Reading On The Central California Coast
Photography of The California Central Coast: From The Beach To the Vineyard
Like This Post? Pin It!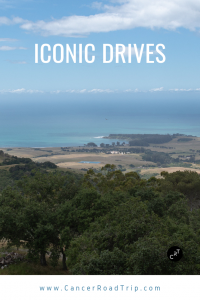 If you're interested in learning more about photography (or cooking or film or any number of topics) check out MasterClass All-Access Pass for on-line excellence:

What is #CancerRoadTrip and how did it come to be? Read this post to get the backstory! 
Follow me on Twitter, Pinterest, Instagram, and at Anti-Cancer Club.  Connect with me!  I may need a place or two to stay along the way!