The Central Coast: From Beaches to Pinots
I am not naturally drawn to the beach. Like my semi-indifference to chocolate, some might consider this a character flaw.
But it's just that the beach bores me after a day or two.
This indifference to surf and sand most likely has its roots in my youth. Many summers were spent along the Mediterranean, where culture, food, history and seaside met. My beach was never boring. There were languages to learn (or at least navigate); ruins to explore; new foods to sample and try.
People were different too, in their dress and their ways. From the ubiquitous black garb of Greek widows, to the topless beaches of the south of France, every new beach meant new experiences. Rocky beaches; sandy beaches; port towns made of ancient stones withstanding the sea.
The constant in all this is of course the water. The magnificent water. The water that lured travelers, then and now, to their beaches, to new adventures. That quest is universal.
So it was I found myself in Cayucos, CA for a few days.
Cayucos is well north of Santa Barbara, just above Morro Bay. It's a quiet, sleepy town. Some blogger has no doubt chronicaled the top five things to do in Cayucos, but the town is really just an excuse to unwind. There's not much here, other than miles of beautiful beach just made for winter walking.
But after a few days and a few miles, I was ready for some more adventure. And part of it came through a bit of travel serendipity in the form of a canceled flight.
My return flight was for early Sunday morning, which meant driving through fog to the airport at o-dark-o'clock. Only to find that the entire flight was canceled. No reason was given. Hundreds of travelers simply found themselves stranded. (Thank you United).
And being stranded turned out to be the most wonderful adventure of all.
After reclaiming my rental car, I decided to head to Edna Valley. I'd spent a part of a day earlier in the week wine tasting in the Arroyo Grande AVA and in Avila Beach. With a full day on my hands, it was time to explore a bit and perhaps check out some other wineries in the area.

Pinot in the Central Coast
The central coast of California is characterized by hills, bathed in cooling ocean breezes during the night and hot sunshine during the day.
In short, perfect Pinot weather.
And I just love Pinot.
I love Pinot for its flavor.
I love Pinot for its persnickety nature and the fact that it's a single varietal. (That means that Pinots are not blended with other grapes, to produce a more commercially palatable wine).
With Pinot, it's careful cultivation of the grape and the ability of the wine maker that makes or breaks the wine.
And, of course, Mother Nature in the form of the weather.
I've given up drinking by and large, to lose some weight and to hopefully give every chance possible to my cancer remission, but I still have room for a bit of wine here and there, now and then. Particularly when it comes to Pinot. And a canceled flight seemed like just the right cause for a bit of celebration.
While most people think of Paso Robles for central coast wines, San Luis Obispo–or SLO to the locals–is perfectly located to visit some of the more off the beaten path AVAs. Edna Valley, located just south of SLO, is one such destination.
A Central Coast Pinot Quest
Fall in wine country is simply stunning. The grapes have ripened and been picked, and all the hoopla of harvest is past. But in their wake are uncrowded tasting rooms, stunning landscapes and some excellent wine.
San Luis Obispo is perfectly located for a bit of Pinot exploration. It's a town with everything you need from Trader Joe's to $20 tacos (it is, after all, California), and it's just a few miles from the Edna Valley AVA (American Viticultural Area). AVAs, much like the French regional appellations, define the geographic bounds of a wine producing area.
Chardonnay, Albarino, Sauvignon Blanc and other grapes grace the hills, but I am on a Pinot quest. And one of the most interesting Pinot tastings was at Sinor-LaVallee where the winemaker grows his grapes on a hillside vineyard near the Avila Beach tasting room.
Just 1.2 miles from the coast, these vineyards lie outside any of the established AVAs. Five blocks each of Pinot and Syrah; a block each of Chardonnay, Albarino and Grenache; and 2 blocks of Pinot Gris grace these hills. And in the tasting room, a most interesting and unusual pinot tasting intrigued me.
Three Pinots are presented.
The first was a 2015 Pinot Noir White Label. This Pinot is on the light and bright side and totally enjoyable. It was followed by the 2015 Pinot Noir SLO/Estate and the 2015 Black Label. The latter two are progressively richer, fuller Pinots. But what made the tasting so interesting was the fact that the grapes for the White label are picked early. The Estate label is picked during the general harvest, and the Black Label is picked late.
The same grapes; the same vineyard; same year; different pick times.
Which results in three totally different wines.
And all are single varietals (Pinot Noir), fully subject to the will of Mother Nature.
Sinor-Lavallee is a fun and most interesting tasting, with an excellent, slightly quirky wine selection. Be sure to stop in.
***
A lunch dockside in Avila included some local scenes:
And  a bowl of steamed clams with garlic bread for lunch:
On this day I was traveling with two friends and their quest directed our foray. First it was to Peacock Winery where a wine pick up for a party was part of our itinerary.
From there, it was to Kynsi, which means talon in Finnish. An odd name for a winery?
Perhaps.
The winery started in an old dairy that had a serious gopher problem. To deal with the gophers, barn owls were introduced to the property. A nesting pair of owls can deal with up to 40 gophers a night! Needless to say, the gopher problem was managed and Kynsi, in a nod to  Owner/Winemakers Don and Gwen Othman's Finnish heritage, became the name of the winery.
Kynsi is well known for their Pinots, and for good reason. Located in the heart of the Edna Valley, their vineyards benefit from the cool coastal weather and the expertise of their winemakers.
Among the Pinots in the tasting room were a 2017 Pinot Rose; a 2015 Pinot Bien Nacido Vineyard (94 Points Wine Enthusiast); a 2015 Stone Corral Vineyard (92 Points Wine Enthusiast); and a Hutash Harvest Cuvee which was a blend of Syrah and Pinot.
The Pinots were truly exceptional.
The Stone Corral Vineyard is a property shared with Talley and Steven Ross Vineyards. An annual dinner celebrating the vineyard and winemakers features the grapes, produced and bottled by each winemaker. Naturally, in spite of identical grapes, each wine is different, representing the unique take and talent of each winemaker.
This, I think, has to be on the annual must do list. I love the endless skill, judgement and artistry of creating a wonderful Pinot and a chance to consider three very different styles, side by side, is simply irresistible.
Pinot Heaven
The Edna Valley really is Pinot Heaven. The entire area is just a few miles south of San Luis Obispo. Highway 227 and Orcutt Road offer an easy way to navigate the area. The most difficult decision is which wineries to choose.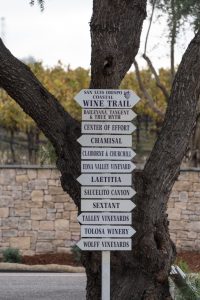 With an extra and unexpected day to explore (thanks to my canceled flight) I set out, not quite sure what the day would hold. And lo and behold, it turned into an adventure. A CancerRoadTrip adventure.
After a hearty breakfast, my first stop of the day was at Claiborne & Churchill, a small vineyard that produces a variety of wines. Naturally, I gravitated to the Pinots.
The winery was founded in 1983 by Claiborne (Clay) Thompson and Fredericka Churchill Thompson, two University of Michigan teachers who decided that the wine life beckoned. And over the years they've built a solid reputation for excellent wine.
The tasting started off with a 2016 Chardonnay Greengate Ranch & Vineyard which was well balanced and lovely. It was followed by a 2017 Dry Riesling from the Edna Valley. I have a soft spot for Dry Rieslings and if I still had a wine cellar, this would be in it.
The whites were followed by, you guessed it, Pinots and a Syrah/Grenache combination. The 2016 Classic Estate Pinot Noir and the 2016 Runestone Pinot Noir both scored 91 points with Wine Enthusiast. While I'm not into the nuances of rankings, I have found that most wines over 90 points are worthwhile and these were no exception. Both were European style pinots (my preference) that allowed the grape to shine through in a young, very drinkable, but complex wine. Lovely.
Wines always taste sooo good at the winery. It's part experience and part ambiance, and in this case, part Pinot. The day was off to a good start!
I've always been a fan of cooler weather wines. Upon arriving in Tahoe back in the late 90's, visits to Napa, Sonoma and eventually further north into the Russian River Valley and beyond, were part of life. The cooler the vineyard, the more I tended towards the wine and varietals.
And now, in Edna Valley, well south of my former haunts, I find myself in a still cooler region that produces some of my favorite Pinots. I didn't have time to get down to the Sta. Rita Hills and the vineyards just north of Santa Barbara (which hosts 59 vineyards, with 2,700 hundred acres of Pinot Noir), but another trip, another time. Life is short and I have decided that for the remainder of mine, a bit of pinot now and then is tres necessaire.
In addition to Pinot, the region produces numerous other cool weather wines including Riesling, Gewürztraminer, Albarino, Pinot Gris, Chardonnay and other varietals. But today, I am on a Pinot quest.
I worked my way up and down the valley with no special plans. Someone suggested I visit Baileyana, Tangent, True Myth & Zocker, so off I went.
Located off Orcutt Road in a yellow schoolhouse, the tasting room is charming. A bocce ball court outside provides a place to sip and play in this vineyard founded by Catharine Niven back in 1973. The winery, Baileyana, is named after the town where she met her husband, Jack.
Catharine was something of a trailblazer, a woman in a man's world, starting a vineyard in an untraditional location to make wines in the European style. But Catharine's foresight panned out, as shown by the wonderful selection of wines available at the tasting room.
Including, of course, some terrific Pinot. (Is a theme emerging here?)
And so it was, up and down the valley until I found myself at Talley Vineyards.
And that is where the real adventure began. Because at Talley I met some fellow Pinot seekers and a stem cell transplant survivor (leukemia).  We talked of the outdoors, of life and about the beautiful Edna Valley. Conversation eventually led to our mutual cancer tales and the story of CancerRoadTrip, my evolving adventures and the next phase of growth with the retreats for others.
And what followed was a most unexpected and amazing introduction. The introduction is taking a few days to unfold as emails cross paths over the holidays. But thanks to Craig and Patty–my new Pinot friends– I have a very warm introduction to a highly acclaimed film producer who has (thanks to Craig's introduction) indicated at least an initial interest in learning more about CancerRoadTrip.
This is my Christmas present this year.
Along with fond memories and a few bottles of good Pinot!
If there was a lesson from this foray, it is that sometimes a bit of travel serendipity takes you to the most interesting places, where one meets the most interesting people. It requires being able to see the opportunity in a bit of chaos, revamping one's plans, and moving on. Sometimes a change of plans may just be meant to be.
"Do you think the universe fights for souls to be together?
Some things are too strange and strong to be coincidences."
―
I want to thank United Airlines for leaving us all stranded, with no explanation, at six in the morning. Because thanks to you, I had a most interesting day.
A day of total travel serendipity accompanied by some most excellent Pinot.
And some new friends, for the new year.
More On Food, Wine and Travel
Wine and Chile
Santa Fe Tequila Tasting at the Inn of the Anasazi
New Mexico Road Trip: The Road To Carrizozo
The Irish Food Movement in the Beara Peninsula
Culinary Travel Karma: Dublin and Killarney
Oyster Quest
Foodie Forays 2017
Like This Post? Pin It!
If you're interested in learning more about photography (or cooking or film or any number of topics) check out MasterClass All-Access Pass for on-line excellence:

What is #CancerRoadTrip and how did it come to be? Read this post to get the backstory! 
Follow me on Twitter, Pinterest, Instagram, and at Anti-Cancer Club.  Connect with me!  I may need a place or two to stay along the way!