Africa in black and white has a timeless quality.. There is something about stripping the land down to its essentials. The animals. The people. The incredible vistas.
"To see in color is a delight for the eye, but to see in black and white is a delight for the soul."
–Andri Cauldwell
Black and white photography seems to suit the elephants particularly well. Perhaps it's because it allows us to focus on their expression and hides. The deep crevasses that suggest boundless wisdom and experience. There is a soulfulness in their eyes and in their playfulness. The elephants, I suspect, have a secret.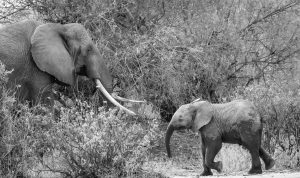 "They say that somewhere in Africa the elephants have a secret grave where they go to lie down, unburden their wrinkled gray bodies, and soar away, light spirits at the end."
―
Africa in black and white speaks to me. In the coming months I will be revisiting some of my photos and amending this gallery. But for now, enjoy.
More Reading On Africa
Like This Post? Pin It!
If you're interested in learning more about photography (or cooking or film or any number of topics) check out MasterClass All-Access Pass for on-line excellence:

This post contains affiliate links and I will be compensated if you make a purchase after clicking on these links
What is #CancerRoadTrip and how did it come to be? Read this post to get the backstory! 
Follow me on Twitter, Pinterest, Instagram, and at Anti-Cancer Club.  Connect with me!  I may need a place or two to stay along the way!