"To me, photography is an art of observation. It's about finding something interesting in an ordinary place… I've found it has little to do with the things you see and everything to do with the way you see them." – Elliott Erwitt
Travel is about vision and perspective. It's about seeing things through new eyes.
And so is photography.
I came to Santa Fe and my CancerRoadTrip is stalled here. There is something deep and soulful that draws me here and for now, keeps me here.
My story of stopping in Santa Fe is not unique except for the particulars of my journey. This is a town that calls many. Some stay; some do not. But those that stay are deeply attached to region.
In Santa Fe and environs, I have found an amazing depth of healing arts. I find it interesting that in this niche I tend to discover a broad cross section of people, most of whom surprisingly don't know each other.
I meet people healing in sound; in physics; and in one's deep psyche. I meet shamans and new age practitioners. Layer in the many centuries of Buddhist wisdom, the Spanish architecture and history, the Indians and the pueblos, and all the tradition in foods and flavors that go with such a melange, and you have a very eclectic "City Different".
And I find myself moving in a community of photographers, some of whom are quite remarkable.
My photography forays include two weekly classes just now.  I am learning both the technical aspects of photography, and I am  learning to see things differently.
My instructor for my "Learning to See Creatively" course has a much grittier sense of street photography than I do. He is from New York. I hail from the countryside. The things he likes, I tend not to.
And this is good. I am learning to see things from different perspectives. Together with my classmates, we bring very different photographic points of view to our wanderings. And that is what makes it such great fun.
Santa Fe offers numerous photography classes with world class photographers. Much like the National Geographic photo expeditions (who subcontract certain trips including Cuba to Santa Fe Photographic Workshops), you can join a class and be paired with an expert for hours on end, exploring and expanding your photographic field of awareness, in the backyard of Georgia O'Keeffe, or in the adobe lined streets of town.  Private guides are also available for photographic day trips to customized locales in Northern New Mexico.
My instructor in these courses teaches both at the Workshops and the Community College. The latter is where the locals go to get world class instruction affordably.
The photos above are mine, as I try to stretch my visual perspective from pretty to I hope (in time) interesting too. I've been having some issues with focusing with my camera, so a new camera, well above my photographic pay grade, is en route. For the moment let's assume any lack of focus is intentional!
As I review my own shots, I see two sides of Santa Fe start to emerge. There is the beautiful, glitzy tourist town, which we all love. There are times when it looks like a mirage, a reflection that can be a bit thin, depending on your point of view.
And there is another side to the town, where people work; where musicians hustle on the street; and where country meets the city as in the Farmers Market. There old and new; pretty and worn; people and purpose meet.
Browse, comment, enjoy.
The photos above are a selection from the first two Street Photography class outings, one at the Farmer's Market and the second downtown. I'll have to post a separate gallery of my own Farmers Market photos, so you can see the evolution as I'm pressed to "See Creatively".
I welcome your feedback and thoughts as my #StreetPhotography class takes to the pavements of Santa Fe!
More Reading On Travel and Photography
Inside the Georgia O'Keeffe House in Abiquiu
Georgia O'Keeffe Country
Photographing Chaco Canyon
Like This Post? Pin It!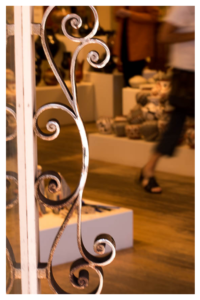 If you're interested in learning more about photography (or cooking or film or any number of topics) check out MasterClass All-Access Pass for on-line excellence:

What is #CancerRoadTrip and how did it come to be? Read this post to get the backstory! 
Follow me on Twitter, Pinterest, Instagram, and at Anti-Cancer Club.  Connect with me!  I may need a place or two to stay along the way!