It has become apparent that I will be photographing Ojo Caliente as the seasons turn. This place beckons me. The spa and springs have an ancient magic, but they're not slick or pretentious. Perhaps it's this deep grounding in history, myth and reality that so touch my soul. And apparently the souls of many because these native New Mexican mineral springs are world renown.
In the short time I've been in Santa Fe, I've met so many amazing people. This remarkable cadre includes the Ojo Caliente Tribe which seems to be growing with each trip. And the next trip will be for my birthday (Ojo Caliente offers a free day at the mineral springs on your birthday!) I'll update this post and slide show as spring becomes summer and the cottonwoods leaf out. I am looking forward to seeing the changes as the seasons roll by.
The first group of pictures, you'll note, is from our trip in April. Bulbs are starting to bloom, and the plants along the river are just starting to show signs of life. The hike this trip was a pleasant stroll around the river, past the Adobe Round Barn, and back. This trip also included breakfast at the dining room which was terrific (chile rellenos, scrambled eggs, buffalo sausage, red chile).
So this slide gallery will be the one where the seasonal updates on Ojo Caliente and the environs appear. I'll tweet updates. (Click here to follow me on Twitter and on Instagram). To my Ojo Caliente Tribe and fellow travelers, enjoy!
More Reading On Ojo Caliente and Environs:
Ojo Caliente, Wind Chimes and Waters
Winter Zen in Santa Fe: Upaya and Ojo Caliente
Photo Mission: Winter at Taos Pueblo
Photo Mission: Cold
Winter in a Santa Fe Casita
The Art, Culture and Beauty of Santa Fe
Thoughts on the Metaphor of a Road Trip
Like This Post? Pin It!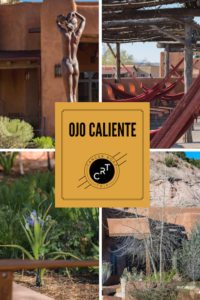 If you're interested in learning more about photography (or cooking or film or any number of topics) check out Masterclass for on-line excellence:
What is #CancerRoadTrip and how did it come to be? Read this post to get the backstory! 
Follow me on Twitter, Pinterest, Instagram, and at Anti-Cancer Club.  Connect with me!  I may need a place or two to stay along the way!