Napa/Sonoma is one of those wonderful spots one never tires of. 
And for me, there are so many memories.
My first glider ride in Calistoga.
Wine clubs and parties.
Great meals.
So when Fox 40 in Sacramento asked me to join them, the thought of running down to Napa/Sonoma did occur to me. Since I couldn't get a flight back 'til Tuesday,  I added one extra night and voila! I was going to one of my all time favorite spots, the Sonoma Mission Inn.
Napa/Sonoma
Napa/Sonoma is an easy drive from Sacramento. 
And once you leave the highway, the road winds through beautiful countryside, interrupted only by the lines of vineyards that wind up the slope.
Napa has undergone a great deal of renovation in recent years, including the Oxbow Public Market. The 40,000 square foot facility located along the Napa River showcases local companies and food producers with an emphasis on  sustainable and organic farming practices. It was designed by San Francisco architects, Baldauf, Catton, and Von Eckartsberg, (who also did the Ferry Building in San Francisco).
Located in the market is an eclectic assortment of butcher shops, a fish market, artisan cheese and wine, organic produce, olive oil and…
Drum roll please..
Hog Island Oysters.
Hog Island has a location in Tomales Bay where they harvest 160 acres of intertidal waters,  as well as in the Embarcadero in San Francisco. And now, in Napa. 
Sitting happily at the oyster bar in downtown Napa, I chose a selection of my favorite oysters, including Kumamotos, with a glass of Muscadet.
Briny heaven.
The Oxbow Market is a fun place. Food, wonderful oils and vinegars, craft beers and more provide culinary amusement. And next door is Copia CIA (as in Culinary Institute of America). The grounds include the restaurant, outdoor sitting areas and a wonderful retrospective of Julia Child in France. 
The CIA also has another California  location in St. Helena. The St. Helena facility (Greystone) is in the old Christian Brothers Winery building, a massive stone building that perches on the hill. Inside Brother Timothy's collection of corkscrews (hundreds of them!)  are a must see. 
From Napa, it's on to Sonoma, just down the road.
Napa/Sonoma: The Sonoma Mission Inn
Back in 1995, I headed west with my sailplane, supposedly for the summer (although the trip lasted a good deal longer and ended up with my moving to Tahoe). I pulled into the airport in Truckee. The bunkhouse was $6 a night and a hot shower cost an extra dollar. 
Aviation Hog Heaven.
But my go-to escape from the airport became wine country where I discovered the Sonoma Mission Inn.
The main building was designed by Joseph L. Stewart. Spanish mission details, like the beautiful tiled roofs, lend a timeless air to the property.
The Sonoma Mission Inn has a distinguished history. Native Americans sought out the sacred location for the healing waters. Today, the Willow Spa sits atop the ancient thermal mineral spring which runs 1,100 feet below, bringing 135 degree water for a serious wellness retreat experience. This natural hot artesian well makes the Sonoma Mission Inn the only luxury resort in the western U.S. with its own source of thermal mineral water.
Upon arrival, one is greeted with a sparkling wine. And in the room, a bottle of cabernet awaits.  
Life is good at the Sonoma Mission Inn.
Sante, the AAA Four Diamond Award and Michelin designated restaurant, is available for breakfast and dinner. Breakfast one morning featured Mama's Warm Banana Bread with Espresso Peanut Butter.
Sante is open for breakfast and dinner. Tuesday and Wednesday evening Executive Chef Marcellus Coleman as a pop-up test kitchen and tasting menu where they bring new dishes to life, inspired by the culinary instincts and insights of their guests.
And should you wish to go into Sonoma, the car service will deliver you wherever you'd like to go, and pick you up again later. I especially appreciated this because it meant I didn't have to park or drive, and could indulge in a nice meal with a glass of wine.
Napa/Sonoma: The Girl and the Fig
The Sonoma Square is quiet and even a little sleepy. But the culinary scene is very much alive. I've eaten at many of the restaurants around the square over the years, and this evening, The Girl and The Fig beckoned.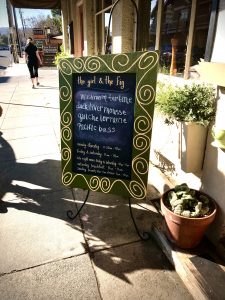 It's a casual restaurant with a fun bar. And as a single traveler, I always appreciate a bar with good energy for dinner. And this evening's dinner was moules with pommel frites and aioli. Simply perfect.
And around the square, various shops beckon with that indescribeable California flare.
Napa/Sonoma Nostaglia
With just one full day I decided to pass on wine tasting and revisit some old haunts. There was something that needed closure for me. What, I wasn't sure. Perhaps it was a revisiting of old memories. Perhaps it was just the recognition that time moves on. 
But I had to travel to know. To understand what my intuition was telling me.  So I headed up to Healdsburg, one of my long time favorite wine country places.
Memories of wineries and dinners abound in this Northern California region. And as I wandered the streets, I was met with the a sense of dislocation. What had once been such a focus in my life, has now moved to a back burner. It was more than "been there, done that".
It was a soulful recognition of a wonderful past, accompanied by the permission to move on.  
The last two years of travel and moving have changed me. Much of the beautiful tableware, decorative items and furniture that once constituted a stunning home are still in storage. And now I find my beauty in fleeting light seen through my camera. In a good meal. In the company of friends, and often simply in the company of myself.
The sense of closure is a good one. It's not as much about letting go as it is about getting going. Life moves on and so do we.
And for a bit of nostalgic solace, there are always oysters. This time at Willi's.
The drive back was through the backroads into Calistoga. I remember the very first time I visited and the arts and craft house where I stayed. The French antique shop that is no more. A dinner with a vintner at a restaurant/bar that is closed.
And at the end of the street, I sought out the airfield where I went for my first glider ride. But the airfield is no longer operational and the old buildings are fading away.
Things change and we all move on. In Napa/Sonoma the roads are better, the crowds are not, and memories meet me at every turn.
Memory is a way of holding onto the things you love, the things you are, the things you never want to lose.
~From the television show The Wonder Years
I'm so grateful for the many memories of this wonderful area. Of food and wine (and oysters!). Of people and places. For the introduction to soaring, which led to a decade of flight and so much more. Memories are part of the fabric of life and they need to be honored. And sometimes relinquished as well.
Cheers To Our Memories
And Cheers To New Adventures
More Nostalgia, Travel and Oysters
Travel Lessons: Oysters And Whatnot
Culinary Travel Karma: Dublin and Killarney
Traveling With Cancer: A One Year Anniversary
Like This Post? Pin It!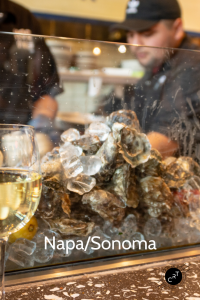 If you're interested in learning more about photography (or cooking or film or any number of topics) check out MasterClass All-Access Pass for on-line excellence:
This post contains affiliate links and I will be compensated if you make a purchase after clicking on these links.</p style)

What is #CancerRoadTrip and how did it come to be? Read this post to get the backstory! 
Follow me on Twitter, Pinterest, Instagram, and at Anti-Cancer Club.  Connect with me!  I may need a place or two to stay along the way!