Saturdays I try to take off and explore. I recently went to the Santa Clara Pueblo to visit the Puye Cliff Dwellings. Which, of course, led to another adventure as I was invited to visit Jeff Roller, Native American artist and potter in his gallery. Since this is a picture rich post, I've placed it in the Gallery section.
More Reading on Santa Fe and Environs:
Winter in a Santa Fe Casita
Santa Fe via Las Vegas, N.M.
Photo Mission: Cold
Photo Mission: Winter at Taos Pueblo
The Art, Culture and Beauty of Santa Fe, N.M.
Ojo Caliente, Wind Chimes and Waters
The Zen of Upaya
Winter Zen in Santa Fe: Upaya and Ojo Caliente
Like This Post? Pin It!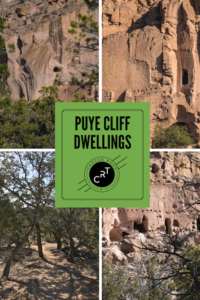 If you're interested in learning more about photography (or cooking or film or any number of topics) check out Masterclass for on-line excellence:
What is #CancerRoadTrip and how did it come to be? Read this post to get the backstory! 
Follow me on Twitter, Pinterest, Instagram, and at Anti-Cancer Club.  Connect with me!  I may need a place or two to stay along the way!