What's an ultimate travel bucket list? Psychologist and award winning author Robin McGee (The Cancer Olympics) shares her perspective on travel, healing and cancer.
Her recent travels, with and in spite of cancer, include Ireland, France, Italy and a transcontinental North American road trip.
Fill Your Bucket
When I learned my cancer had recurred, I was only weeks away from a trip to Ireland with my three sisters.   That trip had a spiritual significance to me, as while the four of us helped our parents through their deaths the year before, we promised each other we would go.  My Dad was from Belfast, and we had heard about it our whole lives.  It meant the world to me to go, seeing as it might be my last trip ever.
My cancer doctors were understanding.  They knew my disease might be inoperable, so they kindly delayed the titanic chemotherapy until the day after my return.   So my sisters and I went for two weeks.  I loved every minute.  Cancer dread hovered at the edges, but I was able to focus and absorb the staggering beauty of that jewel of an island.  I saw the green fields my father had told me about.  I met relatives.  I drank Guinness.  The trip gave me a fount of joy to draw upon as I faced my devastating treatments.
And devastating they were.  Months of brutal chemotherapy followed by a 12-hour surgery followed by more harsh chemo. Hideous mind-bending surgical complications, followed by months of treatment away from home, followed by another 13-hour surgery, followed by more treatments.
And where was travel in all of that mix?  Sadly, the cancer could not be fully excised, as a biopsy revealed cancer cells deep in the pelvic sidewall. My time is limited.  So I embraced travel as a way to have quality of life for the time I have remaining.
In July of 2018, I was in a wheelchair due to chemo side effects.  Nevertheless, I went to France on a river cruise with family.
While everyone else was eating the gorgeous French food, I was having the consume.
While others could walk the cobblestone streets, I jounced and vibrated along in my chair.
And yet, the glorious and poignant history, the awe-inspiring Cathedrals, and the peaceful Seine, and the breathtaking art were all absorbing.
If one is going to feel unwell, one may as well feel unwell in Paris!
I recovered some money in the medical malpractice lawsuit that followed the heinous events described in my 2014 book The Cancer Olympics.  The funds allowed me a truly joyous bucket-list opportunity – to rent a villa in Tuscany for two weeks and invite my six siblings and their spouses.
This time, I was well enough to walk (and more importantly, EAT).  It brought tears of elation to my eyes to see my family enjoying the place and each other, to see them enraptured by the art and the vistas, and to celebrate my continued survival.
Finally, my treatments ended this past spring (2019).  I could start mending.  So my husband and I traveled across Canada in our 18-foot trailer, a journey which I reacted to in my blog integrating cancer with famous songs.  The journey took three months, during which we opened our souls to the spectacular landscapes and fascinating stories of my home and native land.
On a windswept Prairie I saw a hawk land on a fencepost.  He settled in majesty, scanning the horizon as hawks have done for millennia.  It was an instant, and yet it was forever.
As I watched him, all at once, the vastness and infinitude of nature descended into my mind.  I realized: I am nature, I am culture, I am history.
Civilizations and even landscapes pass away, as we all must.
Coming to terms with incurable cancer means facing and accepting our own impermanence.
Travel underscores those lessons.
We must treasure family, place, and experience.  So much of life is wonderous.
Fill your bucket, fill yourself.
***
What's your ultimate travel bucket list? Could it be an all expense paid healing retreat? Click here to learn more. 
More Reading On Cancer, Travel and Healing
Traveling To Heal: 83 Days on the Road
Thoughts on the Metaphor of a Road Trip
Healing Travel For A Better Matrix
Like This Post? Pin It!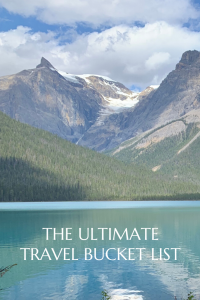 If you're interested in learning more about photography (or cooking or film or any number of topics) check out MasterClass All-Access Pass for on-line excellence:

What is #CancerRoadTrip and how did it come to be? Read this post to get the backstory! 
Follow me on Twitter, Pinterest, Instagram, and at Anti-Cancer Club.  Connect with me!  I may need a place or two to stay along the way!