Zozobra, or Old Man Gloom as the creature is known, was created long before Burning Man was even an idea. Each year, residents of Santa Fe write down their woes on pieces of paper, which are then stuffed into the fifty foot figure made of wood, chicken wire, and papier mache. Everything from pathology reports, to mortgage papers to cremated ashes finds its way to Zozobra.
Then, on the Friday before Labor Day, Zozobra is set spectacularly ablaze. In the fire, all the gloom and doom contributed by residents, perishes for the year.
The event traces its roots back to William Howard Shuster, Jr.  who, in 1924, started Zozobra with a private party. His inspiration for Zozobra came from the Holy Week celebrations of the Yaqui Indians of Mexico; an effigy of Judas, filled with firecrackers, was led around the village on a donkey and later burned. Shuster added some personal touches, like a costumed dog parade and the Hysterical-Historical Parade
Zozobra may have started as a bit of a spoof, but it's now thoughougly ingrained in the Santa Fe calendar. Accompanied by the the Desfile de Los Niños––the Pet Parade––and the Hysterical-Historical Parade, Zozobra opens the celebration of Fiestas which date back to 1712.
Here's a bit of background:
From  Mountain Mover Media on Vimeo.
This year for Zozobra, I avoided the crowds of 50,000+ people and watched from a nearby hillside house. It's an annual event that allows your worries to go up in flames, with the hope of a bright and unencumbered future. What more could one ask for? Absolution from worry (if not sin) for the remainder of the year, wrapped in a Santa Fe party!
Zozobra 2018
More Reading On Santa Fe
Labyrinth Walking in Santa Fe
Four Museums and A Garden
The Art, Beauty and Culture of Santa Fe
Like This Post? Pin It!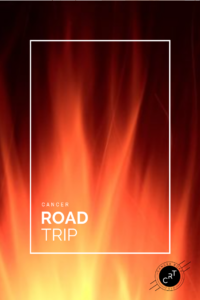 If you're interested in learning more about photography (or cooking or film or any number of topics) check out MasterClass All-Access Pass for on-line excellence:

What is #CancerRoadTrip and how did it come to be? Read this post to get the backstory! 
Follow me on Twitter, Pinterest, Instagram, and at Anti-Cancer Club.  Connect with me!  I may need a place or two to stay along the way!