Have you ever had great tequila?
I mean the type of tequila that is mellow like a cognac, golden to brown, and perfectly aged?
The type that swirls in your glass, coating the sides, leaving rivulets streaming down the glass.
Fragrances that transport you.
No lime, no salt.
Just great tequila.
Breath in the aroma. Notice the color. The spices, the way it slides off your tongue.
Tequila can be amazing.
New Mexico is somewhat synonymous with tequila, and a tequila tasting at the Inn of the Anasazi for New Mexican Restaurant Week in Santa Fe sounded irresistible on several levels.
First, the Inn of the Anasazi is a boutique hotel in the Rosewood hotel family. The entire property is elegant and understated, while showcasing New Mexican architecture, art and charm.  One leaves the cold swirling air, enters the small lobby and is greeted by the warmth of a real wood fire roaring in the entry fireplace.
Off to the left, double doors lead to the restaurant and bar, another welcoming place, to dine, linger and savor the essence of Santa Fe.
A tequila tasting was also semi-irresistable because I was curious. I had my first real margarita over 20 years ago on  a balcony overlooking the Santa Fe Plaza. And over the years, while tequila was never a main stay, it was something I was curious about. Curious to taste it, understand it and to explore it.
Thomas Avila, the Food and Beverage Manager at the Inn of the Anasazi, was the tour guide and tequila sommelier for the evening. We started with a bit of history.
Just as Champagne in France is only produced in the Champagne region, tequila is denoted by its place of origin. The map below detailing the municipalities in each region is compliments of Tony Burton/GeoMexico. In it, you can see four of the five regions where all global tequila is produced:
Nayarit
Guanajuato
Michoacán
Jalisco
The fifth area, Tamaulipas is located further north, on the Gulf of Mexico bordering the United States.
 Just as in wine, weather and terroir is part of what makes each tequila unique.
According to Thomas, some of the best quality tequilas come from Guanajuato and Jalisco.
There are over 200 types of agave, but tequila is made only from a specific type of agave plant "Weber Azul".  The plant is a succulent, not a cactus (contrary to popular belief), and takes eight or more years to mature to harvest. The heart of the plant, when ripe, weighs 80-200 pounds. It's this core that is roasted, crushed and fermented.
Some tequilas are distilled up to three times, leaving only a refined, pure liquid for aging. Making good tequila is an art form, just like producing fine wine, cognac or whiskey. To make a great tequila, it's key that there be no additives and that it contain only 100% agave.
Buy only tequila that is 100% agave.
The idea of combining lime and salt with a tequila chaser comes from World War II when tequila (which was not 100% pure agave) was combined with chemical additives, sugar and other nonessentials. This is referred to as tequila mix. The lime and salt were used to disguise the chemical flavor, not to enhance the actual beverage.
But in today's world, tequila has gone artisanal. How do you know what you're buying is authentic?
Each bottle has a NOM "Normas Official Mexicana" which is a distillery number. Various brands may be manufactured at any given distillery, so the NOM is not unique to the bottle.
Next, check for the Consejo Regulador del Tequila (CRT) logo showing that the NOM and the distillery meet the qualifications to produce tequila. This is not a stamp of quality, but of regulatory compliance.
Keep reading the label and look for the words "Hecho en Mexico" and "100% agave." This is a moment of discernment when it comes to reading tequila labels. You want a label that reads "100% agave", not "Made with Agave." The latter is a mixto, not true tequila.
Now that you know you have authentic tequila, what type do you choose?  Basically, there are four types of tequila:
Blanco or silver is the clear tequila that results from simple distillation. It can be aged up to two months. Look for perfect clarity and good legs as you study the liquid in the glass.
Reposado is aged two months to a year and acquires a golden color, derived from new or used oak, or any other type of wooden container.  The Reposado I tasted was aged for 6 months in French oak barrels. It was, as you would expect, smoother, and more complex than the blanco with notes of spices and herbs, and a beautiful nose.
Just as in whiskies, the type of cask used for aging impacts the end product. New oak, used oak, bourbon, even used wine casks are used by artisan producers. Tequila can actually be pink as a result of aging in French White Oak barrels that have been used to produce cabernet.
The color of tequila is determined by the type of barrel it is aged in.
Añejo is aged from one and three years and acquires a darker color. The tequila in this tasting was from a relatively new company, established just a decade and a half earlier. Given that it takes eight plus years to raise an agave plant, 15 years is a relatively young company. This particular tequila was aged one and a half years in used American oak barrels. The tequila had whiskey notes, with hints of toffee, caramel and bananas.
Extra-añejo is  aged more than three years and is even more cognac-like. Its rich, mellow flavor is one to be savored.
Producing Tequila
The process of making tequila starts with the determination of the ripeness of the heart of the blue agave plant. Just as in grapes for wine, the decision to harvest is a critical one.
When the heart of the plant is ripe, the spikes are stripped, and the 80-200 pound heart is roasted in special ovens, long and slow, in low temperatures, gradually concentrating and gently carmelizing the natural sugars.
Then the hearts (also referred to as "pineapples") are roasted, they are crushed, often using an old fashioned stone wheel, sometimes driven by donkey power.
And then the fermentation and aging process commences. Unlike whiskey which may be fermented in steel, the material of choice for tequila is a steel-copper combination.
Much like my Irish Whiskey experience in Killarney, I found that the variation among artisanal tequilas is almost unlimited.  So much tequila, so little time! Seems like a universal problem, whether it be wine, Irish Whiskey, or whatever your beverage of choice may be.
Tequila Tasting
Just as in wine, Reidel makes glasses for tequila tasting. They are tall and narrow, allowing the fragrance of the tequila to concentrate.
The tequilas this evening were served with a sangrita ("little blood"), a combination of fresh tomato and orange juices, lime, salt, and a bit of spice which dates back to the 1920s. It's intended to be paired with a tequila blanco to highly the crisp acidity and to clean the palate between sips. The sangrita helps to balance the flavors, although I preferred to simply sip the tequila.
Along with the tequila, the tasting provided a bit of food in the form of a carefully crafted Ahi Tuna Taco. The taco was a combination of light, rich and flaky-crisp taco, filled with a slice of ahi,  served with wasabi cream, napa cabbage, miso, and sesame.
***
For Restaurant Week, the Inn of the Anasazi also has both a dinner and lunch menu. I stopped in for the lunch menu where I ate at the bar which is made of a stunning piece of chiseled limestone. Since it just happened to be #NationalMargaritaDay, Ani, the charming bartender noted that margaritas were half priced:
Santa Fe Restaurant Week
Inn of the Anasazi
Lunch Menu
($35.00 per person)
Read more on my travels in and around Santa Fe:
Ana Pacheco and Jambo Cafe Kick Off Restaurant Week in Santa Fe
Warming Up to Restaurant Week In Santa Fe
Art, Flavor and Elegance at Restaurant Martin
Winter in a Santa Fe Casita
Santa Fe via Las Vegas, N.M.
Photo Mission: Cold
Photo Mission: Winter at Taos Pueblo
The Art, Culture and Beauty of Santa Fe, N.M.
Like This Post? Pin It!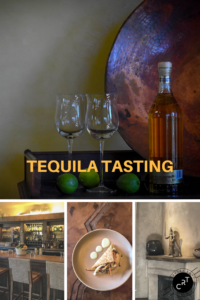 If you're interested in learning more about photography (or cooking or film or any number of topics) check out Masterclass for on-line excellence:
What is #CancerRoadTrip and how did it come to be? Read this post to get the backstory! 
Follow me on Twitter, Pinterest, Instagram, and at Anti-Cancer Club.  Connect with me!  I may need a place or two to stay along the way!