I had always intended to go to Vancouver with Eva.
Eva was born in Czechoslovakia and emigrated to Canada. She had lived in Richmond, just south of Vancouver, before moving in next door to me in Connecticut, and she was eager to show me her adopted "hometown". But the opportunity never quite came together. Between moves, divorces and then sadly, her death, we never got to make that trip together.
Eva died of liver failure. I suspect it was at least partly due to an inordinate fondness for alcohol. But she was a big girl, with big appetites, and that included quantity, as well as sometimes quality. I wish I could find that picture of the two of us. Me in my preppy tweed, Burberry coat and boots. Eva in stretch lycra, big hair and leather and always wearing her big, wonderful smile.
You couldn't juxtapose two more different women, yet that was a key part of the friendship. She wanted whatever was bright and hot and cool. She could own a handbag for a week and be done with it. I, on the other hand, would carefully choose my classic Coach bag and keep it forever. She adored touristy stuff and chachkies. I didn't care for either.  She was extremely gregarious; I was more reserved.
Eva insisted on a day trip to Newport, RI to see the mansions. Yawn. I had zero interest. But I got dragged along, as driver and friend.
Eva's enthusiasm and appetites were always engaging, and Newport suited her to a tee. The more gold, the better! The more sordid the history, the more involved she got. The gaudier the building, the more it pleased Eva.
The truth is, I had a blast. From the Renaissance excess of The Breakers, to the bobbing boats in the harbor, it was a great day. Part of it was the company. Part of it was a simple realization on my part:
Touristy things can be a bunch of fun
Preferably followed by a good lunch to ease the madness of crowds. A recent visit to the Space Needle is a case in point. The view was magnificent, and Mount Ranier was visible in the background. But the elevator opened to the smell of stale popcorn with synthetic butter. And the unrelenting, senseless loudness of people in crowds never ceases to amaze me.
Better to remain silent and be thought a fool than to speak out and remove all doubt.      -Abraham Lincoln
The grounds surrounding the Space Needle were beautiful and the integration of blown glass forms into the outdoor gardens was my favorite part of the Chihuly Garden and Glass exhibit.
For me, the most interesting aspect of this monument from the 1962 World's Fair was the historic story board that lines the ramp leading up to the glass enclosed elevator. (Note: The elevator is touristy fun. The story board makes the long wait touristy fun too.) As is the history of the fair:
The theme of the fair was modern science and space exploration. The U.S. government was eager to display it's prowess in these areas and provided $9 million towards funding the event which was held April 21 through October 21, 1962. It drew almost 10 million visitors, including me and my family. And Elvis Presley, who was shooting a movie in the area (I missed Elvis). The fair was opened to  538 ringing bells, 2000 balloons, and 10 Air Force F-102's overhead. From the City of Seattle Archives  here is an overview of the fair's offerings.
The fair brought back vague, childhood memories. I recalled some of the buildings; I loved the fact that the monorail was still in use. But overall, I was grateful that my morning would soon be afternoon at the nearby Queen Anne location for Taylor's Seafood.
Perhaps I'm still a bit of a tourist curmudgeon. Eva wouldn't have let me get away with that attitude.
The last time I saw Eva was around 1989/90 when I stayed with her in southern California. I visited as I tried to sort out my ex-husband's infidelities and lies. I wasn't very good company as I obsessed about events over which I had no control. But at least I was aware of my ranting, and I left so as not to wear out my welcome. This bit of consideration on my part would be one of the key events that led to my learning to fly. Little did I know how life would unfold, or that I would never see Eva again.
So the intent of this trip to Vancouver is partly in remembrance; partly, to fulfill a promise; and, as always, partly for some adventure.
And I shall do some very touristy things.
But I had counted on Eva to show me around. We were supposed to go to the market on Granville Island. We were supposed to do dim sum. This trip I'm solo. Can one even do dim sum alone?
The purpose of dim sum is to visit and browse and explore the many little tastes of the perfect little morsels of food offered during the experience. Dim sum has it's roots in the Silk Road, where travelers were served small bite sized foots along with tea.  For many Chinese, it is a family brunch tradition, although it's morphed to be served as snacks in China, or even as dinner in some restaurants. Eva and I would have had a blast, exploring the menu and finding our favorites.
Granville Market is another landmark that Eva and I had planned to visit. She was learning to cook, so each food offered  new possibilities for her boundless enthusiasm.
I remember when she spilled an entire bottle of soy sauce on a very white wall to wall carpet in her home. Aided by a bit of wine, the recipe got away from her, and portions of the carpet were now a mottled, speckled, ugly brown mess. She was desperate to hide the spot from her somewhat older, domineering German husband.
As I recall, some combination of seltzer/salt and or baking soda was finally fairly effective at soaking up the stain. But soy sauce was now on the to-be-avoided list of ingredients lest the wine get away with the recipe. And when Eva started venturing into raw fish dishes, I stepped in and became the gravlax expert for that summer, hopefully tactfully managing the possibility of food poisoning running amuck through the neighborhood.
Those days were such fun. We were all young and happy and settled (or so I thought); so sure of our paths in life. I cannot believe some of the events that transpired after those years. But memories of my big haired, lycra wearing friend have always been with me, and on this next foray to Vancouver, Eva lives on.
"To live in hearts we leave behind is not to die."   –Thomas Campbell
So, dim sum and Granville Market. Then we shall see what tourist fun Vancouver comes up with. Because I shall do some very touristy things.
More Reading on Vancouver and on Canada
The Art of Myth: From Haida to Impressionism
Vancouver to Whistler
Vancouver Redefined
Travel Lessons: Oysters and Whatnot
 
Like This Post? Pin It!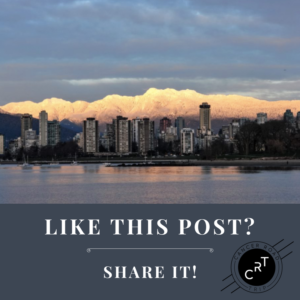 If you're interested in learning more about photography (or cooking or film or any number of topics) check out Masterclass for on-line excellence:
What is #CancerRoadTrip and how did it come to be? Read this post to get the backstory! 
Follow me on Twitter, Pinterest, Instagram, and at Anti-Cancer Club.  Connect with me!  I may need a place or two to stay along the way!