"He was a bold man that first ate an oyster." – Jonathan Swift
It was in a Versailles restaurant that I ate my first oyster. The year was 1960 something.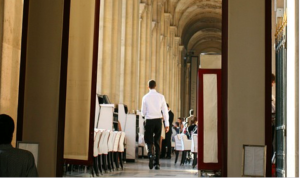 I'd watched as waiters delivered tiered plates to the table. On each plate, on each tier, was a different type of oyster.
"Have you ever had huitres?" Horst inquired. Horst was a German business associate of my father's who lived in France.
"No." I replied, craning to see what all the fuss was about at the neighboring table.
"Well  you must try them! Garcon!" And so oysters arrived at the table and into my life. I was chronologically about eight years old, with the taste preferences of an impossible adult diva.
My first briny taste was awe inspiring. I had a new favorite food.
At the time, it was considered gracious to provide menus without prices to the guests at the table. My father, quickly seeing my ability to find the most esoteric and expensive item on the menu regardless of language or currency, gave me the price list to consider in my menu meanderings.
Not that it really influenced me. Certainly not when it came to oysters.
Oysters in Connecticut were usually fried. Big plates of succulent oysters, with lemon and tartar sauce on the water in Guilford.  Or fried and stuffed into a grilled filet mignon at the Griswold Inn in Essex. It wasn't until New Orleans that I was reunited with my favorite crustacean au naturelle. 
And Rockefeller. And in pan fries, and in a hundred other creative combinations. In New Orleans, the combination of culinary creativity and oysters ROCKED! Raw, Rockefeller, fried in a po' boy. OMG. I'll have one of each! From In a Half Shell is a look at some New Orleanian takes on this crustacean. And I'll be in New Orleans this fall. I may just have to revive this particular theme.
Local New Orleans lore held that you only ate oysters in months with an "R". One studiously avoided eating oysters in months that do not contain an "R" (May through August). Perhaps. But here in Seattle, there seem to be no such cultural restrictions.
In my quest for oysters, I have to admit I get waylaid. Guay  Tiaw Tom Yum Nahm Kon (Wild cod, prawns, salmon stuffed tofu, egg, beanspouts, cilantro, scallion , egg noodles in a rich hot and sour shrimp broth) from Thaiku lured me to Thai rather than oysters.  Green curry on Vashon at May Kitchen lured me to the curried side. But now I am on an oyster quest. Nothing will stop me.
There are at least 17 varieties of oysters available in the South Puget Sound Oyster Appellation of Washington State. This appellation ranges from Port Townsend to Bellingham, WA.  From the Chef's Resources, these include:
Now this is oyster heaven.
I put out an inquiry on social media and a number of places were recommended. Two of the most highly suggested were Taylor's Shellfish Farms where their tagline is "From Tide to Table" and The Walrus and the Carpenter in Ballard:
The Walrus and the Carpenter
Walked on a mile or so,
And then they rested on a rock
Conveniently low:
And all the little Oysters stood
And waited in a row.
The Walrus and the Carpenter, named after Lewis Carroll's famous poem, is a "hot" restaurant. Located at  4743 Ballard Ave. NW, Seattle WA 98107 in Ballard, This neighborhood restaurant/bar is not far from the weekend Farmer's Market. During the week they offer a happy hour from  4-6pm Monday through Friday.
But first you have to be able to find it.
The restaurant facing the street is NOT the Walrus and the Carpenter. You need to look for the little neon sign that leads to a nondescript corridor, that passes Barnacle (an Italian themed seafood bar owned by the same people) that finally leads to a bright, bustling seafood bar and restaurant.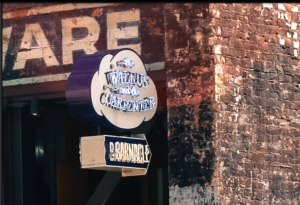 The entry parallels the open kitchen and marble bar. Baskets of fresh oysters on ice tempt you immediately.
The menu is fairly straight forward. My selection of oysters du jour are Fanny Bay, Eld Inlet, Glacier, Houg Cove, Calm Cove and Totten.
Every oyster I eat is my favorite, but the Fanny Bays are really outstanding.  Progressing from their delicate flavor to the slightly brinier Eld Inlet, a taste of mineralogy and brine linger with an almost tangy sweet aftertaste when combined with the shallot mignonette.
I'm in love.
I also ordered a very nice Jo Landron, Les Houx Muscadet. There is something about Muscadet and oysters that always seems to work. And this combination simply sings.
I also ordered some fried oysters which were encased in a chunky, slightly spicy crust and served with a delightful cilantro aioli. Warm, soft, crunch: perfect.  But the oysters on the half shell are what really speak to my soul.
On such a soulful quest, no oyster should be ignored so my next stop is a local's favorite, Taylor's Shellfish Farms with locations in Pioneer Square, Capitol Hill, and Queen Anne.
The Queen Anne restaurant is located on Republican Street near the Space Needle and the Performing Arts Center. The restaurant has a slightly modern, simple flair. The star is meant to be the seafood, not the decor.
The menu is limited, but unlimited in its bounty. Oysters, oysters and more oysters. There are also steamed clams, three ways:
Pesto: Arugula-almond pesto, cream, cherry tomatoes
Classic: Herb-shallot butter, sugar peas, thyme, white wine
Thai Curry: Tomato, coconut milk, ginger, jalapeño, green onion
And salads, soups and even a grilled cheese sandwich that is paired with Macrina Focaccia, Beecher's Flagship, Provolone and a pickled red onion and arugula salad. And mussels and other seafood.
And oysters. Did I mention the oysters?
Today's Shucker's Dozen included Sumo Kumo, Fat Bastard, Pacific, Shikoku and Kumamoto. What can I say other than briny bliss?
I eat my oysters simply with a shallot mignonette. A bit of lemon. No heavy chili sauces for me. I want to taste the oyster.
Taylors is a bit of a local legend. The family has been farming the waters of Puget Sound since the 1890's. They have a combination of restaurants and retail seafood shops. They also raise and sell seafood internationally.
Here in Washington state, in every town they do business, they make it a point to give back. They're deeply focused on their community, with an emphasis on youth and community service. And naturally, they're deeply routed in creating a healthy, sustainable environment for seafood and much more.
The menus vary slightly by location, and of course, by season. At the Capitol Hill location, I added a Dungeness crab to my oyster repertoire. The location in Pioneer Square has more food options, including a fried oyster po' boy.  I would suggest trying them all. And even if there is an R in the month, you can still count on oysters at Taylor's Seafood Farms.
When I think of oysters in literature, one of my favorite passages is from Anna Karenina where Levin dines with Oblonsky.  The sheer joy of sharing a wonderful repast, even if with a somewhat distracted country cousin, has stayed with me all these years. But, perhaps more to the point and not requiring as much context:
"As I ate the oysters with their strong taste of the sea and their faint metallic taste that the cold white wine washed away, leaving only the sea taste and the succulent texture, and as I drank their cold liquid from each shell and washed it down with the crisp taste of the wine, I lost the empty feeling and began to be happy and to make plans.
-Ernest Hemingway, A Moveable Feast
May the world be your oyster.
More Reading On My Quest For Oysters:
Travel Lessons: Oysters and Whatnot
Foodie Forays 2017
Culinary Travel Karma: Dublin and Killarney
Whidbey Island
 
Like This Post? Pin it!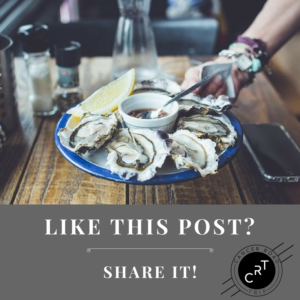 If you're interested in learning more about photography (or cooking or film or any number of topics) check out Masterclass for on-line excellence:
What is #CancerRoadTrip and how did it come to be? Read this post to get the backstory! 
Follow me on Twitter, Pinterest, Instagram, and at Anti-Cancer Club.  Connect with me!  I may need a place or two to stay along the way!