I had considered writing a long post, about all the different oysters I've tried at various places. I've conscienciously  jotted down all the names and my thoughts on each. But let me simply cut to the chase.
There is always a trade off between price, ambiance and quality. I love a dive bar with great food. I love to save a bit of money, particularly on the road. But there are times when the most upscale, seemingly expensive establishment is the way to go. And it may be no more expensive than many other options.
After nearly a week of smoke and heat, combined with stale cooking odors and no sleep, I desperately needed some self care, and for me that often involves a good meal. I'd scoped out the seafood restaurants in town and had at least a mental list of those that I'd like to try if they worked into my itinerary.
YEW Seafood + Bar was one of them. And it just happened to be located in the Four Seasons, just across the way from the Gallery with the Monet exhibit. And it just happens to be wonderfully air conditioned and a refuge from the smoke outside.
The downstairs lobby is busy with people coming and going. An escalator leads up to the main lobby, and tucked discreetly off to the side is YEW. Their mantra:
Modern. Coastal. Social.
Yew'll be hooked.
And hooked I am.
I sat at the bar (what's new!) and perused the menu. But of course, oysters to start. If this is to be a decadent take-care-of-myself-luncheon, it calls for oysters.
Six perfect oysters with lemon and mignonette. I need this. I feel the soot and the heat that have settled in my throat. But the cool brininess is taking over, one oyster at a time, and life is feeling good again.
It's beautiful; it's cool in the restaurant. The bartender is friendly and helpful without being intrusive. The restaurant has the hum of a well run, happy establishment.
It's not inexpensive, but not overly expensive either. Either way, on this hot, smokey day, I do not care. It gives me respite from that nasty condo where I am supposed to sleep.
After six perfect oysters, leaving is still not on my agenda. I'm hungry and it's hot and smokey outside.
I order a Salade Nicoise.
Salade Nicose for me is both health food and comfort food. It has many of my favorite elements: greens, eggs, green beans, Mediterranean olives, potatoes, and of course tuna. Perhaps a hint of anchovy. To sing, it needs to have the ingredients drawn together with just the right touch of richness and tang in the dressing. Each item has to shine, yet happily compliment all the others.
This salad can be bold and peasanty, or more elegant and refined.
The Four seasons version of the salad arrives. It is beautifully constructed and arranged. It falls somewhere between the peasant version (which I usually make at home) and Riviera elegance. I dip my fork into the greens.
Perfection.
The egg is perfected boiled, a bit on the soft side; the black olives are pitted and not too salty; and just the smallest bit of perfect white anchovy is interspersed in the greens.
Four large pieces of barely seared tuna sit atop the salad.
I realize I am starved. With each bite, I get another combination of lovely ingredients, prepared and presented perfectly. The quality of the tuna is outstanding  It's so fresh, and fork tender. I consider repeating this meal every day until I leave for Whistler.
I finish off  lunch with an espresso with lemon peel. Just the way I like it.  It's real espresso, done right.
Life is good again.
I love nice surroundings. I am comfortable there. I recall the vast sitting areas in the Madrid Ritz with the glass ceiling high above; the (formerly) shabby chic of the Algonquin; the grounds overlooking the Aegean at Lagonissi, where I spent many a summer.
Then it hits me.
Hard.
I haven't done this for a while. Since, well, cancer.
This simple meal speaks volumes to me. About my life trajectory, my expectations and my experiences of recent years.
The stock market and real estate market tanked, just as I was starting my first round of treatment. I went from a paper net worth of millions, to not so much. Out of fear and a need for cash for cancer treatment, I pulled money from the market. My investment advisor fired me. I realized later that he didn't make a commission on anything that sat in cash (and his "firing" me was probably illegal).  I should have known that, but at the time I was consumed with a diagnosis of incurable cancer. I faced an uncertain future on so many levels. The antics of my investment advisor who had just lost half of my portfolio were hardly my major concern.
Like most cancer patients, I felt helpless. Helplessness over the uncertainty of the entire situation; helplessness over the outcome of treatment and the after effects of the drugs; helplessness over the mounting costs; helplessness as the tech creeps walked off with my hard earned intellectual property.
Sitting in the Vancouver Four Seasons having this perfect meal, I realize that I deserve many more perfect meals. I deserve a different life trajectory than the one of recent years.
A mind that is stretched by a new experience can never go back to its old dimensions.                           – Oliver Wendell Holmes, Jr.
I also realized that by "indulging" in this perfect meal, it cost me no more than many not so perfect meals of late. Some of the establishments that I visited pitched dollar oysters, then did a bait and switch. The type of oyster offered for a dollar was hardly a Kumamoto. I often ended up with a plate of very mediocre oysters that cost me nearly as much as this perfect lunch.
So where's the moral in the story? To paraphrase the famous Cyndi Lauper song:
"And girls they wanna have lunch
Oh girls just want to have lunch…"
Preferably at the Four Seasons.
To the Four Seasons Vancouver and Yew, my heart felt thanks on many levels!
More Reading On My Quest For Oysters:
Oyster Quest
Foodie Forays 2017
Culinary Travel Karma: Dublin and Killarney
Whidbey Island
 
Like This Post? Pin It!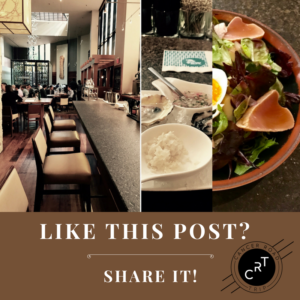 If you're interested in learning more about photography (or cooking or film or any number of topics) check out Masterclass for on-line excellence:
What is #CancerRoadTrip and how did it come to be? Read this post to get the backstory! 
Follow me on Twitter, Pinterest, Instagram, and at Anti-Cancer Club.  Connect with me!  I may need a place or two to stay along the way!