Ireland (and the Beara Peninsula)  is a place I could live–at least for a while and maybe longer. This brief taste of the Wild Atlantic Way, the food and people, the incredible geography, and a glimpse of Killarney have certainly whetted my appetite for more.
It's also caused me to consider a genealogy quest for more information about my forebears. I'm officially an American Mutt (Subspecies: English, German, Irish, and Greek), but with part of my background coming from Ireland, I'm suddenly interested in learning more.
Where did my ancestors come from? I know little of my mother's side of the family. How do the English, Irish and German strains intersect? In what countries? Who were the people who came before me?
With this information in hand, my next trip to Ireland will be one with a mission: a genealogy mission where geography, history and adventure intersect. Stay tuned…
In the meantime, here are some things to consider in traveling to Ireland:
Driving on the Left Hand Side of the Road
The rail system in the Irish countryside is more limited than in the U.K. which may make driving a necessity.  Driving (your U.S. or Canadian license is valid) can be challenging. Depending on your temperament, this may or not be part of an enjoyable visit. Rick Steve says go left! Here's a great article about the experience from this seasoned traveler.
Weather
Other things to consider, naturally, is the fact that it rains a lot. Just be prepared with a slicker and umbrella, sensible shoes and have a good time with it. A downpour can easily be a reason to duck into a pub for a Guinness.
An Aerial View of the Beara Peninsula
The Beara Peninsula is just part of the Wild Atlantic Way, a drive that weaves with the coast, offering stunning views of Ireland's Atlantic facing shoreline.  If you can set aside the time, the entire drive is a must do. If time is more limited, in addition to the pictures above, here's an aerial look at the Beara Peninsula:
Reading
I love many aspects of Ireland. If you're contemplating a trip, here is some helpful reading:
Photos, maps and more about this 1,600 mile journey along Ireland's spectacular west coast.
If you're thinking about doing some family research…
From Amazon:
Discover your Irish roots! Trace your Irish ancestors from American shores back to the Emerald Isle. This in-depth guide from Irish genealogy expert Claire Santry will take you step-by-step through the exciting–and challenging–journey of discovering your Irish roots. You'll learn how to identify immigrant ancestor, find your family's county and townland of origin, and locate key genealogical resources that will breathe life into your family tree. With historical timelines, sample records, resource lists, and detailed information about where and how to find your ancestors online, this guide has everything you need to uncover your Irish heritage.

This detailed look at driving in Ireland lays out 25 drives, any (or all!) of which would make an amazing vacation.
From Amazon:
"Twenty-five themed drives, each lasting one to five days, introduce travelers to the soul of Ireland — from the golden beaches of Cork and the spectacular Sheep's Head peninsula to the bushy glens of classic Northern Ireland and spellbinding caverns of the lakelands…Practical information, such as road conditions, lengths of drives, and zip codes for GPS devices accompanies the complete itineraries and pull-out map, as do listings for the best-value hotels, intimate guesthouses, local produce–friendly restaurants, and cozy pubs."
Posts on Ireland:
Burberry in the Land of Guinness
TBEX in Ireland: From the Liffey to the Atlantic
Culinary Travel Karma: Dublin and Killarney
The Irish Food Movement in the Beara Peninsula
Photo Gallery: Dublin
 Like This Post? Pin It!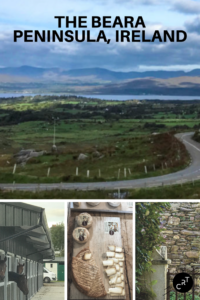 If you're interested in learning more about photography (or cooking or film or any number of topics) check out Masterclass for on-line excellence:
What is #CancerRoadTrip and how did it come to be? Read this post to get the backstory! 
Follow me on Twitter, Pinterest, Instagram, and at Anti-Cancer Club.  Connect with me!  I may need a place or two to stay along the way!