From talks by local historians such as Ana Pacheco to tequila tastings at the elegant Inn of the Anasazi, to African flavors at Jambo Cafe, there is something for everyone in Santa Fe's Restaurant Week.
One can perfect one's margarita; sample fabulous French food followed by an equally fabulous organic green chili burger oozing with a bit of spice and melted cheese; or learn to make mozzarella.
You can dine in a strip mall or in the elegance of a four star resort.
It's an experiential week of creativity and spirit; of food and flavors; and of a bit of the past as the stories of history translate into the ways of today.
All set against the beautiful, artful town of Santa Fe.
Restaurant Week in Santa Fe, aka "The City Different", is part of of a three week celebration of Northern New Mexico food:
Santa Fe's celebration runs from February 18-25;
Taos Restaurant Week is February 25- March 4; and
Albuquerque celebrates its culinary talent March 4-11.
Nearly sixty restaurants are participating in Santa Fe alone. Each offers a  3 course lunch and/or dinner at a fixed price, usually well under $50. (Most lunches are $20-35 and dinners around $45). There are many top calibre restaurants on the list (such as the Four Seasons just north of the city in Tesuque, where the horse picture above was oversees their dining room), as well as many fun places for every day dining.
The next several posts will focus on my explorations during Santa Fe Restaurant Week. (This post covers days one and two.) My only regret is that the event only lasts a week, and I can only eat so much in a day!
Nevertheless, here, dear reader, are my best efforts!
Santa Fe Restaurant Week
"Only in Santa Fe" by Ana Pacheco
Caffe Greco
233 Canyon Road
Have you ever wondered about the roots of a town? Why things are done a certain way? Why certain attitudes prevail? When it comes to Santa Fe, look no further than Restaurant Week's featured talk by the city's former historian, author and speaker, Ana Pacheco.
Ana Pacheco's presentation, "Only in Santa Fe", looks at a series of unique events sprinkled throughout Santa Fe's history to provide some insight into this "City Different" as Santa Fe is called.
Santa Fe is a melting pot of many cultures. Founded by the Anasazi and later the Indians in the surrounding Pueblos, Santa Fe, the city, had 19 founding families, 11 of which were Jewish.
The city itself has been under four flags: Spanish, Mexican, Confederate and American. And while the original adobe style buildings–mud huts– were an inexpensive form of housing, today (as Ana says, chuckling)
"only the rich can afford to live in mud houses."
If you're not familiar with Santa Fe, the east side is noted for its historic adobe architecture and expensive homes. Although the street view may sometimes seem plain or, on occasion, bordering on run-down, this is prime real estate. The location in the foothills and mountains immediately surrounding town is precious, and priced accordingly.
Ana Pacheco traces her roots to ancestors that settled in Santa Fe in 1694. Her mother, Natalie Ortiz, was a descendant of Diego de Vargas who led the resettlement of Santa Fe after the Pueblo Revolt in 1692.
Don Gaspar Avenue (an upscale and main street linking adobe residences with the downtown) is named after Ana Pacheco's mothers great grandfather, Don Gaspar Ortiz.
On the Pacheco side, the family moved from Santa Cruz to Sant Fe in the late 1800s.  Pacheco Street is named after Ana's great-great grandfather Jose de la Cruz Pacheco.
The entire lecture, "Only in Santa Fe" is fun and engaging as Ana Pacheco weaves people and history into a unique blend that could only happen in this quirky town. It gave me insights that I'd otherwise have missed such as the story of the late Jewish Rabbi Helman, which is really a story of people and personality set against a palette of eccentric multiculturalism. Here's the tale:
The Rabbi was well liked in Santa Fe. His outreach touched nearly everyone and his sense of community knew no bounds. When he passed, the services were held in the Cathedral Basilica of St. Francis of Assisi, i.e., the Catholic Church.
Say Again???
Yes, the Rabbi had services in the Catholic church. Take a moment, if needed, to get your head around this because this is the perfect example of the quirky, generally get along attitude of this arty town.
The decision was partly personal–Rabbi Helman was best friends with his Catholic counterpart–and partly practical. The Basilica was the only religious entity large enough to house the crowds.
From his obituary in  the Albuquerque Journal:
Helman was a man of paradoxes: a devout, observant Jew who believed in ecumenism. He attended Christmas Eve Mass at the Cathedral Basilica of St. Francis of Assisi every Dec. 24 for 30 years and led those attending pianist John Gooch's memorial services in a rousing chorus of "Amazing Grace" a few years ago.
Helman's funeral, at his directive, will be at the Cathedral Basilica at 11 a.m. Monday. A good friend, former Cathedral rector Monsignor Jerome Martinez y Alire, will give the welcome and Rabbi Levy will conduct a traditional Reform Jewish ceremony.
So it was that the town's popular Rabbi's final services were held in the Cathedral Basilica of St. Francis of Assisi.
Throughout Ana's talk, two trends jumped out at me:
Santa Fe is–and always has been–almost a mecca for the eclectic in both religion and art.
The beautiful and spiritual landscape originally attracted the Anasazi and their Pueblo Indian descendants. Then in the 1600s, the Spanish arrived and christened the city the City of Holy Faith. Over the next several hundred years, other faiths including  New Thought and New Age practitioners in the twentieth century, Sikhism (the 5th largest religion in the world) and Buddhism found its way into this small town. It is astonishing that four major lineages of Tibetan buddhism can be found in this town of less 70,000 people (total population is only 140,000 in the entire county).
On an artistic and historic front, the town is a blend of histories, characters, newcomers and old timers. People ranging from Billy the Kid (before he became the well known outlaw) to world class artists and authors have all based themselves in this small town.
How can such a small town in a relatively out of the way location (post Santa Fe Trail) achieve all this? From the founding of a world class opera in the mid fifties (at a time when the city population was only 35,ooo people!), to stays by Willa Cather, Huxley and D.H. Lawrence, not to mention the well known and often difficult Georgia O'Keefe, the depth of culture, history and creativity in Santa Fe is simply astounding.
Speaking of Ms. O'Keefe, did you know that the Georgia O'Keefe Museum in downtown Santa Fe is the only museum named after a woman?
As Ana Pacheco would say:
"Only in Santa Fe"!
The Caffe Greco hosted Ana Pacheco's talk, and served a beautiful charcuterie board and a glass of wine for $25. The food was wonderful, but I must admit it was the characters of the town, brought alive by Ana, that dominated the evening.
More Reading From Ana Pacheco on Santa Fe:
Ana Pacheco has numerous books about Santa Fe, available through her website and Amazon. One of the most popular is her in depth look at the eclectic spiritual history of this town nested between the Jemez and Sangre de Cristo Mountains.
And a wonderful picture compilation, taken mostly from various archives: Early Santa Fe
While we're on the topic of the quirky and eclectic, another book I'd like to pass along (which I just started reading) is  American Nations: A History the Eleven Rival Regional Cultures of North America.  It looks at the settlement and migration trends of North America and how, even today, they influence our varying outlooks and attitudes. It's a fascinating read that smashes many of the binary cultural paradigms surrounding our current society. If you pick this up, let me know your thoughts!
Santa Fe Restaurant Week
Lunch at Jambo Cafe
2010 Cerrillos Road at the St. Michael's Drive intersection,
In between Petco and Hobby Lobby
So many restaurant choices! How does one decide?
Darts?
Desire?
Alphabetical order?
Thankfully, there are fewer lunch choices since many restaurants open only for dinner. This day, I decided upon Jambo Cafe, which from the outside appears to be a fairly non-descript restaurant in a shopping center. But what the storefront doesn't show is the easy going, heart warming, thoughtfully crafted food that resides inside.
The food is eclectic African/Caribbean. Spices and flavors beckon.
The Restaurant Week offerings from Jambo Cafe:
Jambo Cafe Menu
Restaurant Week, Santa Fe
Lunch: $25 Per Person
Appetizers
Goat Cheese & Pistachios With Organic Greens  —  drizzled with dried apricot tarragon vinaigrette
Curried Roasted Garlic & Coconut Cream Bisque (Vegan)  —  Winner of the 2018 Souper Bowl's Cream Soup category
Entrees
Coconut Seafood Stew  —  with mussels, calamari, shrimp and mahi mahi in a red wine caper tomato sauce served with curry and green onion roti
Marinated Moroccan Spiced Lamb Kebabs  —  with pomegranate cucumber yogurt sauce over saffron mashed potatoes and garlic roasted Brussels sprouts
Ethiopian Lentil Stew (Vegan)  —  with eggplant and mixed vegetables slow-cooked in a spiced coconut sauce over basmati rice
Desserts
Date Coconut Flourless Chocolate Cake (with fresh whipped cream)
Jamaican Rum Pecan Pie
Mango Cobbler
Banana Coconut Cream Pie
Pumpkin Coconut Flan
Almond Brownie Sundae
Almond Crust Key Lime Pie
I opted for the Curried Roasted Garlic & Coconut Cream Bisque and the Lentil Stew. I may have to go back to try the Coconut Seafood Stew as well.
The soup was guiltless and fabulous. It needed a touch of seasoning–salt and pepper– but the subtle curry flavor and spice lingered just enough to tease another spoonful into your mouth.  The garlic was rich and subtle, showing a deft hand in the kitchen. This sensibility was evident in all the dishes.
The Lentil Stew was fragrant, fun and warm.  Fragrant with…I'm not sure what. But the light taste of the basmati rice was perfect with the rich stew. The flavors of celery, carrot, eggplant, tomato and spices simmered long and slow, building just a bit of heat, but never too much. A total winner. And a healthy choice as well.
Normally I'm not much of a dessert eater, but I decided to try the Date Coconut Flourless Chocolate Cake (with fresh whipped cream) just to see how the chef's skills from lunch translated into dessert.
And did they! The cake was rich and dense, but never heavy. The soft puddles of hand whipped cream were perfect with the dark chocolate.  It was not too sweet, which suited my taste just perfectly.
Jambo Cafe has an extensive menu including a few future must-tries:
Savory Stuffed Phyllo
(Phyllo pastries filled with spinach, Moroccan black olives, organic feta, roasted red peppers, chickpeas, over organic field greens, drizzled with pomegranate sauce);
Spiced Rubbed Salmon Salad
(Grilled salmon with baby greens, capers, shaved red onion, crispy sweet potatoes and a mango-mustard dressing);
Banana Leaf Wrapped Island Spiced Maki Mahi
(Over wild black rice, with garlic sautéed baby boy choy, topped with a mango tamarind coconut sauce);
Spiced New Mexico Lamb Burger
(With tomato chutney and feta cheese)
Not to mention the Jambo Cafe Caribbean Goat Stew, the Sandwiches and Wraps, and an assortment of intriguing starters.
Santa Fe has many restaurants and I'd venture to guess the ones that stay, stay for a reason. I can see why Jambo Cafe is a popular spot, with others, and now with me.
From the New Mexican Restaurant Week website on Jambo Cafe:
"Jambo Café and Chef Ahmed are winners: "Best International Cuisine" for 6 years running and "Best Chef" in 2015, 2016, 2017, and 2018 in the Santa Fe Reporter's "Best of Santa Fe." …Pasatiempo reviewer, Nouf Al-Qasimi said, "Obo's food is spirited, and at its best, it strikes a superb balance between vibrant and subtle, making it better than most of what's being served locally at many times the price."
Chef Obo's cookbook is available through his website www.jamboimports.com as are his spice mixes and curries. The book is part memoir and part recipes. Chef Ahmed Obo also runs an African import business, a food truck and recently opened another Jambo Cafe location in Albuquerque, JamboCafeABQ.
And to think it's only Monday!
Santa Fe Restaurant Week ho!
More Reading on Santa Fe and Santa Fe Restaurant Week:
Warming Up to Restaurant Week in Santa Fe
Winter in a Santa Fe Casita
Santa Fe via Las Vegas, N.M.
Photo Mission: Cold
Photo Mission: Winter at Taos Pueblo
The Art, Culture and Beauty of Santa Fe, N.M.
Santa Fe Tequila Tasting at the Inn of the Anasazi
Like This Post? Pin It!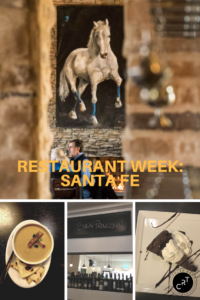 If you're interested in learning more about cooking (or photography or film or any number of topics) check out Masterclass for on-line excellence:
What is #CancerRoadTrip and how did it come to be? Read this post to get the backstory! 
Follow me on Twitter, Pinterest, Instagram, and at Anti-Cancer Club.  Connect with me!  I may need a place or two to stay along the way!