This coming week is Restaurant Week, a celebration of food, cooking and history in Santa Fe, aka The City Different, ranging from tapas at La Boca to African flavors chez Jambo Cafe.
"Cooking is like love. It should be
entered into with abandon or not at all." -Harriet van Horne
As you can imagine, I'm joyfully plotting my meals and managing my itinerary to try some new places.  One of the benefits of Restaurant Week is that many of the very upscale restaurants offer a 3 course meal for $45. It's a spectacular opportunity to sample some of the restaurants without breaking the bank.
There are so many finds in this town, from food trucks and carts to Santa Fe tradition to innovative luxury dining. This morning I had a business meeting at The Chocolate Maven.  It's located in an industrial building, with almost no signage and almost no parking. You'd have to know that this was there.
The front area has cases of cookies, pastry and cakes, but it's the dining room that is so intriguing. It is encased in a glass wall that allows you to watch everything being made:
Their menu tempts, from Blue Corn Blueberry Pancakes (Blue corn pancakes, with fresh blueberries, and sweet brown sugar piñon cream with syrup)  to Green Eggs and Ham (Two organic eggs over thick cut challah, two house made green chile sausage patties, green chile hollandaise sauce and breakfast smashers).
Do note that I ordered fruit and yogurt for breakfast!
And sat next to the window and watched as various pastries were made and assembled for baking.
***
La Boca
In my wanderings, I stop at food stalls, like the ones at the Farmer's Market or the cart on the Plaza with great, cheap tamales wrapped in paper. So good! And just down the street from the Plaza, I wandered into La Boca the other day.
I'd been walking for hours, taking pictures and exploring. My next photo class has a somewhat daunting topic: Body of Work. I was hoping my wanderings would help clarify the content.
Suddenly, I realized I was hungry.
I'd spied La Boca some time ago, but today was obviously the day I was meant to dine here.
La Boca is a "modern tapas restaurant" not far off the Plaza, located at 72 W. Marcy St. In addition to the small bites (and paella and seafood stews and salads and olives, and…..) it also offers a daily three course menu that is as mouthwatering as it is breath-taking in it's offerings. It's almost impossible to choose! This is a place to bring friends, and I will be bringing my Foodie Foray club here in the coming months. (I started a monthly dining club that sold out almost instantly!) Stay tuned for more La Boca.
This visit to La Boca, I sat at the bar and opted for the Grilled Radicchio and Fennel Salad: Sherry Vinegar Reduction, Romaine Lettuce, Golden Raisin Compote, Pimenton Pistachios, Crispy Jamon Serrano and Taos Honey Cabrales Vinaigrette.
Seriously?!
Seriously superb. Bread with a vibrant, green, fruity olive oil was equally noteworthy.
And a cup of green tea, although the wine list was impressive and tempting.
For restaurant week, their dining menu is as follows:
La Boca Dinner Menu
Santa Fe Restaurant Week
$45 per person
I'll be returning here, solo and with my dining group. Stay tuned for more La Boca pictures and menu updates!
***
Personally I am always on a quest for the green chile stew, a regional soup of potatoes, green chile, onions, sometimes tomatoes, usually meat (beef and or pork)  and vegetables. It occasionally  comes in a vegetarian version, such as at the Coyote Cafe and Rooftop Cantina, a casual spot associated with the well regarded Coyote Cafe. There are endless variations, one per cook I believe! The key are the green hatch chile.
Green chile stew has a special place in my heart. Years ago–when I was on the road with Whiskey Oscar–I stopped in Old Town Albuquerque where I had my first bowl of green chile stew. It was a more of a soup than a chunky stew, with subtle heat from the hatch chile, and oh so nourishing. Since that day, this simple stew is always in my sights.
The arrival of the hatch chile in New Mexican culinary history may have coincided with the founding of Santa Fe, although the history is a bit cloudy. But what has evolved is a local industry of growing this chili with its unique flavor. At the Farmer's Markets, stands  have fresh roasted hatch chile. But for those not local, roasted chile can be ordered from a variety of sources, including The Hatch Chili Store who will deliver the frozen peppers, roasted, cleaned and even chopped, to your door.
***
Food in Santa Fe is not limited to all things green chile. Au contraire. French, Italian, Eclectic and Pan Asian restaurants are also present. The creativity of The City Different, as Santa Fe describes itself, spills into the culinary scene.
Located next to the DeVargas Shopping Center, a somewhat dated run-of-the-mill local shopping center (with great boutiques, a Sprouts market and the usual litany of strip mall shops like CVS), is a pan-Asian restaurant, JinJa Bar and Bistro.
I love Asian flavors, and I wanted my Foodie Foray group to have an interesting Asian experience that could be sharable and communal. So I stopped in for lunch to check it out.
To test an Asian restaurant, I'll often order something very mainstream. How good a job do they do with the basics? In this case, I ordered potstickers and Pad Thai.
I had no idea what I was getting into!
Both were superb and very well prepared. The potstickers had been properly crisped in the pan; the Pad Thai may have been the best I've ever had. It was not your typical Pad Thai.
First, it was made with wide noodles, rather than the traditional spaghetti-like rice noodles. This allowed the dough to absorb an amazing balance of flavors and sensations: hot, sweet, fragrant, crunchy, all at once. It was the intensity and perfect balance of flavor that totally wowed me.
Plus the on-line reviews which were stellar. Now I see why.
***
Stay tuned for my upcoming posts on Santa Fe Restaurant Week which will range from Tequila Tastings at the Inn of the Anasazi to Joseph's Culinary Pub , a foodie tour and more. After this series, I have to believe that Santa Fe will be on your culinary hit list. It certainly is on mine.
Like This Post? Pin It!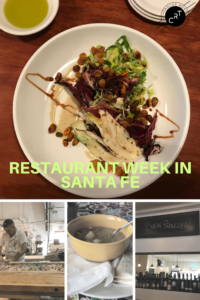 Read more on my travels in and around Santa Fe:
If you're interested in learning more about photography (or cooking or film or any number of topics) check out Masterclass for on-line excellence:
What is #CancerRoadTrip and how did it come to be? Read this post to get the backstory! 
Follow me on Twitter, Pinterest, Instagram, and at Anti-Cancer Club.  Connect with me!  I may need a place or two to stay along the way!