I am hardly a fashionista under the most ordinary of circumstances and on safari my focus is on practical safari clothes that will protect me from the sun and bugs; is fast and easy to launder; and comfortable.
Because most of this trip is in higher terrain, it should be a bit drier and cooler than the coastal areas like Zanzibar. And early morning game drives will most likely mean a jacket and/or sweater.
Here's the safari clothes and personal items packing list I came up with. I'll add some editorial notes after I return:
Documents
Passport
Vaccination Card
(I usually keep a digital copy of both on my phone and in my email)
First Aid and Medications for Safari
Hydrocortisone Gel for Bug Bites
Pepto-Bismal Pills
Gaviscon (Antacids)
Ciprofoxacin (Diarrhea))
Atovaquone-Proguanil (Malaria)
Bug Spray with DEET
Natural bug spray without DEET (I'm hoping this will work rather than the product with DEET) 
Sunscreen/Moisturizer
Neosporin
Tea Tree Oil
Band Aids
Aspirin
Claritin D
The CDC (CDC.gov) also provides a medical packing list that is more extensive and covers just about anything you might need.
Safari Clothes
Safari clothes for me means protecting my skin from sun and bites. I had contemplated just wearing my hiking shoes, but instead I opted
for a pair of North Face boots. Between the higher boots and full length slacks, I leave less skin exposed. Given that I react very poorly to bug bites, this was a serious consideration for me.
The boots have been broken in, tested with different sock thicknesses and they are incredibly comfortable. This winter, they'll be a great around and about casual boot in New Mexico.
I live in black, white and gray, so I did need to pick up some safari clothes. Dark colors, bright colors, metallic fabric and the color blue are said to attract Tsetse flies. Their bites are notorious for spreading disease and causing a host of ailments. I think I'll leave my black shirts behind!
For safari clothes, I bought a sun shirt by Coolibar; and added 2 more safari shirts from REI. I also picked up a pair of kaki pants by Kuhl. I love their outdoor clothes and the pants have a drawstring at the ankle for a snug, no-bug fit. Along with my beloved pants from Athleta (in green and gray), I should be set. 
For toppers, I am bringing my Orvis travel jacket in bone; an olive green travel vest (also from Orvis); and 2  layers for warmth, one a lightweight zip jacket, the other a heavier fleece pullover. 
Plus of course my hiking hat. 
I am planning on simply rinsing some of my safari clothes and letting them drip dry overnight so I don't have to pack too much. Same for underwear.
And this is a trip with just four people (all of whom are professional photographers, except of course, yours truly). No need to dress for the evening! (Hopefully we'll be shooting photos or immersed in post production!)
All this translates into the following packing list for safari:
Safari Clothes and Personal Items
Shoes:
Boots (Wear on plane)
1 Pair sandals
Underwear, Night Wear and Toiletries
3 Pair Smartwool Hiking Socks plus one heavier pair of REI hiking socks
Underwear
Bathing Suit
Sleeping shirt 
Toiletries
Pants and Tops
4 Pair Lightweight Long Pants (one of which I'll wear on the plane)
4 Lightweight sleeveless tops to be worn alone or under a long sleeve safari or sun shirt
4 Long Sleeve Shirts: 3 Safari Shirts and 1 Sun Shirt
Jackets/Sweaters
Travel Jacket  (wear on plane)
Travel Vest (wear on plane)
2 Fleece Jackets (a lightweight zip up jacket and warmer weight pullover)
Miscellaneous
Scarves: I have these circular neck scarves that are perfect for protecting your face and neck from dust or debris. They take up no room and are handy for a number of things. I'll bring along a few, just to be safe, and I'll wear a regular scarf on the plane. It might come in handy. And it's not a favorite. If it gets hopelessly dirty or lost, it's ok.
Duct Tape: Never leave home without it!
Hat: an easy way to keep the sun off one's face.
The
 Final Packing Ensemble
The final packing ensemble consists of one carry on; one backpack with photo equipment on a "wheely" for easy transport throughout the airport; and one duffle bag (to be checked).
Carryon
Malarone and any other important medications
Computer charging cord and other tech hookups; mouse
Phone and ear buds 
Fully charged chargers for phone (With an eight hour trip from Amsterdam to Kilimanjaro, I want to be sure to have access to my phone for entertainment/reading)
Foldable toothbrush and toothpaste (nothing makes me feel better than freshly brushed teeth!)
Passport/Innoculation Records/ Visa/ Credit Cards/ Cash/ Drivers License/ Printed Itinerary
Change of clothes – clean shirt and underwear in case of delays
Backpack
My MindShift Backpack carries all my critical photo equipment plus my 15 inch MacBook Pro. The entire backpack goes on a wheeled cart for easy transport through airports. For a detailed look at my photo equipment, click here.
Duffle Bag
All my clothes, miscellaneous camera items, empty bean bag, rain jackets (for the cameras), Wimberly Gimbal, a tripod, monopod and a video head are in this bag. It's pretty full, but that's fine. I do have an extra bag that will allow me to rearrange things once I'm in Tanzania, to separate the photographic must haves from my personal items. This will allow me to easily transport any additional photo equipment to and from our daily transport into the bush.
Packing Hints
Use Packing Cubes. They keep everything organized and make moving things around as simple as grabbing a cube.
Keep everything else organized in some sort of bag or container.
Together this makes packing and unpacking so simple. And you'll never have trouble locating anything.
Final Safari To Do List
Check with Bank (for ATM access)
Check International Phone Access (I found out that AT&T has zero coverage in Tanzania. Oh well!) and Credit Card Companies. Be sure to use cards with no international transaction fees.
Get Cash (for tips and whatnot)
Download Books/Films for Reading En Route
Start Malarone Tablets (for malaria prevention)
Pretty simple! And I think I have everything covered. As long as I have my cameras (which I'm carrying with me), I'm a happy camper.
And besides, I have zero room left in my duffle. I cannot add a single thing.
I don't know how much internet access I'll have en route, but I'll try to post some things to Instagram and maybe Twitter. Stay tuned for full photo galleries when I get back.
And some good tales to tell! Because isn't that what travel is all about?
More Reading On My Africa Photo Safari
Visas And Vaccinations For Tanzania 
An African Photo Safari: Photo Equipment Packing List
An African Safari With A Nikon Ambassador
Like This Post? Pin It!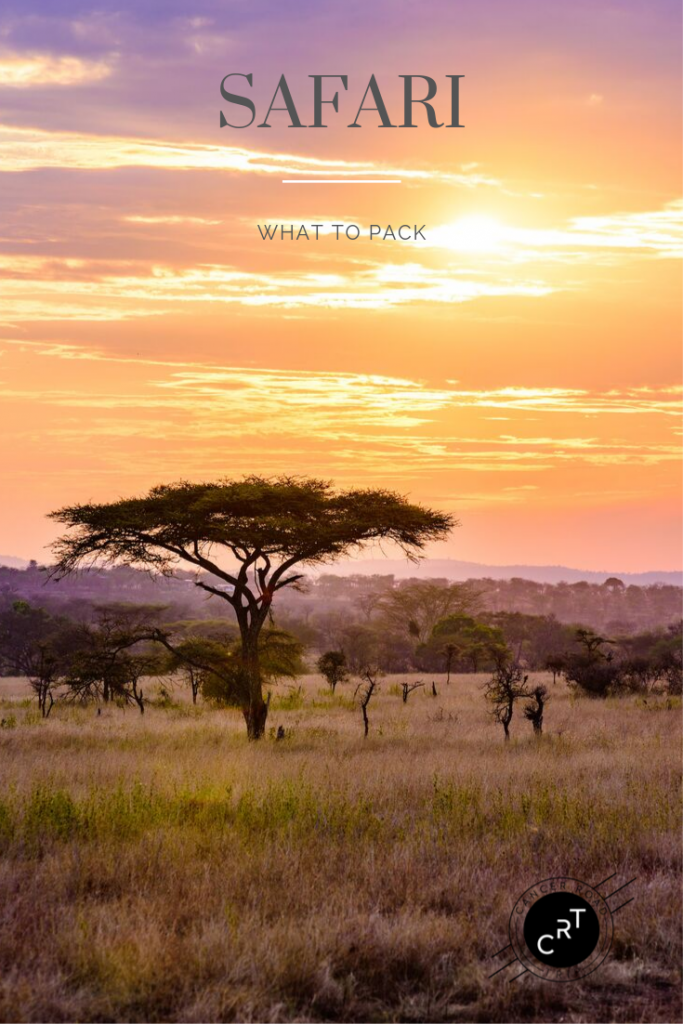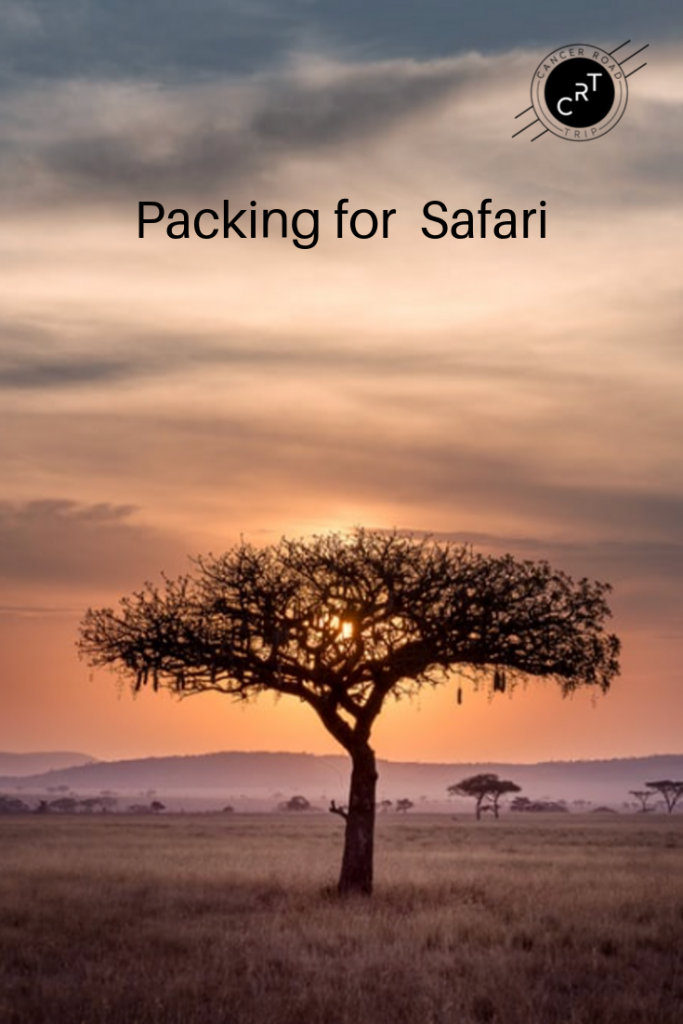 If you're interested in learning more about photography (or cooking or film or any number of topics) check out MasterClass All-Access Pass for on-line excellence:

What is #CancerRoadTrip and how did it come to be? Read this post to get the backstory! 
Follow me on Twitter, Pinterest, Instagram, and at Anti-Cancer Club.  Connect with me!  I may need a place or two to stay along the way!