An African photo safari with a Nikon Ambassador is both inspiring and humbling.
Kristi Odom is one of just 35 U.S. Nikon Ambassadors. The Ambassadors are selected by Nikon as some of the most influential photographers working today.
Kristi's mission is to to:
"Show the beauty in the natural world and to connect people emotionally to wildlife.  Also to inspire others to understand the power of photography and believe in themselves that they can make change."
She has won over 60 international photography awards and her recent work has appeared in numerous places, including the Smithsonian. To say that I'm thrilled to be studying with someone of this calibre is an understatement.
I consider myself an advanced beginner when it comes to photography.  And now I am about to embark on an African photo safari with 3 professional photographers.
Can anyone say out of my league?
I bought my first "real" camera just two years ago. It was a Nikon 5500 kit with two lenses. It sat in a travel bag by my side, ready to record my travels.
But I didn't touch it for months.
Then one day on a Florida beach, I took some photos of sanderlings. The photos weren't anything to write home about, but for me, at that stage of my experience, they opened my eyes to the potential of photography.
And the idea that I could possibly create beautiful, and eventually, interesting images was born.
Now, two years later, I find myself stuck.
My beginner tricks are no longer working; my photographs lack a compelling message.
From a creative perspective, I can see images, but I can't adequately express them. I need both technical knowledge and a more broad based education in what creates a compelling image.
Enter Kristi.
We met over a late breakfast on Canyon Road at the Teahouse in Santa Fe. She was in town for a visual storytelling class at Santa Fe Photo Workshops. (Yes, Nikon Ambassadors take classes, as well as giving talks, teaching and running trips like this one to Tanzania).
The prospect of visiting Tanzania was intriguing, but even more intriguing was a chance to study with Kristi. Her photos are captivating. And part of this trip included a year of one on one mentorship via Skype.
The chance to learn sold me. I was going to Tanzania.
Flight Path for An African Photo Safari
Getting to Tanzania meant thirty hours of travel for a total of 9,948 miles (each direction) in three legs: from Albuquerque to Atlanta; Atlanta to Amsterdam; and Amsterdam to Kilimanjaro.
Coming home, it was Kilimanjaro to Dar es Salaam, and then to Amsterdam, Atlanta and Albuquerque.
On the ground, our itinerary was equally ambitious, as we navigated parks, washboard dirt roads and wandering wildlife:
The Itinerary for a Tanzania Safari
I really had no idea what I was getting into (this is a theme that seems to repeat throughout my life and leads into the most interesting adventures).
Africa.
Ok, it would be fun to go to Africa.
A safari.
Why not?
So it was that I found myself in a rigorous schedule that started before daylight and often ended far after dark.
I am learning that photography trips can mean long days. But long days translate into photo opportunities that you'd otherwise miss. So, along with Kristi, our safari leader and Nikon Ambassador, and two other professional photographers, I set off for Tanzania.
Here is our itinerary:
Pre-Arrival, Two Days: I arrived late Saturday night. The following two days I hiked Lake Duluti and visited the foothills of Kilimanjaro.
The formal safari itinerary:
African Photo Safari, Tanzania, Day 1: Arrival
African Photo Safari, Tanzania, Day 2: Arusha Cultural Heritage Center
The travelers–four of us including Kristi–met up for a morning of African art and history and an afternoon of education in the bar at the Arusha Serena Hotel.
African Photo Safari, Tanzania, Day 3: Arusha to Lake Manyara
This leg included a morning safari drive followed by one on one mentoring with Nikon Ambassador Kristi Odom while we stayed at the Lake Manyara Serena with spectacular views overlooking the lake.
Click here for the Drive-By Gallery, a series of photos taken en route to Lake Manyara
Click here for photos and information on Lake Manyara.
African Photo Safari, Tanzania, Day 4: Lake Manyara to the Serengeti 
A drive along an unpaved, washboard road up to the Ngorongoro Crater and then down into the Serengeti where we would spend two nights at the Serengeti Sopa Lodge. Our welcome to the Serengeti: A rather angry elephant that came right up to our vehicle!
Click here for a look at an amazing elephant family we encountered as we sped for the Serengeti.
African Photo Safari, Tanzania, Day 5 : Serengeti National Park
African Photo Safari, Tanzania, Day 6: Serengeti National Park to the Ngorongoro Crater 
 We had a glimpse of the Crater from our trip to the Serengeti. This time it was a two night stay at the Sopa Lodge at the eastern edge of the Crater.
African Photo Safari, Tanzania, Day 7: Ngorongoro Crater 
African Photo Safari, Tanzania, Day 8: Ngorongoro Crater to Tarangire
We managed two game drives into this park before heading back to Kilimanjaro Airport.
African Photo Safari, Tanzania, Day 9: Tarangire to Kilimanjaro Airport for an evening departure.
I'll be sharing the details of the safari in an upcoming series of posts over the next few weeks.  I took about 10,000 photos and have a bit of editing to do! Stay tuned for some great adventures!
Traveling to Tanzania
I landed around 8 p.m. tired from 30 hours of transcontinental travel.
The entire plane disembarked into the Customs area, segregated into two groups: those with visas, and those without. Both lines were long and slow. Definitely get your visa ahead of time.
Just past customs, drivers await.
My driver, "Gift" (an English translation from his Swahili name), led me out into a dense and cool evening. The dirt parking lot was filled with safari vehicles. We set off, on the left hand side of the road, for the 45 minute trip to the Arusha Serena Hotel.
Saturday night in Africa is much like Saturday night anywhere. Along the road, in the dark, people meet and mingle. Occasional music and voices drifted through the open vehicle window.
I dozed, exhausted from travel. Even the swaying of the vehicle, bumping over rutted unpaved roads was not enough to wake me.
Until we arrived at the lodge.
Shimmering in the dark were massive trees, up lit by landscape lights. Piles of flowers spilled onto the grass. Chirping sounds suspended in silence filled the night.
The kind staff led me to my hut, a beautiful room overlooking the flowering grounds and in the distance, Lake Duluti.
On the bed were scattered flower petals. And around the beds, a mosquito net was pulled shut. I quickly showered, parted the netting carefully, closing it behind me, and went to bed.
I had landed in Africa.
More Reading on An African Photo Safari
Safari Clothes: Packing for Safari
An African Photo Safari: Photo Equipment Packing List
Visas and Vaccinations for Tanzania
Like This Post? Pin It!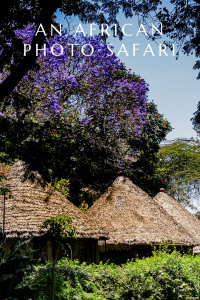 If you're interested in learning more about photography (or cooking or film or any number of topics) check out MasterClass All-Access Pass for on-line excellence:

What is #CancerRoadTrip and how did it come to be? Read this post to get the backstory! 
Follow me on Twitter, Pinterest, Instagram, and at Anti-Cancer Club.  Connect with me!  I may need a place or two to stay along the way!