Travel adventure is taking a back seat for the moment and some of my wanderlust has moved into the kitchen in the form of culinary travels. 
Cooking is in my DNA. My Greek grandmother was an amazing cook. Wonderful aromas, both familiar and exotic, drifted from her kitchen, and in her pantry, in tins, were dozens of utterly decadent greek cookies. The pear trees in her yard created toppings for ice cream, and mint grew rampant.
My grandmother cooked from her heart. She made noodles without a recipe. "See, it feels like this," she would instruct me.
She made one dish, a roast chicken with lemon, oregano, butter and tomatoes. She'd roast the chicken, then add the tomatoes towards the end. The drippings from the chicken, the butter and spices were sublime. And then, for the coup de grace, she would simply stir the fresh, hand cut, homemade noodles into the pan sauce. Dinner was served. 
She combined flavors that sang. From her I inherited an ability to put together a meal from instinct. Whether it's something as simple as great feta, tomatoes, olive oil and bread or something more time intensive like her dolmas stuffed with a meat and rice mixture, simmered in egg lemon sauce (to die for!). 
I no longer eat much meat and my diet is very vegetable and fish focused. I use few prepared products (although the Thai curries below are a very healthy fast food option to have in your pantry).  I hope this post gives you some ideas and inspiration for culinary travels at home.
***
On fish: I buy packs of wild, individually sealed and frozen salmon, cod and ahi tuna.  The packs defrost in a bowl of hot water in about 10 minutes.
It's my definition of fast food.
So as you browse the fish recipes, know that they're readily accessible and easy to make with a few pantry basics. And please know that I don't generally measure my ingredients. Just use your best judgement and ENJOY!
On herbs: I have an aero garden that gives me fresh herbs–and inspiration!–for cooking. The Thai basil pushes me into culinary Southeast Asia more than I otherwise might venture on my own. The dill provides a raison d'être for amazing deviled eggs. And the basil simply inspires everything. If you don't have fresh herbs, no worries! Dried herbs work just great.
On diet: I generally eat a low glycemic, vegetable rich diet.  I stay away from processed foods. When I do buy a food item like the curry sauces below, I read the label carefully. Don't think that organic always means healthy! A lot of organic products have tons of sugar in them.  
On organic: When you can, buy organic, fresh and local. Local produce doesn't travel as far and usually retains more of its nutrients. High respiration foods like asparagus and mushrooms (yum) lose their nutritional qualities very quickly. 
It's been a cool spring, perfect for some time in the kitchen. So here is some pandemic cooking! I hope it gives you some ideas for what you can do with healthy pantry cooking.
Culinary Travels At Home
My culinary travels are usually more Mediterranean in nature, but Asia beckons. Here are some ideas from my kitchen this corona spring.
Mediterranean Inspired Culinary Travels
Salmon on Curried French Lentils
Ingredients:
De Puy Lentils
Onions, Carrot, Celery
Turmeric, Salt, Pepper, Garlic, Ginger
Olive Oil, Apple Cider Vinegar, Tamari, Curry Powder, Honey, Chopped Garlic and Ginger
Salmon
Instructions:
Cook the de Puy Lentils and set aside. (Use any extra in a salad with feta, crunchy veggies and whatever else strikes your fancy  or tie into some homemade soup.)
In a saute pan, carmelize the onions. Add some chopped carrot and celery. Add the cooked lentils and some turmeric. Salt and pepper to taste.
Meanwhile, in the oven (325-350 degrees), roast the salmon with butter and white wine until rare/medium rare. 
Whisk up a curried vinaigrette (oil, apple cider vinegar, Tamari, curry of your choice, honey if desired, salt, pepper. Adjust flavors as needed. Garlic and ginger are great additions.)
Dress the lentils. Top with salmon. A bit of parsley from the garden.
Dinner is served.
(This dish grew out of whatever was around. The carrots and onions were pantry staples, as were the lentils. Salmon in the freezer. Spices on hand.)
Mediterranean Tuna
This is a dish that appears in a million variations in my house. It can be cooked on the stove or in the oven. Foil packets work well too. I have an old Cusinart pan with a domed lid that is my go to favorite for these types of meals, making it an easy one pot endeavor. I cook the fish very gently over a very low flame and remove it from the heat while still rare-medium/rare.
Ingredients:
Garlic
Vegetables of choice: Olives, Tomatoes, Onions, Red Peppers, Artichokes, Spinach
Water, Stock or Wine
Tuna
Instructions:
Saute garlic.
Add vegetables of your choice and greek olives. Tomatoes. Add a bit of water, stock or wine. Add fish.
Cover and simmer oh so slowly. Top with fresh basil. Or parsley. Or even some mint!
Vegetables that work well are red peppers, artichokes, spinach. Be creative! 
Baked Fennel
I simply love fennel and it's a vegetable that keeps well in the frig during this time of corona where your shopping runs may not be a frequent as usual. I love fennel raw; I love it cooked. This baked fennel recipe is too good for words. Even if you think you don't like fennel, try this!
Ingredients:
Fennel
Olive Oil
Parmesan
Ground Pepper
Instructions:
Slice fennel bulbs, removing core.
Toss in olive oil.
Sprinkle with Parmesan and freshly ground black pepper.
Arrange in a baking dish and bake in a 375 degree oven until the cheese browns and the fennel is the desired degree of tender.
Asian Inspired Culinary Travels
Thai Red Curry Shrimp with Red Lentils, Green Beans, and Peas
Ingredients:
Shrimp
Red Lentils
Green Beans
Fresh Peas from the freezer
Trader Joe's Red Curry Sauce
Thai basil if available
Instructions:
Cook red lentils; set aside. (Leftovers make great salads)
Saute shrimp in garlic. Add Trader Joe's Red Thai simmer sauce, some water and vegetables. I added some dried spinach flakes, fresh peas and French green beans (partially cooked in the microwave) and cilantro. Simmer gently until the shrimp are cooked.
Serve with brown jasmine rice and top with tons of Thai Basil.
Dinner is served.
I have an aero garden in my kitchen with plenty of fresh herbs, so Thai basil is easily available. Regular Italian basil is a good addition too!
Salmon in Green Curry, Edamame, Red Pepper, Spinach
I keep a bag of frozen edamame in the freezer so it's always available. And it makes a great addition to these types of dishes.
Ingredients: 
Salmon
Trader Joe's Green Curry Sauce
Edamame
Red Pepper
Spinach (fresh or dehydrated)
Chopped ginger and garlic
Instructions:
Saute red pepper. Add  garlic and ginger.
Add Green Curry Sauce and a bit of water. (I usually put some water in the jar and shake it to get the rest of the sauce out! You could also use some coconut milk.)
Add fish, edamame and fresh spinach. Cover and simmer ever so gently.
Serve with basmati brown rice, cooked in chicken stock with a bay leaf.
I also make this with green zucchini and red peppers. This is my idea of fast food.
Asian Tuna with Bok Choy
This one is really good. And flexible. Try salmon or spinach. Or shrimp or organic chicken. Add some sliced red pepper.  Just about anything goes with this combination, served with organic brown basmati rice, cooked in chicken stock (Better Than Bouillion) and a bay leaf.
Ingredients
Protein: Salmon, shrimp or chicken. Or Tofu. Or whatever!
Red Pepper, sliced
Any other vegetables of choice.
Instructions
Heat some organic butter in the pan. Saute garlic and ginger.
Add salmon and a bit of stock or water. Add fresh bok choy leaves to the pan and a bit of Asian Sauce (see below). Cover and simmer ever so slowly and serve with brown basmati rice or organic jasmine brown rice.
Serve with extra sauce on the side.
Asian Sauce
This goes with everything and it's totally addictive.
2 T Soy or Tamari
2 T oyster Sauce
Honey to Taste
1-2 teaspoons toasted sesame oil (buy the highest quality sesame oil you can; it makes a massive difference)
1 T apple cider vinegar
Chopped Ginger and Garlic
Scallions
Combine and enjoy!
Miso Anything
This isn't my recipe, but it is oh so good! Make a double batch. You'll almost want to drink this! Here's a link to Bobby Flay's Miso Salmon recipe.
General Culinary Travels
Swiss Chard, Yellow Squash and Red Peppers
This is one of my favorite vegetable combinations. It was created when an overabundance of chard came out of my garden one year.
I use it as a stand alone vegetable, serve it over rice or whole wheat pasta, put it in a frittata, a quiche, or simply snack on it. Have a bit of good quality grated Parmesan on hand.
Ingredients
Sliced onion
Red Pepper
Yellow squash, sliced into rounds or halves
Swiss chard, julienned
Garlic (be sure to chop your own; don't use the pre-chopped product)
Instructions
Saute sliced onion in olive oil. Add red pepper, yellow squash and garlic.  Cook til crunchy-tender.
Add julienned Swiss chard and cook til tender. (You may want to add a few tablespoons of water to steam the chard as it cooks.)
Voila!
So simple, healthy and utterly delicious. Give it a go. It can be frozen in individual servings and defrosted in the microwave for fast food.
Vegetable Soup
I LOVE soup. Not the canned versions with too many carbs and sodium, but homemade soup. I made a big pot of this last week when I realized that I had yellow squash and green zucchini that needed to be used. I also had some homemade chicken stock that I'd made from a roast chicken carcass. So, soup it was!
Ingredients
Onion, carrot, celery, chopped
Garlic, chopped
Stock or Water
Vegetables of Choice (In this case, the soup flavors were driven by what was in the frig, namely zucchini!)
Instructions
Saute onion, celery and carrot til soft. Add a bit of chopped garlic.
Add stock or water (and a generous big spoonful of Better Than Bouillon Chicken Soup Base). 
Add vegetables (in this case yellow and green squash), and a large can of organic tomatoes. I have a bag of freeze dried spinach and I added about half a cup of that as well. Thyme, parsley, oregano, and a bit of salt. Simmer and serve with fresh basil or a bit of pesto. A sprinkle of parmesan is good too.
Other additions include any vegetable you can think of! I always keep some homemade soup around for a fast, healthy, and satisfying lunch.
My Pantry Basics for Culinary Travel
If there is ever a snow storm or any natural disaster, you want to hang at my house. I always have a well stocked pantry, some wine and a bit of imagination. Here are some of my must haves:
Oils and Fats
High quality olive oil and vinegars (EVOO olive oils, aged balsamic, wine vinegar and some exotics, like Meyer Lemon Olive Oil–great drizzled on goat cheese)
Organic Butter
Organic mayonnaise
Sesame Oil (Buy the highest quality roasted sesame oil you can find)
Asian Products
Mirin
Tamari
Rice vinegar
Oyster Sauce
Miso (white)
Cheese
I don't eat much dairy. At one point I actually went vegan but decided life without cheese wasn't worth living. But I've greatly reduced my dairy consumption and it is skewed towards goats milk which is more easily digestible than cow's milk products
Feta ( buy the sheep's milk  blocks in brine from Trader Joe's). Do not buy the crumbles. Crumble it yourself!
Laura Chenel goat cheese
Parmesan Cheese (I often buy the Peccorino/Romano blend from Trader Joe's). This also freezes well.
Pantry Basics
Onions
Sun dried tomatoes
Organic canned tomatoes
Anchovies (They add a subtle, salty undertone to tomato sauces that is utterly addictive. Try sautéing some onion in olive oil; add a can of anchovies, chopped; a can of organic tomatoes and simmer til the flavors are just combined. Don't let the tomatoes cook down too much. The fresh flavor, with an undertone of saltiness, is sublime. Top with herbs (parsley and/or basil) and serve. This can also form the base for a Mediterranean fish dinner, as well as a  sauce for  (whole wheat) pasta. 
Lentils (de puy and red. Black Beluga are good too)
Cannellini Beans
Wild canned salmon (I like this better than tuna, although the wild yellow fin tuna from Wild Planet is something to have on hand)
Olives (Kalamata and large Sicilian Green Olives)
Artichokes (Grilled and quartered, in glass jars or BPA free cans)
Brown Rice, preferably organic. I love Basmati Rice. 
Quinoa
With the corona virus and subsequent lockdowns, I didn't know what to expect so I put some freeze dried/dried vegetables from North Bay Trading Company in the pantry. They are terrific and will be a future staple for my house.
In The Freezer
Frozen Salmon, Cod and Ahi Tuna
Frozen Shrimp
Frozen Edamame, shelled
In The Frig
Organic lemons
Ginger (You can also freeze this)
Carrots and Celery 
Better Than Bouillon Chicken Stock (I usually buy the low sodium version)
Herbs and Spices
Herbes de Provence (an absolute must have), thyme, oregano, turmeric, several curry blends, cumin, cilantro, parsley (fresh and dried), black Tellicherry peppercorns, bay leaves, fresh and powdered garlic, and fresh herbs including thyme, chives, basil, Thai basil (fresh and dried), mint and dill, cumin, turmeric and curry.
And I usually have an assortment of other flavors on hand. It's a matter of whatever you use and like most. I tend to have a pretty elaborate spice drawer.
For me, the upside of corona has been some culinary adventure close to home. With warmer weather on the horizon, I'll be doing more grilling. (Think cedar planked salmon with Dijon mustard, wine and dill.)
I'd love to hear what you're cooking. Tweet me @CancerRoadTrip or leave a comment below.
Bon Appetit!
Like This Post? Pin It!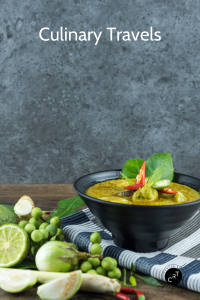 More Reading on Food and Culinary Travel
Travel Lessons: Oysters and Whatnot
Culinary Travel Karma: Dublin and Killarney
Seattle Farmers Markets: Picking Your Berry Favorites
Warming Up To Restaurant Week In Santa Fe
Art, Flavor and Elegance at Restaurant Martin
The Irish Food Movement in the Beara Peninsula
If you're interested in learning more about photography (or cooking or film or any number of topics) check out MasterClass All-Access Pass for on-line excellence:
This post contains affiliate links and I will be compensated if you make a purchase after clicking on these links.

What is #CancerRoadTrip and how did it come to be? Read this post to get the backstory! 
Follow me on Twitter, Pinterest, Instagram, and at Anti-Cancer Club.  Connect with me!  I may need a place or two to stay along the way!