My forays into farmer's markets continues and Seattle has numerous venues, with vendors offering everything from berries to fish. I won't be able to visit them all, but I do want to share a few highlights.  Even if you're not a market person, the sheer variety of some of the foods, especially at the Ballard Market, are worth checking out. Throw in some food stands and a bit of music, and you have the makings of a very pleasant morning.
Farmer's markets have become increasingly popular across the country. Part of this is the "grow local" movement, part a quest for ever more exotic, fresh foods, and part a slowly building awareness of the nutrition (or lack thereof)  in our mass distributed food sources.
The nutritional content of our food supply has diminished over the years, with foods being bred to be more
palatable, pest resistant, and for their travel-ability.  In many of our food markets, particularly the larger ones (Whole Foods and Trader Joes included) the number of types of fruits has diminished enormously over the years. Jo Robinson, author of Eating on the Wild Side: The Missing Link to Optimum Health
points out that in 1910, more than 15,000 apple varieties were raised in the U.S. Today, only 500, or 3% remain. That may sound like an ample number, but in reality, 9 out of 10 apples we eat comes from just a dozen varieties. These are low nutrient cousins of the wild species that used to dominate apple production. Wild apples have 475 times more phytonutrients than our currently mass produced varieties. While the adage "an apple a day keeps the doctor away" may have had some validity in the past, today's apple crops do not live up to their history.
This is why it may pay to be smart about knowing the source of your food, and just what you are eating. And that is where farmer's markets come in.
As a self confessed, long time foodie, I am always delighted when I try something new or outstanding. And the local farmer's markets did not disappoint.
Did you know that organic raspberries can be Autumn Bliss, Caroline, Cascade Delight, Cascade Gold, Malahat, Munger, Nantahala, or Tulameen? And blueberries can be Aurora, Blue Crop, Duke, Elliot, Liberty, or Reka. Blackberry varietals may include Chester, Obsidian, and Marionberry. And then there is the Tayberry, a new fruit to me. It's an intensely flavored, raspberry-like berry.
Berries are a  solid anticancer food, and when berry season rolls around, sign me up. Growing up, there was a pick your own strawberry farm in town. People would go early in the morning and pick their own berries. So sweet, so perfect. Perhaps it's this decades old link that keeps me coming to farmer's markets, because nothing compares to a perfectly ripe fresh berry.
Berries–local and wild–are precious; transient; and seasonal. In the days when I still ate sugar, I would fry  fresh chocolate ravioli (in coconut oil) stuffed with a marscapone cheese mixture, topped with (homemade) vanilla ice cream and fresh berries. Seriously. OMG. Those were good!
But they would have been even better with the berries I picked up at the market yesterday. The blueberries (forgive me, I'm not sure what variety they are) are stunning. Their deep, rich, slightly sweet flavor is nothing short of breathtaking. If you find yourself in Seattle during the summer, it's worth a visit to one of the markets just for the berries.
The most famous of the Seattle farmer's markets is naturally Pike Place Market, which has an elaborate labyrinth of shops that extend several levels down. In addition there are the obvious and stunning stalls on the main level, with flowers, fish, vegetables and other wares. But don't overlook the smaller, local markets. Here many artisanal products appear.
At Ballard Farmer's Market, I sampled a wide variety of honeys and bought a basket of fresh, mixed mushrooms including some unusual Blue Oysters.  Add in a few peaches (to go with the berries),  a gluten free pistachio-honey scone, and I am one
happy camper. In addition to the market, a seafood festival was also being held that evening. Tickets for salmon, crab, wine and beer, as well as stages for entertainment were part of the market scenery on this particular day. Plus, of course, all the shops and restaurants that line the streets.
And each and every market boasts spectacular fresh cut flowers.
In Seattle,  certain vendors will be at numerous markets, but each market is unique in it's ambiance and blend of foods and services. This link provides a comprehensive list of area markets, locations and times.
Parking can be difficult at some of the market locations; pay parking is often reasonable on market day, so don't overlook that as a possibility. But most of all, plan to hang around a bit, talk to the vendors and think about where your food comes from. Because it does matter.
More Reading on the Seattle Area:
Healdsburg to Vashon
What To Do On Vashon Island
Oyster Quest
Whidbey Island
The Charm of Port Townsend
Puget Sound, Seattle and Vashon Adventures; Round I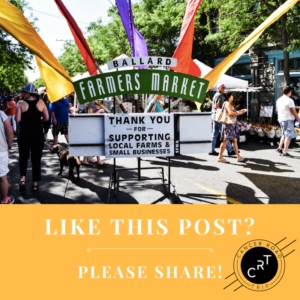 If you're interested in learning more about photography (or cooking or film or any number of topics) check out Masterclass for on-line excellence:
What is #CancerRoadTrip and how did it come to be? Read this post to get the backstory! 
Follow me on Twitter, Pinterest, Instagram, and at Anti-Cancer Club.  Connect with me!  I may need a place or two to stay along the way!