Stories of miraculous healing are associated with the Spanish colonial church El Santuario de Chimayo, located in the foothills 28 miles north of Santa Fe.
And it's all in the dirt.
Or so legend goes.
Actually there are numerous variations of legends associated with this National Historic Landmark. All point to the elusive, miraculous properties of the local soil. Pilgrims take away 25-30 tons each year, to rub on their bodies and even injest in a quest for healing. Each year over 300,000 people will make a pilgrimage to this small adobe church.
But my travels this day were not in search of a miracle, but in search of photographs. 
I've been in and out of Chimayo since I first house sat in Truchas in the mid 1990's for Alvaro Cardona Hines and his wife Barbara McCauley. But today's quest was strictly photographic. My previous forays had resulted in a photos, but I wasn't satisfied with them. Time for some instruction.
David Hoptman who runs Santa Fe Photo Creative Workshops led this foray into Chimayo. David is an artist. Over the last 30 years he has worked with publications such as Architectural Digest and created thousands of pieces of photographic, print, bronze and visual art. This day, David was my guide to help me expand my photographic perspectives.
As an artist, he talked in detail about shape and composition in a way that I only intuited. We trampsed through the high desert, through town and along the roadside, in a quest to learn and to see with an artist's eye. And there is more to Chimayo than initially meets the eye.
El Santuario de Chimayo
El Santuario de Chimayo is the heart and soul of the village, the epicenter of the annual pilgrimage. The initial construction of the church dates back to 1813. But dating back to the 12th century, the Pueblo people inhabited the area.
The village has carried a healing mystique for hundreds of years. The Tewa Indians believed that land was shared with spirits and their healing powers were revealed via nearby hot springs, which later dried up. They called the area "Tsi-Mayoh," after one of the nearby hills. 
The Spanish also became part of the healing legacy of Chimayo.  After the Pueblo revolt of 1680, the Spanish returned under Diego de Vargas. It is here that the various legends surrounding this pilgrimage site take root. One has Don Bernardo Abeyta seeing a beam of light coming out of the nearby hills. Following the light, he dug in the ground, unearthing a crucifix. 
He gave the crucifix to the priest who in turn brought it back to his church in Santa Cruz. But the following morning, the crucifix had mysteriously disappeared and reappeared in Chimayo. This happened again. And again.
And so the legend of El Sanctuario de Chimayo took root.
The church is made of adobe and wood, with two bell towers, each topped off with a metal cross, criss-crossed with tiny white lights. A walled garden provides a place to linger. 
Inside is a mix of Spanish and Indian folk art decor. One wall is covered in images of gratitude for healing: discarded canes, wheel chairs and braces point to the site's deep and rich healing legacy.
The church was purchased by the Spanish Colonial Arts Society in Santa Fe (you can visit this museum on Museum Hill) in 1929. The Society then donated the property to the Archdiocese of Santa Fe.
Traditional Chimayo Weavings
There is more to the legacy of this town than the healing history of El Santuario de Chimayo.
In addition to the religious significance of the village, Chimayo is also known for its tradition of weavings. One family run business, Ortega Weavings, sits on a corner at the edge of town. Here nine generations of weavers provide customized rugs, blankets and clothing. 
Ortega's dates back to the early 1700's when Chimayo was part of New Spain. It started as a means of survival: people needed clothes, blankets and even mattresses. Over time with the introduction of the railroad in the mid 1800's, trade emerged as the isolated Spanish and Native American cultures started to interact with the Americans.
Other local families and artisans also offer a rich tradition of weaving: Trujillo's just around the corner has beautiful hand loomed articles and an equally rich history in the woven arts. And up the road towards Truchas, Centinella Traditional Arts offers an array of clothing, rugs and other woven items from local artisans. I found a stunning orange woven, over-the-head-shawl (for lack of a better description) at this shop, in a back room among the looms and yarn.
Each shop is special and they're all worth a visit, for the history and the creativity of woven art.
Chimayo Chile
A story about New Mexico wouldn't be a story without a tale of chile.
Chimayo, naturally, has it's own chile cultivar. The Chimayo Heirloom Chile has been passed down through the generations of farmers in the area. Because the pods are small, they are more difficult to process and thus more expensive. The unique, rich and earthy flavor of this Chile is highly prized and available in numerous places including the Santa Fe Farmer's Market.
El Potrero Trading Post, located near the church, offers a variety of items, ranging from artwork to religious artifacts. On the chile front, the store offers Chimayo Heirloom, Sandia, Big Jim and Lumbre varieties. Chile may be processed in the oven or sun-dried. The sun dried chile is the most prized. This time intensive process produces a chile orange in tone, and rich in flavor. But try them all…you won't be disappointed!
Rancho De Chimayo
Every good adventure requires sustenance, and Rancho De Chimayo just outside of the village is the perfect place to stop for lunch.
Rancho de Chimayo was awarded the James Beard Foundation America's Classics Award in 2016 for their attention to the history and rich culture of New Mexican food. The food is local, simple and delicious. The story behind the restaurant is one of family heritage, hard work and perseverance. Should you find yourself in Chimayo, this is well worth a culinary visit.
The traditions of Rancho De Chimayo have been captured in a book by Cheryl Alters Jamison and Bill Jamison:
Situated just 30 miles north of Santa Fe off the High Road to Taos, the highly acclaimed Rancho de Chimayo Restaurant has been serving traditional New Mexican cuisine in a beautiful setting for half a century. The atmosphere at this traditional Spanish hacienda, surrounded by mountains, is rivaled only by the fine, native cooking served in the grand early tradition by generations of the Jaramillo family. In 1991 the restaurant published a modest paperback cookbook for their silver anniversary. Twenty-five years and 50,000 copies later comes this beautiful new edition, just in time for the 50th anniversary celebrations. All recipes are completely revised and updated, with more than twenty delectable new dishes added. As an extra bonus, the book also features charming archival images as well as stunning full-color food and location photography, making this a beautiful keepsake of a special place as well as a mealtime companion to turn to again and again.
Getting There
Take the time to take a tour of the back roads of northern New Mexico. Starting at Santa Fe, head up to Chimayo and stop for lunch. From there continue up to Taos, taking the High Road. Stop, linger and absorb the incredible scenery. En route, Truchas is stunning and filled with small art galleries. And Taos offers an array of artistic, outdoor and historic things to do ranging from hiking to Indian Pueblo dances, depending on the time of the year. And don't forget Taos ski valley or the hot springs and mineral waters of Ojo Caliente after a long day on the slopes.
Whatever you decide to do, whatever the season,  it's a great road trip, worthy of a bit of adventure and exploration.
"The Road goes ever on and on
Down from the door where it began.
Now far ahead the Road has gone,
And I must follow, if I can,
Pursuing it with eager feet,
Until it joins some larger way
Where many paths and errands meet.
And whither then? I cannot say"
― J.R.R. Tolkien, The Fellowship of the Ring
Like This Post? Pin It!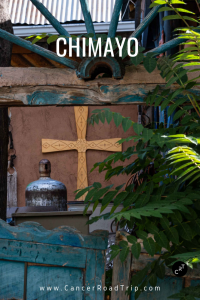 More Reading 
Santa Fe via Food Tour New Mexico (And an extended conversation on the red vs. green chile debate)
Like This Post? Pin It!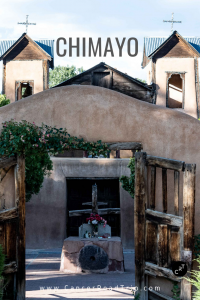 If you're interested in learning more about photography (or cooking or film or any number of topics) check out MasterClass All-Access Pass for on-line excellence:

What is #CancerRoadTrip and how did it come to be? Read this post to get the backstory! 
Follow me on Twitter, Pinterest, Instagram, and at Anti-Cancer Club.  Connect with me!  I may need a place or two to stay along the way!