Irish Joke: What are the three Irish food groups?
Answer: Potatoes, beer, and whiskey
Have a good laugh, but now follow me for an updated Irish food experience that leaves this antiquated perspective far, far behind.
Ireland is in the midst of a food revolution. It's roots are deep in history and in local culture, led by pioneering people creating, crafting and growing luscious food products. From Dublin to the countryside, Ireland is reinventing its culinary future, one farm and one food at a time.
The food aspect of travel is (obviously) always on my agenda. And I was fortunate enough to meet some of the people making it happen in Ireland, on the Beara Peninsula.
Killarney to the Beara Peninsula
This trip is a feast for your eyes, your stomach and your soul. Don't neglect any of them. Let's start with some pictures from the drive over Healy Pass between Killarney and Castletownbere .
The  N 71 from Killarney is a beautiful drive that becomes more rural with each passing kilometer. Small winding roads and green hedges punctuated by occasional sweeping vistas mark the drive to my first stop at Kenmare, about 32 kilometers from Killarney. Our trip, part of the TBEX conference, was arranged by Con Moriarty's Hidden Ireland Tours. Kay Woods was our knowledgeable director.
Kenmare is a lovely town not far from Killarney. We stopped briefly and while others wandered the town, I found myself drawn to a small booth where Francis Brennan, a local photographer by way of Dublin was displaying his wares. Chatting led to questions about why was I in Ireland.  I responded with the abbreviated story of CancerRoadTrip–of how cancer led to betrayal which led to CancerRoadTrip.  And in Ireland, as elsewhere, I found a resounding response to the idea of the overall CancerRoadTrip project.
As the topic of cancer is broached, there is almost always a slight pause in the conversation, an awkwardness before the stories start to pour out. Everyone has a cancer story: a friend, a family member, someone in their circle. Everyone feels the emotion, helplessness and void generated by this disease. The universal, heart felt response to the impact of cancer on all of our lives moves with CancerRoadTrip as I travel. Sometimes I think I should simply write all these stories, rather than the travelogue. What's your cancer story?
But on with the adventure. Because a foodie adventure is what life is all about!
Kenmare lies on two noted Irish tourist routes, the Ring of Kerry and the Ring of Beara. Kenmare is an anglicized form of Ceann Mara, meaning "head of the sea", referring to the head of Kenmare Bay. It's a perfect jumping off point for more local exploration and we are accompanied by Andrew Heath of Manning's Emporium .
Manning's Emporium traces its roots back to a family farm back in the 1940's. In the 1970's, Val Manning started the shop to support local producers. It's grown and is now under that ownership of his niece Laura and her husband Andrew Heath. It's "a bustling food store, cafe and tapas bar specialising in local and artisan produce" that has won numerous awards including 'The Sunday Times Top 100 Restaurants in Ireland'  Guide by John and Sally McKenna, 'Top Choice' Cafe in the Lonely Planet Guide Bantry Section, and was named as the 2017 winner of the Restaurant Association Awards for 'Best Casual Dining in Cork'. Andrew also offers customized food tours. He is a walking encyclopedia of Irish food sources and we were lucky enough to have him join us for most of the trip.
After our brief stop in Kenmare, we headed to Castletownbere, a coastal fishing village which just happens to be home to the All Irish Chowder Champion.
Award Winning Chowder in Castletownbere
The bus we are traveling is a small one. It is a small group. And the roads are winding and narrow. Going over Healy Pass there is just room for one vehicle. Meeting another head on at speed would definitely be problematic.
Entering Castletownbere, the sea becomes an integral part of the scenery. The town is quiet and even bit sleepy. The sun plays hide and seek with a low cloud base, causing the water to sparkle briefly here and there before it disappears.
The town is named after the MacCarty Castle which no longer stands. It's also called Castletown berehaven. Like other rural parts of Ireland, the population is small. Declining population in a rural setting is a theme that comes up repeatedly during the day.
In Castletownbere we visit with Mark Johnson at The Beara Coast Hotel for a lesson in making his specialty,  THE Irish award winning chowder. Mark talks about the process of making the chowder as well as the importance of having access to the finest, freshest ingredients. And Irish cream. Lots of Irish cream!
(You may want to turn up the volume on your computer for this video.)
From the carefully simmered white fish stock to the freshly caught fish selections, to the local Irish cream, the freshness of the ingredients comes through. This chowder is a total winner.
Accompanying the chowder was a seaweed scone that was nothing short of remarkable.  The slightly salty taste of the seaweed flecks embedded in the rich pastry dough, slathered with Irish butter, paired with seafood chowder, totally rocks.
Seaweed is becoming a "thing" in Ireland, led by John Fitzgerald at Atlantic Irish Seaweed located in Derrynane on the Ring of Kerry. The culinary use of seaweed dates back to 6th century monks and Ireland, by virtue of its extensive Atlantic coast, is home to over 625 varieties. John is part scientist and educator and he offers seaside discovery tours that take you foraging through the rocky coast in quest of the perfect seaweed.
Perfect fish. Perfect seaweed. Perfect combination.
***
Beara Distillery
The next stop is Beara Distillery which had just opened Saturday September 20th 2017. Beara Distillery uses a unusual ingredient–seawater– in their recipe for this lovely, light, fragrant botanical gin.
From their website:
"The Beara Peninsula's Wild Atlantic Shore is host to an abundance of unusual botanicals and that was how the idea of Beara Ocean Gin was born.
The Atlantic Ocean Botanicals we use in our Gin include Salt water and Sugar Kelp that balance with the freshness of Juniper and Zesty Citrus Aromas. While Cardamom, Angelica and Orris root add complexity.
The result is a unique blend of native sea Flora with traditional botanicals for an altogether enjoyable and easy drinking Gin."
Easy drinking  indeed! They make a base gin with juniper and traditional flavorings. Then individual distillates (fuchsia, sugar kelp and the zest) are added. Purified sea water brings the concentration to a legal threshold and voila! A magical gin.
***
Award Winning Milleen's Cheese
Up next is a very special visit to a very special farm that produces a very special cheese (I presume that you are getting the drift that this is a real find): Milleen's Cheese.
Milleen's is a family farm started by Norman and Veronica Steele. The cottage includes a sitting room, where we had a buffet lunch. The sitting room is accessed by an outdoor walkway from the main cottage. It's an organic family farm focused on producing cheeses of exceptional quality. They were "discovered" by Declan Ryan, a one Michelin star Irish chef of some renown from Cork.
The decision to make cheese came about almost by accident. With a growing family, a cow was added. But it was too much milk for a small family, no matter how much yogurt one made. So began the cheese experiment, which led to the cow herd, which led to the 1997 award of Supreme Champion at the British Cheese Awards.
Sadly, Norman's beloved wife Veronica died fairly recently, but his son is stepping up into the family business. And they just hired a new cheesecake apprentice. It's a job I'd be tempted to take on!
Norman is a delightful man who enjoys telling his story. Here's Norman telling a bit of the history of his farm and subsequent fame:
A significant part of the farm's story is based on the intense connection between the Milleen's and their land. The farm is organic and the purity of the environment is a key piece to the quality of the cheese. Norman's son, Quinlan, is a vocal advocate for the organic life. Much of his argument, for me, is deeply familiar. Knowing what goes into your food–how and where it is produced; the chemicals, if any, used in production; and the impact of time to market are very real and very important factors. Next time you reach for some food, stop and wonder: Where is it from and how did it get to you? What are you really eating?  Think on it a bit.
Here are a few pictures from the farm:
Kush Shellfish, Kenmare
Kush Shellfish is Ireland's first organic rope mussels producer, with operations in Kenmare Bay in a Special Area of Conservation (designated under the European Union Habitats Directive) off the south west coast of Ireland. They export to many countries, including the U.S. under the name of Saint Patrick Shellfish. In addition to the shellfish, their exports include their Mussel Soup which is a rich, thick vegetable based soup, hearty enough for an Irish winter's day. We were also lucky enough to have a bowl of simple steamed mussels that was absolutely outstanding. Fresh from the sea, tender, and perfectly cooked.
The mussels are raised using a rope or bouchot method, which is a French method of cultivating mussels in tidal zones. Pilings, known as bouchots in French, are planted at sea, with a spiraling rope wound about them. Mesh netting may be added to prevent the mussels from falling off. They may be harvested by hand or by machine.
Once again, the emphasis is on working with the environment. Mussels feed on phytoplankton and microscopic marine algae which are in natural abundance in the tidal zone, The purity of the environment, in turn, produces a remarkable product.Do make it a point to enjoy some of these mussels should you find yourself in the Kenmare area.
Whether it's goat cheese in the Pacific Northwest or mussels in Ireland, the common and consistent denominator in my foodie forays is the freshness of the environment in which the food is raised and the consummate care of the artisans that raise it. From farm to table may on the verge of becoming a cliche, but from Beara to table is a total and remarkable delight. Be sure to put Beara peninsula on your culinary map and contact either Andrew Heath or Kay Woods at Con Moriarty's Hidden Ireland Tours for a more personalized and knowledgeable visit.
More Reading on Food Sources:
Curious about what's in your food? Here are some sources to check out:
What the Fork Are You Eating by Stephanie Sacks
Anticancer A New Way of Life by David Servan-Schreiber, MD, PhD
America–Farm to Table: Simple, Delicious Recipes Celebrating Local Farmers by Mario Batali
More on Ireland:
Photo Gallery: Dublin, Ireland
TBEX in Ireland: From The Liffey To The Atlantic
Culinary Travel Karma:Dublin and Killarney
Irish Adventures: Burberry in the Land of Guinness
CancerRoadTrip Photo Gallery Update
Like This Post? Pin It!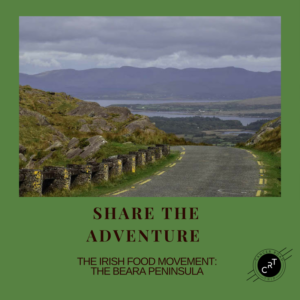 If you're interested in learning more about photography (or cooking or film or any number of topics) check out MasterClass All-Access Pass for on-line excellence:
What is #CancerRoadTrip and how did it come to be? Read this post to get the backstory! 
Follow me on Twitter, Pinterest, Instagram, and at Anti-Cancer Club.  Connect with me!  I may need a place or two to stay along the way!