Tanzania Days 2 and 3
I had another day before joining up with the other photographers in the group. On my agenda was Mt. Kilimanjaro.
A trip to Tanzania without at least seeing Kilimanjaro ("Kili") just wasn't an option. Our photographic travels were taking us west and north towards the Serengeti, not east towards the renown mountain.
So with my second free day, after a hike around Lake Duluti, it was off to Kili to see it, if not climb it.
Kilimanjaro
Kilimanjaro is a legend.
Its local name depends on who you talk to. In Swahili it is "'Mountain of Greatness" or "White Mountain" or in Maasai,  "The Mountain of Water".  
Kili was first summited in 1889 by German geology professor Hans Meyer.
More recently a Swiss-Ecuadorian, Karl Egloff,  set a speed record for the mountain, going up by the Umbwe route and back via Mweka in just under 7 hours.  
Most people take 6 days or so just for the ascent, and about 2 days for the descent.
There are seven established routes on the mountain, each with its own pros and cons: Marangu, Machame, Lemosho, Shira, Rongai, Northern Circuit and Umbwe.
The various approaches offer different experiences, ranging from the gentler Marangu route (which also has dorm style sleeping quarters that are especially popular during the rainy season) to the steeper but popular Machame route. Some excellent information on the various routes can be found here.
My route was via the Arusha-Himo Road and safari vehicle. And back in time for a multi-course dinner served in the English inspired dining room.
My driver, "Gift" (an English translation of his Swahili name) was the same person who picked me up at the airport, and, I learned, he would be our driver for the entire trip.
There is a saying in Swahili:
"Jina jema hungara gizani"
A good name shines in the dark
And that was certainly true of Gift who became part of our safari adventure.
Becoming a safari driver requires a fair amount of training, and that training was evident in Gift. From managing sometimes difficult road conditions (and not sending us plummeting off the road near the Ngorongoro Crater like another less fortunate vehicle) to finding extraordinary wildlife, Gift was an integral part of our safari . 
Gift also took care to be sure our double diesel fuel tanks were always full; the vehicle cleaned and washed every night; that the cooler was stocked with plenty of water; and he generally looked out for all of us.
We left for Kili in the morning. Heading east along the Arusha-Himo Road, I wondered if we'd even be able to see Kilimanjaro. The 20,000'+ mountain is often shrouded in clouds. But as luck would have it, the clouds broke and the mountain appeared.
On the drive to Kilimanjaro, one leaves behind the dusty plains and as the altitude rises, one enters a richer, lusher climate belt. Women with huge clusters of bananas balanced atop their heads walk the road. The jungle becomes green and dense.
And then the gate to Kili appears. Groups laden with hiking gear gather, ready for a hike to the summit which can run from 5-9 days. Sherpas and other support staff are available to carry the food, tents and heavier gear for many hikers.
The sherpa assistance can be especially appreciated on the last day of the ascent. The push to the summit, everyone agrees, is tough. The brutal cold makes moving difficult, but the view from over 20,000 feet definitely compensates.
Like most national parks in Tanzania, the entry fees can be stiff. Hiking Kilimanjaro runs from $1,000 at the very low end to $4,000 and above. The government mandates a guide service plus fees of $600-700 per climber. 
While the climb is not technical, it is not without risk. Every year about 1,000 people have to be evacuated and it is said that the number of deaths is under-reported. Being very fit, and having an experienced, reputable guide is essential.
The drive to Kili also offered some interesting glimpses into local culture. The photos below were taken mostly from a moving vehicle, but they give a sense of the environment and the people, from the towns and savannahs to the jungle at the base of Kilimanjaro.
Being shepherded about by Gift, I found myself in a bit of a tourist bubble. Mingling was difficult.
Along with my fellow photographers, we stood out, by virtue of our skin color, our clothes and our own culture. 
Safety was also a potential issue. On the one hand, not much intimidates me. On the other hand, wandering around alone with $15 -$20,000 of photo gear on one's back was probably not the smartest idea here, or anywhere else for that matter.
But from my travels, a few observations.
I noticed that many of the women had beautiful, complicated hair styles, consisting of long braids gathered together, sometimes in a ponytail, sometimes in gravity defying loops. I wish I had taken photos of them. They were truly stunning.
And hair, I learned, is a significant part of the cultural heritage for the 125 ethnic groups, speaking 120 languages across modern day Tanzania.
From Africa.com on African Women's Hairstyles:
"Hair played a significant role in the culture of ancient African civilizations. It symbolized one's family background, social status, spirituality, tribe, and marital status.
As early as the 15th century, different tribes used hair to show one's social hierarchy. Members of royalty wore elaborate hairstyles as a symbol of their stature…"
Hair styling was also a part of the social culture, and remains so for many tribes. 
The tradition of hair in African women would also emerge during our visit to the Arusha Cultural Center.  More on that below.
Out and about,  I also noticed that many women carried substantial loads carefully balanced on their heads.
Other cultures, like the descendants of the Tewe people in the southwest U.S., created pottery especially designed to sit atop one's head.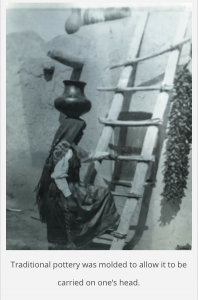 I find it curious that this tradition spans continents and centuries, tens of thousands of miles apart.
How is it that disparate cultures share so much in common?
Day 1 of the Official Safari: The Arusha Cultural Center
On Day 1 of the official safari, the group of 3 professional photographers and myself met up to visit the Arusha Cultural Center.  As would become our routine for the next week and a half, Gift drove.
The Center houses all sorts of African art. Mezzanines open to a central, interior courtyard. Walkways curl up from floor to floor, with each level showcasing a different type of art. Hand carved chairs, tribal masks, painting, bronzes (old and new), and photographs were among the works presented. 
And under construction is a new pavilion celebrating the work of  Jane Goodall. We had just missed her by a week or so.
With or without a chance to meet Jane Goodall, the entire Cultural Center is simply amazing. The collection of masks on the lower level was, for me,  totally captivating: 
This particular mask shows the Mmwo Sprit Maiden with an elaborate hairstyle. From the Arusha Cultural Center:
"The mask would be worn with a colorful costume covering her body. Although the mask has known as duma or mvidi, it represents a female guardian spirit in the initiation of young girls….
The refined features and elaborate coiffure of the Puno mask mirrors the appearance of tribal women. The white pigments…allude to the anti-witchcraft powers of this group. The Puno make only mask women, with elaborate hairstyles, and white kaolin pigments.  They are worn by Moukouji initiates, who are often on stilts."
From the Cultural Center:
"The Dan mask are made of various materials, included are leather, metal fabric…This Dan mask is classic in its features with slim, closed eyes and a distant expression…
The Dan believe that spirits, known as "Du", live in the forests and manifest themselves to humans in masks and masquerades, instructing and sustaining the Dan in life."
And the Benin Bronzes which dated from the Benin or Edo Empire (1440-1897) was produced mainly for the court of the Oba of Beni. For more than 500 years, West African artists created objects for use in divine rituals, to honor the king.
More contemporary bronzes reflect the natural world:
In addition to the art, some of which is for sale, a small village of shops offers African spices, gems and wares. Rather than shopping, I settled in for yet another amazing cup of coffee, a Zanzibar coffee filled with cardamon, cinnamon and spice.
Beans, Rice and Photography
In addition to Kilimanjaro and the Cultural Center, a visit to the cash machine for some local currency (shillings) was in order.
And I was on a quest for rice or beans.
Not to eat, but to fill my bean bag.
A photographic bean bag is a vital piece of equipment for a safari. It's a small or large bag, filled with something like beans or rice, that sits atop the roofline or on a window sill in a vehicle. It provides a stable base for long lens photography when a tripod isn't practical.
In Arusha, we visited a very modern market. It was immaculate, accepted VISA or cash, and had everything from candy and meat to beans and rice.
I bought more than a few pounds of rice. I'd later give the rice to Gift, to distribute to someone who could use the food.
***
The end of our first official safari day in Arusha was also the beginning of the educational portion of this safari.
The group met up, in the lovely bar back at the Serena, for our first session with Kristi.
Kristi's grasp of photography, history and her eye for detail is astounding. She sees things the rest of us simply don't. Time and time again, she would astound me as we traveled through the Tanzania country. We would be looking at the same scenery, yet seeing totally different images. 
The first educational session focused on an overview of photography, and some key concepts for us to start integrating into our own pictures. For the first time, I felt like I had some context to analyze what creates a compelling image.
Each session with Kristi opened my eye to a new perspective on photography, composition and how I might start to develop my own, more sophisticated voice in film. 
And I had so much to learn.
More Reading On Tanzania
Photo Gallery: Elephant Love in the Serengeti
An African Photo Safari With A Nikon Ambassador
Safari Clothes: Packing for Safari
An African Photo Safari: Photo Equipment Packing List
Visas and Vaccinations for Tanzania
Like This Post? Pin It!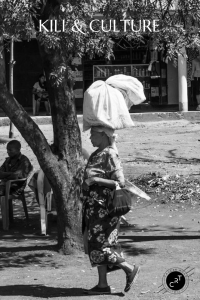 If you're interested in learning more about photography (or cooking or film or any number of topics) check out MasterClass All-Access Pass for on-line excellence:

What is #CancerRoadTrip and how did it come to be? Read this post to get the backstory! 
Follow me on Twitter, Pinterest, Instagram, and at Anti-Cancer Club.  Connect with me!  I may need a place or two to stay along the way!