Vashon Island is a sleepy, rural island, near and dear to my heart. It's the first place I paused for a bit in the summer of 2017 on CancerRoadTrip. And I fell in love. As I did with Whidbey Island and the entire Pacific Northwest in summer.
After Vashon, I was fortunate enough to house sit in a beautiful house in Magnolia, just north of the city. So you'll see some pictures from that as well.
From Vashon, I visited Seattle, Bainbridge, Port Townsend, Snohomish, and volunteered at a golf tournament in the eastern suburbs with one of my favorite cancer charities, Cancer Pathways. If you are ever looking for a group to support, please consider them . The work they do is amazing and greatly needed. I wish there were one in every community.
One of my favorite programs from Cancer Pathways is a writing program that provides an outlet for children to share how cancer has impacted their lives. The essays are incredibly moving. You can find them on www.AntiCancerClub.com under Articles>Real People, Real Stories. Each story is titled "Out of the Mouths of Babes" and most posts have this picture:
In Seattle, I also went to markets in Magnolia and Ballard, and visited numerous museums including, of course, the Seattle Air Museum (pictures will be in a separate gallery). I established a nice daily walk through the neighborhood, down to the ferry and back. I wandered beaches and indulged in wonderful Thai food at May Kitchen. I found the roadside stand with the best halibut I've ever eaten. I ate oysters at every opportunity and totally enjoyed all things Puget Sound! And this doesn't include my forays on Whidbey Island, which I'll post as a separate gallery.
I also went to the Suquamish Museum on Bainbridge Island which is worth searching out. In the middle of the museum is a stunning carving portraying the mythical characters of the canoe voyage. This is a theme that is part of the indigenous Northwest culture. The animals are part metaphor for our connection to the earth, part mythology, and they partly represent the human traits we bring along on any voyage.
The tradition of a long distance canoe voyage is kept alive through Tribal Journeys. If you find yourself in the Pacific Northwest during the summer, check out the schedule and meet up with the participants in this epic trip via canoe. (Read more about Tribal Journeys in my posts below.)
From the Suquamish Museum, here are the
Rules of The Canoe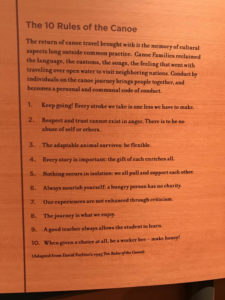 Looking back, I realize how far my photographic abilities have progressed. Some of these pictures in this gallery are definitely lacking! But live and learn. I'll just have to schedule a return visit to shoot better pictures.
In the meantime, with summer coming, it's a great time to visit Vashon Island. If you go, here are a few things to know:
Ferry Service
Vashon Island has no permanent bridge, so access to the island is limited to ferry service. The ferry runs from Ruston on the Mainland to Tahlequah on Vashon; and from the north end of Vashon Island to West Seattle.
Service to West Seattle from Vashon Island is decent, but service to downtown is limited to walk aboards. But you are delivered to the heart of the city where it's easy enough to hail an Uber (or whatever) to take you to your destination. Just be sure to make the last ferry back or you may find yourself stranded over night or having to get over to West Seattle to get another ferry! (There is bus service from downtown to the West Seattle ferry terminal.) And the ferry service schedule changes in summer so be sure to have the latest information.
Vashon Island is actually 2 islands: Vashon + Maury
Weather will vary, so be prepared for beautiful sandal weather and for a chilling rain, and keep in mind that Vashon may be a bit cooler than Seattle. An umbrella and a slicker is a must have, as is an extra sweater.
Things To Do On Vashon Island
This is far from an exhaustive list, but it's a start! Check out my post What To Do On Vashon Island.  There is a bit of something for everyone, from farmers markets to kayaks, to visiting Seattle, to simply swinging in a hammock, looking back at the mainland.
More Reading About Vashon Island, Seattle and Environs:
 
Healdsburg to Vashon
What To Do On Vashon Island
Puget Sound, Seattle and Vashon Adventures: Round I
Seattle Farmers Markets: Picking Your Berry Favorites
Oyster Quest
Like This Post? Pin It!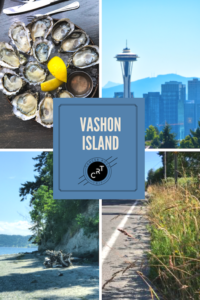 If you're interested in learning more about photography (or cooking or film or any number of topics) check out Masterclass for on-line excellence:
What is #CancerRoadTrip and how did it come to be? Read this post to get the backstory! 
Follow me on Twitter, Pinterest, Instagram, and at Anti-Cancer Club.  Connect with me!  I may need a place or two to stay along the way!