The Festival of the Cranes is a celebration of the migration of tens of thousands of birds through Bosque del Apache, a 57,331 acre wildlife refuge in south central New Mexico.
Located about an hour and a half south of Albuquerque, the refuge is easy to access via Route 25. And the trip down opens up all sorts of other adventures, ranging from the Karl G. Jansky Very Large Array Radio Telescope (used in films such as the 1997 film Contact, starring Jodie Foster and Matthew McConaughey) to another lesser known refuge, the Sevilleta Refuge, some miles to the north.
Not to mention the concentration of local culinary wealth between the Buckhorn Tavern (of Bobby Flay Throwdown fame) and Owl Cafe (home of the famed Owl Burger) at the intersection of  Highway 385 to Carrizozo and Old U.S. Highway 85.
You can't miss it. (Seriously. Just pause at the yellow light, look right and look left. You'll be rewarded with a restaurant in either direction.)
Alas, I'm eating a more healthy diet these days, but the promise of a good green chile burger will no doubt lure me in one of these days.
The Bosque del Apache wildlife preserve is part of the National Wildlife Refuge System, a vital network of natural lands and waters that support wildlife. The Spanish word "Bosque" refers to the woodlands that nestle around the riverbanks, in this case the Rio Grande. Thus "Woods of the Apache". The reserve was established in 1939. It has a twelve mile loop, plus numerous hiking trails, that provide access to this stunning resource. The roads are excellent, but unpaved. Plan to wash your car afterwards!
The Festival of the Cranes
This year, in the 31st consecutive celebration, 12 professional photography leaders put together 63 workshops on photography, birds, migration and other topics that ranged from making the most of your equipment, to nighttime photography, to an introduction to the Turner ranches throughout the west. I went down overnight to take some classes, browse and learn.
Next year, I'd like to stay longer. The access to photographic classes with people of this caliber is simply amazing. All the major manufacturers (Nikon, Canon, Panasonic, Fuji, Tamron, Sigma and more) were there as well.
I took two classes. One, with Don Toothaker, focused (no pun intended) on Nikon equipment and in the field photography. The other was at O-Dark-O'Clock the following morning, with Roman Kurywczak.
Two totally different teachers; two totally terrific experiences. Of the two sessions, the light was better the first evening. But both days yielded some wonderful pictures and lots of new knowledge.
I arrived around 8:30 am on Wednesday for a class at 12:30pm with Don. This gave me time to wander through the vendor booths and take a solo tour of the reserve.
The vendors booth was photo hog heaven.
Want to try a lens? Sign here.
Need a new filter? Hunt's can help.
Curious about New Mexico? Check out Turner Ranches and its two million acres of land throughout New Mexico and southern Colorado.
Photographing The Wildlife at Bosque Del Apache
And here is the challenge!
Obviously, with cranes flying 40 mph, getting a sharp picture isn't easy. Add in low and rapidly changing light conditions, one has one's work cut out.
Quantity is obviously part of the solution. With more pictures, there are more possibilities. I took over 1,000 pictures in two days. Only a fraction were useable.
Knowledge and skill are also part of the solution. Through Don and Roman, I came away with new perspectives on ISO, panning, and managing exposure under difficult conditions.
The skill part of the equation simply translates into practice. And lots of it.
As Roman said:
"Photography is like golf.
It's that one perfect shot that keeps you coming back for more."
Roman tells a story that heartens all of us photo newbies. He once took a massive amount of film (100 rolls or so) of wildlife shots. NONE turned out. The ISO was too low. Now, today, he talks to us about ISO and the capabilities of the new digital cameras. For me, his dawn class addressed many of the issues that I'd encountered in my own photo forays, raised new questions, and provided solutions.
The experience of the Festival of the Cranes is a bit Hitchcock-esque in that there are yelling, crying, screeching birds that rise into the air, not quite blotting out the sun, but certainly blotting out the surrounding landscape.
And the landscape, the birds and the entire experience is simply amazing.
I love the outdoors, but wildlife photography is entirely new to me. I usually gravitate towards landscapes. Even my bird pictures are landscape oriented, to some degree. But this experience opened a new world of possibilities.
And isn't that what travel is all about?
I bumped into Don Toothaker in the parking lot and we got to chatting. Don leads photo tours all over the world (I volunteered to carry his camera bag, but it looks like I'm number 1,000 on the list!)  His motto:
"Photograph What You Feel"
Since it mirrors my own sentiments, I rather like this philosophy.
Travel, we agreed, can be life changing. For a period of time, one gets to step outside every day routine, to see something new, hopefully in a different light.
It's not about the number of places you go or the pixels in your camera. It's about seeing–and most importantly, experiencing– the world at a moment in time, through a different lens. It's about how one small paradigm change can lead to another; and another.
And so it is that travel heals.
I am grateful to have gotten to this year's Festival of the Cranes. It was, for me, a paradigm shift in terms of photographic know-how and new friends. Plus of course some new Instagram accounts (@Don_Toothaker and @Roaminwithromanphoto) to follow. All wonderful additions and inspirations  to my daily life.
Getting to The Festival of The Cranes
The drive from Santa Fe is a little under two and a half hours, all on Route 25 South. An easy drive.
Once south of Albuquerque, rural New Mexico offers up a combination of stark desert and lush land, the latter located wherever water may be found. From the highway, one can spy the cottonwoods that cluster along the banks of the Rio Grande. This time of year, golden orange leaves cling to the branches, soon to fall to the ground.
I had contemplated driving down from Santa Fe by getting up at 4am. Don't. There is construction on the roadway, as well as random animals. On the way into Bosque, a conga line of raccoons decided to dance across the road, right in front of me. Deer, mountain lions and other animals also inhabit the area.
This time of year, it is cold, particularly early in the morning. Bring long underwear if you plan to be out and about at dawn. And a hat and gloves. It was so cold that my joints nearly froze. It's taken me two days to get moving again!
But I'd get up at dawn and do it all again in a heart beat.
There is something so serene and so full of promise about the dawn. It is my favorite time of day. Sunsets may be more dramatic. They suggest romance and the mystery of the night. But I prefer the light of the early day, with time before me, rather than behind me. It's a cancer thing perhaps, but I'm in no rush for the end of this day, or any day.
Lodging for The Festival Of The Cranes
Socorro, about 45 minutes up the road from the Park headquarters, is your best bet for nearby lodging. The town has a variety of restaurants and hotels. The Holiday Inn, where I stayed, was perfect. They were even kind enough to put out a to-go breakfast for the photographers waking before dawn, to get down to Bosque del Apache.
There are a variety of restaurants in town which are quite decent. I was able to get a relatively healthy swordfish (fish is flown in daily, or so they say!) at the Bodega Burger Co. & Lounge. The Festival also puts out a comprehensive book on the courses, lodging, and food. And there is also the website.
More Picture Galleries on The Outdoors in New Mexico
White Sands, NM
Fall Color New Mexico
The Mesas,Buttes and Badlands of Bisti Wilderness
Photographing Chaco Canyon
Georgia O'Keeffe Country
Like This Post? Pin It!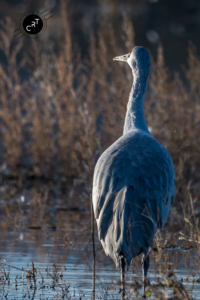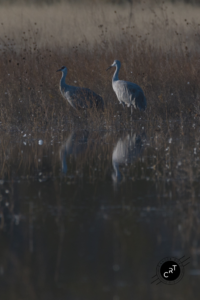 If you're interested in learning more about photography (or cooking or film or any number of topics) check out MasterClass All-Access Pass for on-line excellence:

What is #CancerRoadTrip and how did it come to be? Read this post to get the backstory! 
Follow me on Twitter, Pinterest, Instagram, and at Anti-Cancer Club.  Connect with me!  I may need a place or two to stay along the way!