A photo safari focuses, naturally, on wildlife. But rushing by the windows of our vehicle was a rich life of its own. People in towns and along the roadways went about their daily life. In order to capture some of it, I started doing "drive-bys", i.e. taking a photo from the moving safari truck.
I cranked up my shutter speed and using my 28-300mm lens, I shot from my window. Some photos are taken though the window!
The photos I captured were sometimes interesting; sometimes not. But a few compelling images did arise. That's what this photo gallery is all about.
Photos From Safari
Like most people, most of my photos from safari are of wildlife. But I was at least as interested in the local culture.
Daily life in Tanzania, from what I observed, is far from our western norm. People are poor by our material standards. With over100 tribes in Tanzania, it is a varied culture. And modern conveniences such as cell phones appear in the middle of seemingly nowhere, providing connection that didn't exist a decade ago. Where will all this lead? I would suspect that change in East Africa would be slow. And perhaps on some levels that is very welcomed.
The people I encountered were kind and helpful. At one point a running board on our safari vehicle came loose. We stopped at a Maasai village. The villages roadside are set up for tourists. But we aren't interested in paying for photos (ok, I might have considered it). We needed help with our vehicle.
Gift parked our truck just off the road, away from the tourist village and set out for help. When he returned all the men in the village returned with him. They offered suggestions and materials to tie the running board to the truck until we could find a more permanent solution. Gift jury-rigged the running board and our photo safari to the Serengeti was back on track.
Africa is far away from the madding crowd (unless of course you go during the annual migration where you will face bumper to bumper safari vehicles packed with tourists, clogging the roads of the National Parks, hoping for that one wild wildebeest shot). But my experience at the end of the dry season, at the beginning of October, was one without many tourists. Most of our days were spent seeing only a few other trucks. The only exception might be lunchtime, when the safari vehicles would congregate at lunch spots in the park. Then one might see a dozen or more trucks that would then disappear into the hundreds of acres of African bush.
My photos of safari run the gamut from people to animals to landscapes. This gallery is mostly the people I encountered road side as we drove through Tanzania.
More Reading On A Tanzania Photo Safari
Photo Gallery: Elephant Love in the Serengeti
An African Photo Safari With A Nikon Ambassador
Safari Clothes: Packing for Safari
An African Photo Safari: Photo Equipment Packing List
Visas and Vaccinations for Tanzania
Like This Post? Pin It!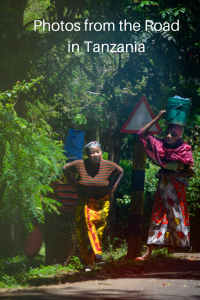 If you're interested in learning more about photography (or cooking or film or any number of topics) check out MasterClass All-Access Pass for on-line excellence:

What is #CancerRoadTrip and how did it come to be? Read this post to get the backstory! 
Follow me on Twitter, Pinterest, Instagram, and at Anti-Cancer Club.  Connect with me!  I may need a place or two to stay along the way!