The Vashon Island Photo Gallery is finally up and running just in time for summer vacation! If you're heading to Puget Sound, you might like to put this quirky little island located just north of Tacoma on your list of places to visit.
I have yet to write about or organize my pictures from so many places! But they're coming shortly! And also coming shortly will be our CancerRoadTrip healing retreat giveaways. Sign up below to stay in the know on our progress. (Please know I never share or sell email or contact information. Particularly for cancer patients, I feel that this information is highly private.)
The Pacific Northwest in summer is one of the world's best places to visit. Often sunny, but not too hot; lots of fresh produce and seafood; and beaches galore. Seattle, I do believe, has more types of berries than any place I've ever visited and they're in abundance during the summer months. Do take the time to visit the farmers markets, on Vashon Island and elsewhere, and buy local!
For those of you that have been following this journey, you'll know that it was the kindness and generosity of some friends that gave me shelter from the proverbial storm. To Jim and Jen, all my thanks. Need a house sitter again this summer?
More Reading About Vashon Island, Seattle and Environs:
 
Healdsburg to Vashon
What To Do On Vashon Island
Puget Sound, Seattle, and Vashon adventures: Round I
Seattle Farmers Markets: Picking Your Berry Favorites
Oyster Quest
Whidbey Island
The Charm of Port Townsend
Like This Post? Pin It!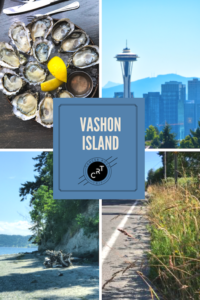 If you're interested in learning more about photography (or cooking or film or any number of topics) check out MasterClass All-Access Pass for on-line excellence:

What is #CancerRoadTrip and how did it come to be? Read this post to get the backstory! 
Follow me on Twitter, Pinterest, Instagram, and at Anti-Cancer Club.  Connect with me!  I may need a place or two to stay along the way!