Tree climbing lions are on most photographers lists when it comes to safari. Along with cheetahs, and hopefully leopards. We were fortunate enough to see all.
But cats are not always easy to find.
They blend in with their surroundings:
They hide in trees:
And your access is limited in the major parks in Tanzania. No off road driving.
But if you're patient, if you search and if you have a bit of luck, you will find all sorts of interesting things. We saw lions mating, playing, climbing trees and stalking prey.
As a newbie to safari, all I did was snap photos. And learn. Next time, I hope to bring a more seasoned perspective to these most amazing animals.
Next Time!
***
CancerRoadTrip started with my travels to heal.
But now we're giving healing travel adventures to others.
Each retreat is captured on film for inspiration and education on life after cancer treatment.
Consider donating to a great cause that will impact millions of people!
More Reading on Safari in Tanzania 
Photo Gallery: Elephant Love in the Serengeti
An African Photo Safari With A Nikon Ambassador
Safari Clothes: Packing for Safari
An African Photo Safari: Photo Equipment Packing List
Visas and Vaccinations for Tanzania
Like This Post? Pin It!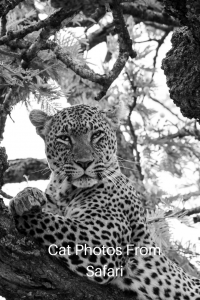 If you're interested in learning more about photography (or cooking or film or any number of topics) check out MasterClass All-Access Pass for on-line excellence:

This post contains affiliate links and I will be compensated if you make a purchase after clicking on my links.
What is #CancerRoadTrip and how did it come to be? Read this post to get the backstory! 
Follow me on Twitter, Pinterest, Instagram, and at Anti-Cancer Club.  Connect with me!  I may need a place or two to stay along the way!