Port Townsend, Washington via Huntsville, Alabama : The Serendipity of Travel
The van was ready to go. I sat in the first row of seats. There were two other rows behind me that quickly filled with people heading for the Huntsville airport.
As people deposited their bags at the back of the van, they clamored in and found a seat on one of the three benches. After a week at a bloggers conference, I was a bit more gregarious than usual.  I greeted everyone as they entered the van and asked where they are from.
Paris.
Georgia.
Port Townsend in Washington State.
"I am going to be in Seattle this summer," I replied.
"Here is my card," the woman replied. "I'm Kathy. I'm moving to Portugal, but I'll be in Port Townsend for the summer."
I filed away the card, not knowing if I'd follow through, or if our calendars would coincide.
For a while, a rendezvous was hit and miss. Kathy was in Europe. Then a death in her family. I was traveling. Then housesitting.
But finally we connected. And I made arrangements to visit this small town on the tip of a peninsula in the Pacific Northwest.
Small towns are interesting cultural experiences. From the outside looking in, they may look picture perfect. Port Townsend is certainly in the running for this award.
I met Kathy outside of the Quimper Mercantile Company.  Then we set set off on a tour of the town, and each step was a treat and a retreat into history. Kathy has lived here for quite some time, and she knows every nook and cranny of town, as well as its history and the people that keep it all so vibrant and alive.
Take Quimper Mercantile Company. It's a community owned store with over 840 community investors.  The store is built on sustainability , although it's also managed to turn a profit.
The store opened in October 2012, replacing  Swain's Outdoor which closed in early 2011. Local residents saw the need for a store that sold day to day goods not readily available without going to a distant mall. So Quimper Mercantile Company was founded. It provides basic clothes, toys, birthday presents, housewares and any number of items that when you need it, you need it now! Plus it's an integral part of this closely woven community, many of whom choose to support the venture and shop local. And it's expanding.
This was the starting point for our tour and our conversation, which ranged from teaching English in Spain, to the ins and outs of moving to Portugal, to traveling the world.
A stroll down the street brings forth stories and memories about Kathy and her family's numerous entrepreneurial endeavors, which include a travel website (www.milesgeek.com), a former yarnshop and antique shop, two local bookstores run by her son, and much more. Block after block, she shares a tale of the city, it's people and it's future. all intertwined with a bit of her past as well.
Summers in Port Townsend are packed full of goings on, just as in Seattle. There are many highly regarded festivals and events in this small town including Fiddle Tunes, Writers Conferences, Concerts, a Jazz Festival and much more.
The Port Townsend Film Festival , held September 15, 16 and 17th this year, is truly remarkable, particularly given the size and location of Port Townsend (population: 9113). Over 300 volunteers make this annual celebration possible. The festival was founded in 1999 by four film buffs who met annually at Telluride and decided they would create a film festival closer to home. They succeeded. Seventeen years later, over 90 films are screened in seven venues. And numerous notables have graced the walkways of this particular film festival.
Bruce Dern was honored in 2012. He mentioned that his time spent in Port Townsend gave him the insight he needed to create the acclaimed character of Willy Grant.
"What did I know of small towns?" he asked, as Kathy relays the story. "The three days I spent here, submersed in this environment, allowed me to create that character." True or not it speaks to the graciousness that Port Townsend seems to bring out in people.
The film, Nebraska, directed by Woody Allen, was released in 2013. It's the story of a small town's reactions to Dern's character, Woody Grant, who wins a million dollar lottery.
Port Townsend's claim to fame extends to some other films, like this fight scene from An Officer and A Gentleman, which was filmed in Port Townsend, outside a (former) popular bar. The bar was something of a local landmark and it lives on in this film.
Part of the bar's unique history is that it provided rooming upstairs for many of the young people who worked there. To this day, reunions bring together people from that era to share some of their own Port Townsend histories.
The local film festival is remarkable, not just for its history, but because it reflects the deep artistic and cinematic roots of the town.  The Rose Theatre, located at 235 Taylor St., offers a curated line up of of world class theatre, including moves, plays, ballets and operas. The building opened in 1907 as a vaudeville theatre. Today, its eclectic mix of film and other performances are often accompanied by one on one question and answer sessions with people connected to the performance.
The movie line up is spectacular, and includes everything from summer time classics such as Jaws to The Hero, an official selection of the 2017 Sundance Film Festival, which caught my eye. I hadn't heard of it. It stars Sam Elliot. Critics have said that this is a career defining role for the actor.
From IMdb:
"The legendary Sam Elliott stars as an aging actor confronting mortality in the moving new film….THE HERO is a beautiful and poignant celebration of life and the legacies we all leave behind."
This and dozens of other films, old and new, are offered through this gem of a theatre that, among other little luxuries, offers real buttered, freshly popped popcorn. The experience of Rose Theatre is just one example of  what makes Port Townsend so rich and so unique. This theatre is a remarkable experience for anyplace, and it's one of the cultural and historic icons that makes this town so special to so many.
If you have the good fortune to find yourself in Port Townsend for a show, be sure to put it on your agenda. Or better yet, start your agenda with the Rose Theatre.
Block for block, Port Townsend reveals itself through Kathy's eyes and memories. She recalls how the beach used to be wide open at the end of town; how the new center brings new life to this part of town; stories of the former cannery at the end of a wharf (and the story of the delivery truck that fell through the wooden planking into the water); how owning two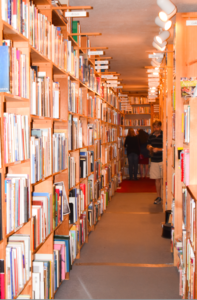 bookstores (her son's) in town offers increased versatility for their ever expanding literary collections.
I am barely scratching the surface of this remarkable town, but I hope you'll put it on your Pacific Northwest calendar. Even without Kathy as a guide, the charm and character of the town resonates in its shops, events, and most of all, in its people.
Heading back to Magnolia, I pass through Bainbridge en route back to Seattle. It is a return to the modern world, Puget Sound island style. I am late for the ferry I had hoped to make; early for the next one. I sit and wait.
Eventually the ferry approaches and docks. Hundreds of bicyclists, wearing brightly colored jerseys and form fitting black shorts, with knapsacks strung to their backs, complete their daily commutes. It is a world removed from Port Townsend.
Cars leave the boat, ferrying their owners for an evening at home; and as I board the ferry, the day recedes.
Except for a very warm feeling of a very special place that I will have to revisit. Thank you Kathy for sitting behind me on that van to the airport however many months ago.
More Reading on Seattle and Environs
 
Healdsburg to Vashon
What To Do On Vashon Island
Seattle Farmers Markets: Picking Your Berry Favorites
What To Do On Vashon Island?
Oyster Quest
Whidbey Island
The Charm of Port Townsend
And On The Serendipity Of Travel
11 Life Lessons Learned From The Road
Thoughts on the Metaphor of a Road Trip
Traveling The Timeline Of Now
Like This Post? Pin It!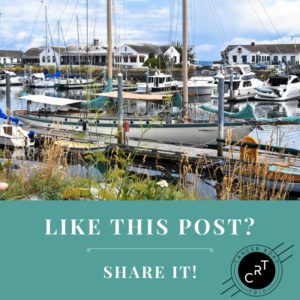 If you're interested in learning more about photography (or cooking or film or any number of topics) check out Masterclass for on-line excellence:
What is #CancerRoadTrip and how did it come to be? Read this post to get the backstory! 
Follow me on Twitter, Pinterest, Instagram, and at Anti-Cancer Club.  Connect with me!  I may need a place or two to stay along the way!