The final leg of this foray is from Mesilla to Bosque del Apache then back to Santa Fe. I stayed overnight in Socorro so that I could spend a bit of time scoping out  Bosque del Apache, where I'll be spending some time later this month for the Festival of the Cranes.
Mesilla to Bosque del Apache: First Stop–Hatch, NM
Hatch is named after the famous Hatch chile. It's self proclaimed title is "Chile Capital of the World" with an annual Labor Day celebration to share joy in all things chile. Located just 37 miles north of Las Cruces along Route 25, it's a logical stop.
Hatch is a small village with just 1,648 people. Agriculture is the major industry, and it is dominated by the chile. As is the town.
The town has a very south of the border feel to it. Lunch at a recommended restaurant was frankly not very good. And not all that inexpensive. Should you stop, wander a bit and visit with people. May you have a better lunch than I did!
But I do have a very fond memory of a lunch about all things chile, where I learned about the various chile, how to cook them and why the red vs. green discussion is so New Mexico. Click here to read the full post.
Here is an excerpt:
Chile preferences are a topic of passionate discussion in New Mexico.
How hot. How to prepare, store them and cook them. Ultimately the discussion comes to a pivotal question:
Red or Green?
This is a serious topic of debate.
Some say green chile is for chicken and pork. Some prefer red. Or red chile with meat, but certainly not green.
The difficulty of deciding has led to a compromise solution that everyone seems to accept:
Both Red and Green
AKA, Christmas style. That way everyday is a holiday in your mouth.
Why all the brouhaha? What's the difference? Is it just heat? Flavor? Preference? Or perhaps a combination of all the above?
Let me see if I can summarize the dissertation of red versus green chile.
There are several cultivars of chile including New Mexico 6-4′, 'Big Jim', 'Sandia', and 'No. 6' and 'No. 9' . All chile start off green. When they're allowed to ripen further they become red.
Same pepper, but two different products.
The Green Chile
The green chile is often eaten as a pepper. They may be layered with eggs, on burgers and made into sauces. Some say that the green chile tends to be a bit hotter, although I am inclined to believe it really depends on the preparation. I can't eat anything too hot, but I adore green chile.
The skin of either the red or green chile isn't digestible, so the pepper has to be roasted then peeled.
In Carlos' house, his mother would purchase fifty pound bags of fresh green chile. They were roasted and sweated in large plastic bags. The sweating helps the skins slide off easily.
There are several methods to preparing chile. They can be roasted, peeled and frozen. They can be frozen with the skin in place.  (The skins then pull off easily when defrosted.) One cook claims this leads to superior flavor.
Green chile can also be freeze dried, made into a powder, packaged and shipped. Green chile is often associated with chicken or pork, although there are no hard and fast rules when it comes to chile preferences.
The Red Chile
Red chile is a slightly different animal.  Here is where the techniques start to differ. It is usually dried for storage. It then needs to be reconstituted.
Carlos explained that his mother would buy an edible (not lacquered) chile rista. The individual chile would be boiled in water, the water and stems discarded. Then she would fill the blender with garlic, salt, pepper, cumin, and oregano; blend it; strain it to catch seeds and skin; and pour the mixture into a pot and let it simmer. It would then be reduced or thickened with a cornstarch roux and served as a gravy. Some people sauté onions or garlic separately. There would appear to be as many variations as there are cooks.
The flavor of the New Mexican red chile can also be found in powder form,  but to bring out the flavor, it needs to be bloomed, much like curry powder, by sautéing it first in oil.
Hatch chile have gained renown largely through a marketing program sponsored by the State of New Mexico. Why Hatch, New Mexico when chile are grown all along the Rio Grande? Hatch simply had a lot of land available!
The fame of the Hatch chile is what most people are most familiar with. The success of the New Mexican pepper has led to wannabe competitors. One town, Hatch, Colorado has tried to cash in on the growing popularity of Hatch chile by (legally) marketing peppers grown in Colorado as "Hatch Chile". But only chile grown in New Mexico, and particularly the Rio Grande Valley, have the authentic flavor profile so prized.
Mesilla to Bosque del Apache: Next StopTruth or Consequences, NM
Truth or Consequences, formerly named Hot Springs, NM,  is named after the famous quiz show from the fifties. Ralph Edwards, the original host, announced that he would air the program on its 10th anniversary from the first town that renamed itself after the show. Hot Springs, NM won the honor.  Every year thereafter, the show returned for the town's fiesta, bringing with it Hollywood stars. Thus Truth or Consequences came to be named.
The show was hysterical, and the humor is timeless. Here is one old clip from the show Truth or Consequences (sit down and be ready for a good old fashioned belly laugh!):
Should you visit Truth or Consequences, the hot springs are the draw. Here is an excellent link with information on the mineral waters.
Bosque Del Apache
Bosque Del Apache is the final stop of the day. For me, its a reconnaissance trip. The Festival of the Cranes, a 5 day event that brings together major camera and lens manufacturers  and photography enthusiasts to view the spectacular migration of tens of thousands of birds. I am signed up for a variety of courses (starting at 5:30 am!) and look forward to mingling with fellow photo enthusiasts.
I'll have a separate post (with I hope some good photos!) but in the meantime, here is a quick look at this spectacular wild life preserve:
More Reading On New Mexico Road Trips
White Sands
The Road To Carrizozo
Timeless Truchas
Photographing Chaco Canyon
Autumn in Taos
Inside TheGeorgia O'Keeffe House in Abiquiu
The Not So Quintessential Ghost Ranch
Like This Post? Pin It!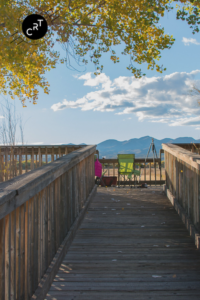 If you're interested in learning more about photography (or cooking or film or any number of topics) check out MasterClass All-Access Pass for on-line excellence:

What is #CancerRoadTrip and how did it come to be? Read this post to get the backstory! 
Follow me on Twitter, Pinterest, Instagram, and at Anti-Cancer Club.  Connect with me!  I may need a place or two to stay along the way!